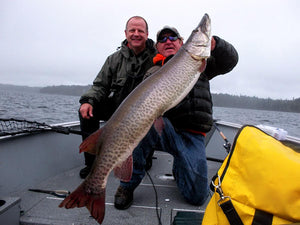 Eagle Lake Musky Opener Tips with Steve Herbeck
One of the few places in musky country that wont be as busy on opening week are  the beautiful lakes of NW Ontario. For the first time ever, the US/Canadian border will be closed to foreign anglers due to COVID concerns.
For all the lucky Canadian anglers here's my opening day/week assessment for Eagle Lake and Northwest Ontario:
The Canadian Opener is anywhere from as many as 6-7 weeks to 2 weeks later than most  Musky Openers. Many of the traditional early season patterns can be similar some years because of being a bit further north and the average sizes of the lakes. Water temperatures one week prior to opener on Eagle are running between 60-64 degrees on the larger clear sections and 64-68 in the shallower, darker sections – same with similar area lakes like the Indian Chain, Canyon, Cedar, Cliff, Wabigoon, LOTW, etc. but just a week ago, they were warmer from the mid 60's to 70+. So depending on the section of the lake and its characteristics, spawning should be well over and the fish will be starting to move into early summer patterns and locations.
I will be using Eagle as my main source because it's a diverse body of water that holds all the characteristics of the many muskie lakes within our region, from deep clear sections to coffee colored sections and everything in between! If you are looking for action and consistency, search out the shallower or smaller darker sections and lakes in the area. They will generally be the most consistent out of the gate, but if you're looking for what most come to Canada for, don't think the deep clear sections or the bigger lakes are just for late summer and fall fishing. The smaller, warmest water areas are key in these types of lakes or sections early in the season. 
Look for isolated bays connecting to the main lake by channels or with incoming creeks from marshes or dark boggy areas. Northern bays with southern exposure and sandy beaches, shorelines with fallen timber, shallow rock bars and points (especially on warm sunny days with a bit of wind), and any amount of early weeds will suck fish in like a magnet in these types of lakes.
Heat absorbing north rock walls leading out to a basin and connected to large shallow bays can be dynamite for big fish. If you are looking for fish suspended off structure, they will tend to be high in the water column where the warmest water is, generally 4-10 feet. However, with extended cold fronts and dropping water temperatures, 18 feet seems to be a key denominator. These numbers tend to correlate whether on structure or off.
While spawning areas can be a key starting point in breaking down a lake and its early season patterns, I would rarely fish in or near them, except in the very latest of springs. Look instead for major structural elements out and away from them as fish are moving towards more main lake summertime areas.
Major points and reed lines with emerging cabbage edges, the areas with the first and thickest emerging weed clumps on flats near deep water or within large bays, and island slots will be key. One of my favorites for big early fish are shallow rock bars and clusters near and out from the mouth of bays and flats nearing deeper water. Most of the consistent spots and action will be more shoreline related, near flats and bays that are connected to or within close proximity of islands.
However, if you find concentrations of open water baitfish in smaller deep basins, even before the bug hatches occur, do not discount them as 'too early' for open water trolling or drift casting. If there's bait, there will be fish there, too, and probably the big girls.
Extended cold fronts after the spawn or in early summers will increase the likelihood this pattern will develop and be overlooked earlier in the season. While this pattern is religiously used in some areas, it is rarely exploited in Canadian Shield lakes by very many.
Another overlooked pattern is watching what the walleye fishermen are doing. Where there are lots of walleyes heavily feeding, especially on flats with emerging grass and weeds, you'll find the entire food chain, from bugs in the mud and emerging, minnows, perch, walleyes, suckers, and even whitefish will make shallow movements into these areas. The muskies will be there, too.
Mix up your presentation with small, medium and large baits to test the aggressiveness of the fish and figure out what stage they're in. It's hard to beat a combination of bucktails and minnow baits. The Lake X Dr. Evil is a deadly topwater early, as well as a side-by-side like the Doc or Weagle.
Going somewhat against early season norms, don't hesitate to have a larger reaction bait going like a Medussa or a Bull Dawg. A favorite for big early season fish is a jerkbait like a 9" Weighted Suick or a Chaos Navin. They don't need to be 'hungry' to want to kill a jerkbait.
A few excellent open water trolling baits include 10" Headlocks, Bluewater 6.5-9" Ciscos, Legend Perchbaits, Livingston Squeaky Petes, 9" Grandmas, and 10" Slammers.
I hope to see some of you at Andy Myers Lodge on Eagle and other NW Ontario lakes sooner than later. Good luck to you all!
---