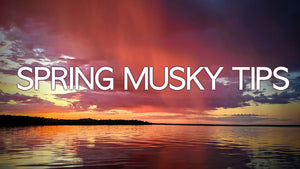 Early Season Musky Tips (Wind & Water Temp)
JOSH BOROVSKY – One of the most important things to consider when fishing early season muskies is water temperature.
If you're fishing a lake with surface temperatures below the low sixties, there is a good chance the fish will be shallow and/or adjacent to spawning areas. Finding the warmest shallow water areas on the lake may mean the difference between active biting muskies and lazy ones.
Keep in mind that shallow dark water or dark bottomed areas will heat up quicker, but you should also pay attention to wind. If there is a warming trend, the warm surface water will be blown to the windy side of the lake and is often several degrees warmer than the leeward side.
The cooler the water, the more I generally lean on smaller baits with erratic retrieves. Whether it's the pull/pause retrieve of a dive/rise or rubber bait, the up and down of a jigged tube, or the "twitch twitch" of a minnow bait. The common denominator is erratic.
The erratic movement of small side-to-side glide baits and walk the dog topwaters has really shined for me in cool water as well. They are not only good tools for catching this time of year, but they also excel at moving fish and generating follows during inactive times between feeding windows.
The one exception to the "erratic rule" would be bucktails. I generally prefer smaller bucktails in this temperature range and slower steady retrieves. However, I have also been on some bites where we were catching fish on surprisingly speedy retrieves with bucktails in relatively cool water. So don't be afraid to experiment once you start moving some fish around and have their location dialed in.
If the main lake surface temperatures are in the the mid sixties or higher, you may also want to try trolling or casting the open water for suspended fish.
It's hard to go wrong with Beaver XL's or big rubber when casting for "suspendos." Your big rubber arsenal should include Whaletails, Bulldawgs, Medussas, and also a variety of paddle tail baits such as the Swimmin Dawgs, Posseidons, and Shadzillas.
If your going to get your troll on, don't leave the ramp without some Supernatural Big Baits. Both the Headlocks and Mattlocks are money for the open water trolling bite!
---