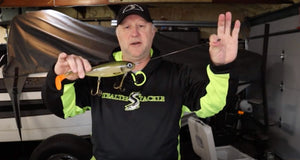 Get More Action from your Musky Swimbaits
What's one tweak that you can make to catch more muskies using swimbaits? Try a different style of leader.
While your traditional musky leader will work just fine, a solid wire leader will create less resistance in the water, which allows the bait to have even more action. Eliminate the snap and add a solid ring instead to maximize the amount of wobble your swimbait will have on the retrieve.
---