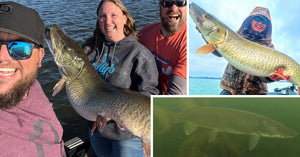 40+lber caught – Spring Bait Selection – GIF Parade
Be the FIRST to see Musky Insider every week by signing up for the email version of this newsletter. It's 100% free and we will never sell your email address! Click here to sign up and never miss another issue.
---
---
Quick Thanks
Just wanted to take a super quick moment before we jump into this week's newsletter to thank everyone who joined Musky Insider PRO last week.
We had a bunch of folks sign up and many others interested, and we've already got quite a few people on the waitlist that missed the Wednesday registration deadline.
We'll announce in the newsletter when the doors re-open, but we wanted to focus our attention on this first group of members before letting more in.
We had an awesome session with Steve Herbeck on Thursday, and looking forward to Steve Genson, Matt Seifert and Dick Pearson in the near future!
Okay, back to your regularly scheduled newsletter 👇
---
Spring Musky Selection
Spring musky fishin' has been happening for a while in certain parts of the country, but it's just kickin' off in other places like Wisconsin where the southern opener (inland waters south of Highway 10) happened last weekend.
No matter where you're fishin' this spring, here's a few baits that could be players:
First, we've got the Swimmin' Dawg. It's been an excellent springtime rubber option since it hit the market. Here's a few A+ color options starting at the top left, going clockwise: Reverse Sunset Perch, True Cisco, Switch Perch & Orange Sucker
The Llungen .22 Short is a killer musky crankbait this time of year. Originally designed by Chad Harmon (one of our Insider PRO speakers), this crank has a smaller profile, which can shine when 'skies are focusing on not-so-large forage.
Don't overlook a Squirrley SS Shad right now. They are VERY buoyant and run quite shallow, allowing you to cast them all the way up to shore, and reel them in without picking up debris on the bottom. Useful tool in certain situations.
---
GIF Parade
Been a while since we've held a good old fashioned GIF Parade – let's do it!
First, here's some awesome underwater views from Owen Mitchell:
Next we get to feast our eyes on a seriously impressive 51-inch fly munchin' musky from @rootriverrodco 💪 #giant
Thought this was cool – a wintertime musky taking a quick look at a small tungsten panfish jig, then giving it the middle fin 😂
Not a musky, but how sick is this Esox eat shared by @worldoffishers???
---
Trolling Motors vs. Muskies
Saw this clip from Ethan Price featurin' a musky "attacking" a trolling motor....
....which brought a few potential questions to mind:
Have YOU ever had a musky bang into the prop of your trolling motor?
Do you believe running the t-motor during your figure 8's impact catch-rate?
Would we possibly catch more muskies if we used one of these to "quiet" our prop?
What about that fancy new Power Pole trollin' motor that they claim is the "ultimate secret weapon for sneaking up on fish" and "trolls more silently than nature itself". #bold
It might possibly make a difference, but we've also seen muskies drill baits trolled in the prop-wash less than a dozen feet behind the boat, so.... 🤷‍♂️
---
This Week's Mashup:
Mashup time!
#1 – And the award for the best brew names goes to.... 🥁 ... Muskelager from Pecatonica. Great name and a great bonfire shot from Adam O. #springishere
#2 – Cool pic from Jason Kahler, catchin' some DNR folks in the act of sciencing in Minnesota. 
#3 – Markus Lukic is doing tea time right! 🔥
#4 – Won't be long until everyone gets to enjoy some no-shoes musky fishin' weather – love this release shot from Ottawa area guide Johnny L.
---
QUICK HITTERS:
– Interviews w/ top 3 finishers at Cave Run w/ Road Rules (video)
– Leech Lake muskies w/ Next Bite TV (video)
– What Maina has on the deck for spring 'skies (photo)
– Batic brothers on the Back Lash Podcast (link)
– Old throwback 1994 Musky Hunter mag article (link)
---
---
THIS WEEK'S

 MONSTER MUSKIES:
HUGE congrats to Kristen & Rory Hamilton on putting this unicorn of a musky (40+ pounds) in the net fishin' with guide Vance from Fat AZ. She hit a lure from @schossbaitcompany. Unreal fish!
Christina Truppe has been smashin' them this spring already! 💪 She was even nice enough to let Nick Eddy (head dude at MuskyFrenzy) catch this inland WI 51.5-incher monster! #sheesh
Not a bad way to start the season when your first fish of the year is a fiddy – atta way @sbsoutdooraction!
Wanna be featured in Musky Insider? Send in your recent trophy musky photos by replying to this email. You might just see your pic in next week's newsletter. 🤙
---
---
Want to see more from Musky Insider? Make sure to follow us on Facebook and Instagram for bonus content throughout the week!
Send all business inquiries to josh@muskyinsider.com
---