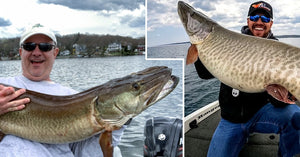 50 pounder (video) – PMTT Winning Deets – Fishing Up 18%
Be the FIRST to see Musky Insider every week by signing up for the email version of this newsletter. It's 100% free and we will never sell your email address! Click here to sign up and never miss another issue.
---
---
Solo Giant on Video
If you love ultra-raw monster musky videos, you'll 100% wanna check out Erik Jacobson putting a potential 50 pound Mille Lacs monster in the boat fishin' solo:
I love the format of this video: no BS, just fishin' with a few good tips mixed in.
Erik was re-checkin' a spot he found earlier that was loaded with baitfish. He started trollin' over it and hooked up 25 seconds later!
Props to Erik on his quick & efficient handling, noticing the fish was stressed from the fight and getting her back in the water as quickly as possible. 💪
---
First PMTT in the Books
Looks like the bite was pretty tough down on Cave Run this past weekend for the first PMTT of the 2021 season.... but you know what they say: 
Somebody's gonna catch 'em!
That "somebody" was Anthony Smith & Scott Salchli – a couple Kentucky locals who put three fish in the boat over two days of tourney fishin'.
Sounds like they caught all their fish beatin' the bank (within' five feet of the shoreline) with chartreuse & white Hot Tail Gliders. 🔥 The 'skies were chompin' when the gliders were hangin' on the pause.
Here's a quick look at the top 10 finishers:
Looks like mostly glide baits and rubber.
Some good stories in the post-tourney interview, too, including Scott catchin' one while Anthony was emptying his bladder:
Anthony: "It wasn't a good sight. I might have peed in the boat a little bit...."
Sorry, man! Had to put that quote in the newsletter. 😂
Next event is on Eagle River/Three Lakes Chain in a couple months.
---
Fishin' Quotes
A few good quotes we stumbled upon this past week snoopin' around on the web:
First, LSC guide Spencer Berman with a great reminder:
"With muskies, you have to assume that every second there's a muskie following that lure. He probably won't take it until it's right beside the boat, and if you screw up the retrieve you lost him before you even know he's there."
Every. Single. Step.... of the process is important! The moment you let your guard down is the moment the muskies show themselves. #truth
Now here's Gord Pyzer with another good one:
"Always remember that muskies are long—the ones I typically want to catch exceed 50 inches—so don't cramp their style by making a small figure eight or oval. Go big instead to make it easy for the fish to turn and chase down your bait."
Now one for all you musky trollers:
"Make sure your drag isn't set too tight when trolling. As a general rule: the faster you're trolling, the looser your draft should be."
That quote is actually from Erik Jacobson's solo trollin' video earlier in the newsletter.
This last one's from a report on the Fishing Wire:
"Fishing participation rate rose to 18% of the U.S. population, the highest rate in over a decade. Youth participation in 2020 grew 53% to 13.5 million total participants. 19.7 million female participants represented a 36% of total participants, an all time high."
You probably noticed the "bump" in participation if you tried to buy a boat, electronics, fishing line, etc. this spring....
---
This Week's Mashup
It's Mashup Time – you know the drill!
#1 – One of my favorite parts about watchin' trollin' videos is seeing the chaos that ensues when a 'skie starts rippin' line:
That clip was from an open water trollin' video from Musky Mayhem – it's a good primer if you're planning on startin' your 2021 season pullin' baits in the abyss.
#2 – Musky anglers have different rods, reels, lures, leaders, line, tackle boxes, hooks, etc. than everyone else on the water – heck, we even rig our boats different:
That's Dougie Wegner's boat (and a great shot by Nolan Swinghamer).
Related: In case you missed it, here's a quick video from Doug on why he likes to fish from the back of his boat.... even when he's fishing by himself.
#3 – If you still haven't re-spooled your reels for the season, make sure to watch this video from Brad Hoppe first:
If you wanna get the best performance outta your reels, you want to make sure they are filled properly and the video above is a great system to make sure you're rigged up right!
#4 – Let's wrap up this Mashup with a super-sweet esox action shot shared on the Muskies Inc. page 🔥
---
QUICK HITTERS:
– Southern WI musky season is open!
– Pete Maina's favorite musky knot (video)
– More Ohio Musky Fishing w/ Angling Anarchy (video)
– "The Musky Serenade" w/ Joe Bucher (video)
– Abu Garcia comes out with a musky net (link)
– 100+ year old 240lb sturgeon caught on the Detroit River (photo)
---
---
THIS WEEK'S MONSTER MUSKIES:
Congrats to Mike Bellush on poppin' this seriously impressive 49.75 inch New Jersey shovel-head! #NewPB
John Dorosh hit the lake this week lookin' to catch some bass, but ended up doing WAYYY better than that with this big Michigan 'skie. Generous hold, but still a hefty fish!
Props to Gavin Holland on catchin'  this lean, mean prairie lake musky while castin' from shore!
Austin Wiggerman is on 'em right now in Illinois – lovin' the green hue on this solid springtime 'skie:
Austin caught that green goblin at boatside. Here's a look at his Side Imaging moments before the strike:
Wanna be featured on Musky Insider? Send in your recent trophy musky photos by replying to this email. You might just see your pic in next week's newsletter. 🤙
---
---
Want to see more from Musky Insider? Make sure to follow us on Facebook and Instagram for bonus content throughout the week!
Send all business inquiries to josh@muskyinsider.com
---