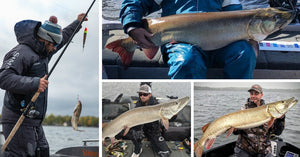 50lb Muskies – Best October Baits – McMahon Sucker Tips
Be the FIRST to see Musky Insider every week by signing up for the email version of this newsletter. It's 100% free and we will never sell your email address! Click here to sign up and never miss another issue.
---
---
Raley & Osfar take home the bacon...
Not sure how it's even possible, but Matt Raley and Nate Osfar won the PMTT Championship this past weekend after blanking on Day #1. Not only did they win the big tourney, but they also eked out Top Gun Team of the Year by just five points.
These guys skipped Cave Run, took home gold on Eagle River, placed second on Tonka, and wrapped things up with a championship win on Iowa's Great Lakes. 
And get this – their plan coming into the season was to go one-and-done on Eagle River. Luckily, they won, which meant they needed to fish Tonka to get to the championship.
This is the toughest team in tournament musky fishing right now. Name a more dynamic duo....
Nothing but respect for Batman and the crew, but no one on that list can sling rubber like Matt and Nate.
Speaking of rubber, that's how the tourney was won – popping natural perch colored Medussas over the weeds on Spirit Lake. The key was working the bait with shorter, faster hops instead of your typical long pulls.
Thought this was noteworthy:
Anglers had the opportunity to fish Spirit Lake or Lake Okoboji during this event. With 40 anglers total, only six fished Spirit on Day #1 and four on Day #2. Spirit kicked out three fish and nine fish on those respective days. There were only 21 fish recorded this event, which means 10-15% of the teams split 57% of the fish.
Would you be surprised if I told you Raley/Osfar were on Spirit? 😂
---
Fall Sucker Riggin'
Meat draggin' season is upon us!
You thought musky guys hated pike? Just wait 'till you see what happens when a pike rips off their $10+ sucker minnow. 😉
Anywho, we thought now would be a good time to give MN guide Ryan McMahon a call and have him share a few pointers on fall musky sucker fishing:
"Fall is here and livebait sucker fishing is a super effective way to put muskies in the boat. Once water temps hit the low 50's, my boat switches over to livebait.
"When I'm fishing suckers on clear Minnesota waters, I like to have them trailing the boat under Thill slip bobbers. I run a variety of Stealth Tackle's live bait harnesses, but my favorite is the dual treble inline harness. I like to use a small octopus hook for the lead hook because it will stay in the suckers front lip without having to pierce into any cartilage, allowing for a clean rip out on the hookset."
"I always start with an in-line 3/4 oz weight above the rig. If the sucker won't stay down or I'm fishing deeper than 6-8' down, I'll add rubber core weights to the line or clip on weights to the solid ring that connects the rig to the line.
"Proper weighting will keep your suckers running at the desired depth, but the #1 most important factor for sucker presentation is boat control. I use the remote control for my trolling motor and keep my boat right on the weed edge in most cases. I want my boat moving at .7-.8 mph. This makes the suckers fall in line and stay out of the weeds but doesn't pull them too fast and wear them out. An active sucker on the weed edge won't be safe for long!"
Ryan figures he'll be bustin' out the minnows this Sunday. This bite's only gonna get better!
---
Best October Baits
TRO and the Musky Shop recently posted bait recommendation videos for October. Both had some good info, but there was one reoccurring theme: October is a month of change.
Between turnover and falling water temps, conditions are rapidly changing and the fish don't stay in one place. Here's what Steve Genson had to say on October musky movement:
"Typically in the beginning of the month, I'm still fishing up on shallow flats. As the month progresses, the fish slide deeper and get on the break lines. By the end of the month, we're fishin' steep and deep structure and prominent points"
Here's a list of Steve's top picks for October from the TRO vid:
Here's the products highlighted in the Musky Shop vid:
– Tubes (Recommended by Jim Stewart)
Stuff you see on both lists: Rubber, glide baits, swimbaits and suckers
Not on the list because it's new to the scene and I know quite a few guys are keeping it close to the chest (#shhhh) is the Whale Tail, a plus-sized grub with some crazy action.
---
Strange times....
Chances are, you've probably bumped into this link on your Facebook timeline:
Totally legit – a seriously huge Mille Lacs musky captured on video by John Hoyer (@johnhoyerfish). 
We'd like to dispel ONE rumor though: the article states this fish was "caught this year", which isn't true. This beauty came topside three years back in 2016.
It also claims she measured "52.5 inches with a 38.75 inch girth", which would put her just over 98 pounds using the MH formula. 😂
According to John, the correct girth is 28.75" (still insanely fat)
---
QUICK HITTERS:
– Northern WI musky fishin' w/ Anthony's Outdoors (video)
– River musky fishing tournament w/ sbfishingtv (video)
– How to fish Red October Tubes w/ Maina (video)
– Fly fishing musky podcast w/ Ben Olsen (link)
– Big metro musky on a sucker (vide0)
– Northern WI fall musky fishing w/ Burnin' Eights (vide0)
– Fall Virginia musky fishing w/ Blue Ridge Musky (video)
---
THIS WEEK'S
LUNAR TIMES:
(Times based on Minneapolis)
---

---
THIS WEEK'S

 MONSTER MUSKIES:
HUGE congrats to 80-year old Jim Hejlik on boating this serious tub of lard on Lac Seul. Sounds like this fish measured 52" x 28" (50+ pounds???) and fell for a 10" cisco-colored Mattlock.
Thanks to Bret Alexander for sharing the shot:
This 55.25" Elmer Gantry was the longest fish to visit guide Ryan Marjama's boat in six years. Great fish, and bonus points for the bait pile in the background!
Marc Jefferson hooked up with this 50" Minnesota Metro musky castin' a Stagger 10/10 bucktail after dark.
Tanner Talbot took a break from studying and cracked his new PB – 52-inches of northern Minnesota sucker-slurpin' musky! #SuckerSZN
---

---
Want to see more from Musky Insider? Make sure to follow us on Facebook and Instagram for bonus content throughout the week!
---