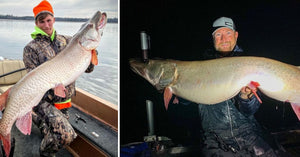 50lber caught 👀 – Late Fall Tips – Quickset Means Set Quick!
Be the FIRST to see Musky Insider every week by signing up for the email version of this newsletter. It's 100% free and we will never sell your email address! Click here to sign up and never miss another issue.
---
---
Five-O Incoming!
The freaks come out at night!
And no, we're not talkin' these kinds of freaks.... 😂
This freak is slimy and has gill plates the size of a frisbee.... 
Feast your eyes on this ridiculous 55 x 28" inch mega-monster from Dan Altmann:
The MH weight calculator has this beast right around 53.9 pounds based on those crazy length/width dimensions #oofda
That's why we put up with the nasty weather & tough conditions this time of year....
---
Late Fall Tips
Let's go back to the basics with a few snippets from a fall musky chasin' article written by Jeremy Logan, who's a north-of-the-border fishin' guide.
Jeremy's been known to stick a few stocky Canuckskies like this portly brute:
This article has some great info, especially if you are fairly new to late fall musky fishing – let's jump right in!
"The shorter the day and the colder the water, the smaller the strike zone will be. Along with a smaller strike zone, the feeding windows also shrink.
"If there were only two words I could use to describe my late fall approach, they would be Big and Slow. If you can present a large, slow-moving bait within the strike zone, it becomes the answer to the late fall equation of survival: Big calories in a slow-moving easy target means less wasted energy trying to chase it down."
Jeremy's thoughts on late fall locations:
"Food and structure are the most important factors in locating fish.... Structure is like a magnet providing a false sense of security to vulnerable baitfish.
"Main break contours that lead into the main basin areas serve as highways for muskies to travel from one area to another looking for food. When these highways intersect with steep drop-offs along rock banks, extended underwater points, and shoals, that's where the musky can corral their prey to pick them off.
"If you are locating pods of baitfish in open water, concentrate on the bait that is riding higher in the water column. In most cases, the musky will be attacking from below or from the side of these bait pods, posting-up off extended rock points, saddles, brush piles, and sunken islands, taking advantage of the heat-absorbing rock and the food that follows."
Here's a few of Jeremy's favorite baits:
"Some of the baits I find most productive for this time of year are big rubber and big jerk and glide baits."
On the rubber side of things, Jeremy mentioned Bull Dawgs and Double Dawgs in both the Magnum and Super Magnum sizes.
He also likes using husky-sized Medussas and Poseidon swimbaits.
"All of these lures can be cast-and-retrieved with either a big slow sweeping action or just a straight slow-to-medium retrieve; both techniques are proven to work."
A few of his favorite hard baits include the 10-inch weighted "Big Daddy" from Musky Mayhem, the 10-inch Hellhound, the River Run Manta and the classic 10 inch (or bigger) weighted Suick.
"The weighted model allows for longer hang time and deeper running depths, perfect for working those drop-offs around rocky shoals."
Jeremy also likes trollin' this time of year....
"I like to keep my trolling speed slow-to-moderate. I'm generally running between two and three mph once the water temps drop below that 50 degree mark. Keep in mind, some baits you normally use at higher trolling speeds will not have the same fish catching action they had at these slower speeds.
"My most productive trolling baits are the 10- and 14-inch Musky Mania Jake, along with the extremely versatile "Believer" from Drifter Tackle. The 10- and 13-inch are my size of choice come late fall."
Good stuff! Make sure to check out the full writeup for more deets from Jeremy 👍
---
Let 'er Rip!
When anglers use livebait rigs, it doesn't matter what species of fish they are chasin', the biggest question they always ask is....
"How long should I let 'em eat it???"
Pete Maina has the answer in this video if you're targeting muskies:
Some important stuff in there, so here's a few quotes incase you can't listen to a video right now:
"It doesn't matter if it's livebait or deadbait – the key word is "quick" strike.
"You can achieve 100% releasability with no damage to anything if you do this properly. You need to set the hook within 15 seconds, maybe sooner. Anything over thirty seconds and you're in danger of having the fish ingest the sucker which means there's at least a 50% chance it's not going to survive."
The difference between roughly zero mortality and 50+ percent mortality is a big deal in the musky fishin' world. #CatchAndRelease
"If you're lucky enough to have the fish grab your bait and immediately start swimming away from the boat, set the hook right away in the opposite direction."
Here's a cool little tip you might have heard Pete mention in the past:
"Around 70% of the time, muskies will grab your bait and just sit there. One thing I do that works really well in those situations is starting up my big motor and backing it right on top of the fish. The majority of the time, they are going to scare and swim away from the boat, either straight downwards or off to the side. Once they take off, set the hook in the opposite direction."
Pete's caught a LOT of sucker-munchin' muskies over the past few decades, so don't let anyone tell you that you need to "let them eat it".
That's a thing in walleye fishing.... not musky fishing.
---
This Week's Mashup:
Mashup time!
#1 – First up, we've got an extra-extra-snubby Indiana musky from Josh Higi – she's gotta permanent mean-mug going on!
#2 – That awkward moment when you're not sure if you should try to cheer your buddy up or continue fishing in silence for the next 30+ minutes. 😅
#3 – How sweet is this underwater snap from Glenn McDonald just a few moments before the scoop???
#4 – Diggin' this glitter perch crankbait paint job from BRbaits:
---
QUICK HITTERS:
– 2022 Chicago Muskie Expo is January 7-9 (link)
– 2022 Milwaukee Muskie Expo is February 11-13 (link)
– Fall topwater fishing w/ Todays Angler (video)
– Trollin' for muskies on Lake of the Woods (video)
– Talkin' Mille Lacs w/ Road Rules Podcast (link)
– Georgian Bay breakdown w/ Ugly Pike Podcast (link)
---

---
THIS WEEK'S

 MONSTER MUSKIES:
How impressive is this sumo-sized 55.5-inch fall freak from @wolflakeoutfitters???
This big gal hasn't been skippin' any meals! Congrats to Liam Kneer on baggin' this chunky fall 'skie. 🔥
Surprised they could fit this crazy-long Virginia musky in the photo! Another great catch from the Blue Ridge Musky crew. Love the colors, too 😍
Props to Cody Wolters on catchin' this big late season 50+ incher in western MN.
Wanna be featured in Musky Insider? Send in your recent trophy musky photos by replying to this email. You might just see your pic in next week's newsletter. 🤙
---
---
Want to see more from Musky Insider? Make sure to follow us on Facebook and Instagram for bonus content throughout the week!
Send all business inquiries to josh@muskyinsider.com
---