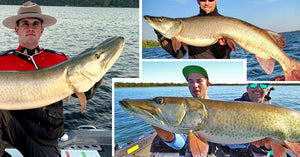 53-incher caught TWICE – Musky Science – Awesome Strikes & Sad Losses
Be the FIRST to see Musky Insider every week by signing up for the email version of this newsletter. It's 100% free and we will never sell your email address! Click here to sign up and never miss another issue.
---
---
The dumbest 53" musky....
The older you get, the wiser you become, right?
Well, turns out that's not always true....with people AND muskies 😂
If you've been following along over the past couple weeks, you probably remember this 53" Leech Lake fatso from Matthew Quintano. He caught it rippin' a Medussa during the PMTT Mega:
Soooo, apparently this big girl loves eatin' Dussas, because she lunched another one just ONE WEEK LATER....
Here's the SAME fish in the hands of Robbie Jarnigo:
Looks like she put on a few pounds between catch #1 and #2. Can't imagine what she's gonna look like in November. Might have to mosey on over to Leech in a month to find out....😉
---
Ontario Musky Anglin'
If you're a musky-head that enjoys reading 3,000 word articles, make sure to check this one out from In-Fish field editor Cory Schmidt. It's chock-full of insights on fishing Ontario waters and features legends like Dick Pearson, Doug Johnson and others. (click to read)
Here's a quick taste before you curl up by the fire and binge-read the whole thing.
Dick Pearson on rusty crayfish:
"On Lake of the Woods, you can't step near any shoreline without observing shells, claws, or live rusty crayfish ... There's almost no cabbage left, particularly in the Northwest Angle. As the vegetation has disappeared, muskies have redistributed among less habitat. You see more anglers concentrated on fewer, high percentage spots—mostly rock."
"What's most alarming is I think the crayfish are eliminating a lot of spawning habitat. We're seeing fewer and fewer small muskies every year."
Doug Johnson on LOTW's changing habitat:
"When weeds were so prevalent, you'd never catch a muskie off a fallen tree. Now that the cabbage is gone, certain trees have become key spots that seem to hold a muskie or two every time you visit it."
Gord Pyzer on a crazy, ridiculous musky trip:
"The best day-and-a-half of muskie fishing I've ever experienced was with guide Jon Bondy a few years ago. In 15 hours we hooked 15 muskies and put 11 in the boat with 4 over 40 pounds."
Jeremy Smith on Suicks/Super Shads:
"There's something magic about an extra-buoyant bait in vegetation. The deal is purposefully hanging the bait in cover and getting it to back up and out. When so many other anglers are burning bucktails and topwaters right over the tops, I can get right down to the fish in those 6- to 10-foot depths where the best cabbage takes root."
Now that I've spoiled 211 words for ya, make sure to read the full article on the In-Fish website for the other 2,789.
---
Musky GIF Parade
Been a while since we've done a formal GIF parade. Here's a few of our favorite action scenes from the past week or so:
Let's start with a sweet figure 8 strike from Nathan Gruber via the Keyes YT channel:
Coolest part about that one is seeing the wall of water pushing behind the bucktail.
Next up, an ultra clearwater boatside smack from Austin Pingel going into the first turn:
Now for a couple heartbreakers....
Gotta feel for Della Bay after watching his 'skie dancin' on the edge of the net – so dang close!
Another serious bummer, Oliver Ngy dumping his could-be PB on his own prototype bucktail/swimbait.
Nothing hurts worse than losing your biggest musky ever, except maybe getting drilled in the face with a big musky bait. Definitely a close call on the last clip!
Almost as close as this:
---
St. Louis River Musky Movement
Was thumbing through some musky studies earlier this week and came across some interesting nuggets on the St. Louis River (MN). 
Some of this might be common knowledge to the local guys, but there's some fascinating tidbits in there. The science-folks used passive acoustic telemetry to track 60 muskies throughout the system and here's what they found:
"Muskellunge tended to move upstream in the spring, downstream and into Lake Superior throughout summer, and to the middle river during fall and winter. Males and females spent significantly more time in the upper and lower rivers, respectively."
Gender influences movement, but so does strain (as you'd expect).
"Movements were influenced by strain in that hybrids and WI strain spent more time in the upper and middle river, and the MN strain spent more time in Lake Superior .... (the MN strain made up 80% of individuals using Lake Superior)"
Not only is this stuff interesting from a scientific standpoint, but it also helps point anglers in the right direction if they are new to the system.
---
QUICK HITTERS:
– 50" Hayward Musky (video)
– Luke Ronnestrand is on social media?? (link)
– Northern MN musky fishing w/ Toby Kvalevog (video)
– Proposed Lifetime WI Fishing Licence for $577.50 (link)
– Leech Lake muskies w/ Waters & Woods (video)
– Frank Suick story (link)
---
THIS WEEK'S
LUNAR TIMES:
(Times based on Minneapolis)
---

---
THIS WEEK'S

 MONSTER MUSKIES:
How 'bout the girth on this 50+ inch potbelly 'skie! This was one of two fiddies that hit the net for Brad Nelson. Dang impressive!
MN guide Luke Swanson fooled this beauty castin' & windin' a Stagger 8/9 bucktail
Jimmy Hallberg traveled 4,000+ miles from Sweden for a shot at a plus-sized Minnesota musky. Fishin' with guide Matt Seifert, he managed to put a serious monster in the net throwing a JR3 bucktail. 53 inches long and girth for dayyyys!
With the first three fish comin' on bucktails, I thought we'd change things up and throw in a hard bait fish. This night hawk fell victim to Micah Drew's crank on an after-hours musky mission.
---
---
Want to see more from Musky Insider? Make sure to follow us on Facebook and Instagram for bonus content throughout the week!
---