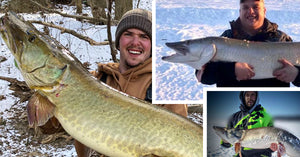 54x27'' caught – New Anti-Musky Bill – Suick Tips
Be the FIRST to see Musky Insider every week by signing up for the email version of this newsletter. It's 100% free and we will never sell your email address! Click here to sign up and never miss another issue.
---
---
Huge Freakin' Ice Musky
Feast your eyes on this 54'' x 27'' pond monster from Mille Lacs Lake: 
Thank goodness Mark Kottke had a 10-inch hole drilled out for this big ole incidental 'skie. Sounds like they took good care of her and got her back down quick. 👌
---
Suick Tuning Tips
Write it in permanent marker: Suicks catch fish….always will.
The Muskies Inc. Lunge Log has 12,245 muskies over 30 inches registered that were caught on Suicks. For those keepin' track at home, that's a LOT of 'skies.
With that in mind, I think most folks could get some utility out of some good Suick fishin' tips. Here's a few from Chippewa Falls (WI) guide Jason Smith:
"When you get a Suick out of the package, give it a quick cast. You want the bait to dive and rise 2-5 feet deep, bending the tail slightly changes the presentation. Just an 1/8" or 1/4" down on the metal tail will give you the right action. Keep in mind, every bait is slightly different.
"I like to "T' the main body hooks to increase hooking percentage. It also cuts down the wear and tear on the paint job.
"If you fish them around rocks, eventually the eyelet can get pounded into the wood. Adding a split ring to the eyelet will help avoid that. Make sure the eyelet is always square, so it runs true.
"You should be good to go if you can get the Suick to go slightly side-to-side and dive-and-rise. Make sure you put a few pauses in your presentation to trigger strikes and you'll put a lot of muskies in the net this year."
Jason actually has a video on this exact topic: Suick Tuning
Also – he has a seminar coming up at the MN Muskie Expo (Sunday, Mar. 29 at 2:00). His son Fischer is a heck of a stick and will be on stage, too.
---
Staggering Mods
We've never met a musky angler who doesn't fiddle with their tackle….
Bending stuff, adding weights, custom paint jobs, etc.
Can't blame 'em – anytime you're throwin' something the fish have NEVER seen before, you're upping your odds of putting one in the net. At least that's what some guys think….
One deal we'll be messing around with this summer is the Stagger Blade Attachment. There's something special about the sound/vibration those blades make – it only makes sense to play around with unique "trailer" options.
A few ideas to try:
Might even give this one a go…..
....or maybe not. 😉
---
Anti-Musky Stuff
It's that time of year again in Minnesota….
2020's version of the anti-musky bill dropped this week. Here's the quick gist:
No musky stocking in Ottertail County, the Gull Lake chain and Bass Lake in Cass & Crow Wing county until Aug. 1st 2025.

The U of M would

 conduct a $50,000 study to determine the "socioeconomic" impact of muskies. (whatever that means)
The proposal came via Josh Heintzeman, Bud Nornes and John Poston, but make sure to reach out to as many representatives as possible.
Here's their contact info: MN House of Reps folks
We'll try to keep y'all updated on this deal, but the MN Muskie Alliance is going to have the best, most recent info on the topic.
Why does that happen every year?
Not sure, but guessing it has something to do with "the muskies eating all our walleye" stuff – which simply isn't true. There'd be a lot more walleyes swimmin' around if this wasn't the norm for the past century 🤷‍♂️
Sorry, rant over! 😂
---
QUICK HITTERS:
– Catchin' a bunch of muskies trollin' LSC (video)
– Pennsylvania on a mission for monster muskies (link)
– Jigging for muskies in Pennsylvania (video)
– WI/MI border water length limit change (link)
– Garmin adds Panoptix Perspective Mode (link)
– Check your hooks and split rings (video)
– Vertical jigging Indiana muskies (link)
– Pike found with hard boiled egg in belly (link)
---
THIS WEEK'S

 
LUNAR TIMES:
(Times based on Minneapolis)
---

---
THIS WEEK'S

 MONSTER MUSKIES:
Trevor Gray smashed this New River monster fishin' in the Battle of the Virginias.
Imagine pulling this 52.75-incher though an ice hole....un-freaking-real!
This 43" Wisco water wolverine thwacked Jake Resch's tip-up. #dangright
Wanna be featured on Musky Insider? Send in your recent trophy musky photos by replying to this email. You might just see your pic in next week's newsletter. 🤙
---

---
Want to see more from Musky Insider? Make sure to follow us on Facebook and Instagram for bonus content throughout the week!
Send all business inquiries to josh@muskyinsider.com
---