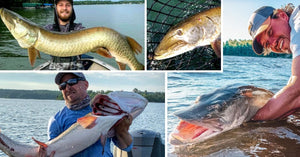 56+ inch monsters! – Why Lake Currents are Important – Unique photo ideas
Be the FIRST to see Musky Insider every week by signing up for the email version of this newsletter. It's 100% free and we will never sell your email address! Click here to sign up and never miss another issue.
---
---
Pelagic Muskies & Current
Don't underestimate subtle depth changes, even on lakes that seem mostly structureless like Lake St. Clair.
Here's a little nugget from Jon Bondy some of you might find interesting:
"During the summer, muskies on Lake St. Clair become pelagic, which means they are cruising around in open water looking for food, and not relating to any specific structure or cover.
"For most people, searching for pelagic muskies in the open water can be difficult and intimidating. What I look for is sections of the water that have a little bit of a rise in the bottom, whether it's a gradual rise over 100 yards or it's a hump.
"When there's current going through the lake, whether it's natural or from the wind, the shallower water will create what I like to call a "pinch point". This actually compresses the amount of space the water can be in, which forces the current to speed up a bit to get past the rise in the bottom. That small increase in current speed can make a huge difference. If I find an area that comes up six inches over 100 yards, that's where I'll be drifting my boat."
This is something that ANY angler can use to their advantage, whether they're chasing muskies, bass, walleyes – you name it, especially if you're a Great Lakes angler.
Jon also shared some thoughts on presentation for windy vs. calm days:
"Most anglers like to impart a lot of crazy action into their baits, but I don't believe that's necessary. If there's a little chop on the water and the fish are biting, you won't have any issues getting bites with a straight swimming retrieve right in the middle of the water column.
"That said, if conditions turn flat calm and the bite is slow, I'll go to a jigging-style bait.... I'll cast it out and then jig it back to the boat, making big hops through the open water and reeling up the slack quickly on the way down to keep the bait off the bottom."
And here's something I bet most of you don't consider: The Splash
"When the surface is calm like this, I'm aiming to make a good hard splash with my bait on the cast — I can promise you that every musky within a 50-yard radius of that splash will know your bait is there and occasionally, you'll even get bit before you're able to start your retrieve."
Just something for you to chew on this week....
---
Water Release Shots
We love seeing pics of massive horizontally held muskies, but some of the coolest, most unique shots happen when you change things up a bit.
Here's a few water release shots that caught our eye this week:
Looks like Christina Truppe was fishin' the foam (remember last week?) when she caught this Wisco bronze beauty!
Doug Wegner takes some amazing fish hold pics, but we're really diggin' this in-the-water shot, too.
This fly muchin' musky from Ezekiel Paquette almost looks prehistoric – sweet pic!
Gotta love the boatside camera angle, showin' off that big ole gator mouth. Props to Kirby Budrow on the great fish and his wife Erin on the A+ photo.
---
"Misshapen" Muskies
I feel bad calling them "ugly", so let's go with "misshapen" this week.... 😂
Now that you've had your fill of beautiful water release shots, here's a few muskies that are slightly less photogenic:
Congrats to Thomas on boating this snaky-lookin' humpback while fishing with MN guide Philip Bauerly. She actually hit 50 inches, despite lookin' about as healthy as someone on a Pop Tart-only diet.
Nathan Siclovan caught this homely river 'skie while fishing a tournament in Wisconsin. Looks like she's got a Joker-style permanent smile on her face, too.
It wouldn't be an Ugly Misshapen Muskies segment without a class snub-noser like this one from Mathieu Carriere.
Last but certainly not least, check out this big bodied humper from Last Cast Angling – this shot kinda reminds me of those big, extra-flexible European pike.
If you've caught any "misshapen" muskies, send 'em our way by replying to this email! We'd love the share. 👍
---
Throwback Thursday
We've been enjoying some of these blast-from-the-past throwbacks that Mike Keyes has been throwin' up on his YouTube channel.
The last one was from 2009 on Lake Minnetonka featuring Mike Keyes, Steve Genson, and Spencer Berman (who was guiding in MN at the time):
They released a few others this summer, including Luke Ronnestrand on Green Bay (2009) and Chad Cain in Tennessee (2010).
Still entertaining 10+ years later!
It's fun looking back at how much things have changed over the past decade....
Like how THIS used to be state of art technology in the fishing world:
Keep the old videos coming, Mike! 👍
---
QUICK HITTERS:
– Yearling post-stocking behavior in two Iowa reservoirs (link)
– Summertime river musky float w/ Todays Angler (video)
– Pipestone Lake w/ Maina and Jessie Baker (video)
– Leech Lake musky tips w/ John Hoyer (video)
– New Abu Garcia McHybrids (picture)
– Early fall In-Fisherman musky segment (video)
– Musky podcast interview w/ Jeremy Smith (video)
– Northern WI musky fishing w/ Angling Anarchy (video)
– Green Bay musky management seminar (video)
– Illinois musky fishing action (video)
---

---
THIS WEEK'S MONSTER MUSKIES:
Jordan Guck caught this mammoth 56 incher fishin' a Lake X Cannonball Jr. with guide Josh Borovsky up on Lake Vermilion.
Check Josh's Instagram for a few more pictures of this beast!
Imagine sticking a 56 incher on a topwater.... 😉
Huge congrats to Jordan!
The early bird gets the worm!
Scott Zelten burnt a vacation day to go on a solo musky hunt on Green Bay. Well, it was just 6:00AM when he hit pay dirt with this 56.5 inch Great Lakes mega monster!
Think about how stressful it would be netting a monster like this by yourself. 😅
This bucktail-eatin' 50 incher was part of a four fish day from Ray Connoy and his son Tim.... all fish were caught on Stagger 8/9 bucktails. #money
Lovin' the white wolf colors on this 53.5 inch Lake Vermilion bruiser John Hoyer caught throwin' a Barfighter. Sure beats walleye fishing, right John???
Wanna be featured on Musky Insider? Send in your recent trophy musky photos by replying to this email. You might just see your pic in next week's newsletter. 🤙
---
---
Want to see more from Musky Insider? Make sure to follow us on Facebook and Instagram for bonus content throughout the week!
Send all business inquiries to josh@muskyinsider.com
---