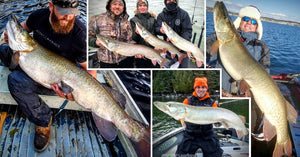 56'' Mammoth 'skie – Ruining the #1 Musky Lake – Fall Casting Tips
Be the FIRST to see Musky Insider every week by signing up for the email version of this newsletter. It's 100% free and we will never sell your email address! Click here to sign up and never miss another issue.
---
---
The Fall of "Rome"
Once upon a time, Mille Lacs was the capital of the musky world....
Those days are looooong gone and anyone lucky enough to fish "the Pond" back in the mid 2000's gets to rub it in everyone else's face. 😂
Sure, you'll still see a few mega-monsters caught every now and then, but the lake is a shell of it's former glory.
Lee and Robbie recently sat down to talk about "The Rise and Fall of Mille Lacs Muskies" – here's the vid:
In the first half of the video, Lee talks about his personal experience on the lake back in it's heyday, and right around 51:30 is where he shares a few of his theories on why it fell off in 2008.
What do YOU think lead to the fall of one of the best musky lakes ever?
---
Speaking of Giant Muskies....
Mille Lacs might be a shadow of it's former glory, but there's still plenty of big muskies kickin' around in the state of Minnesota.
Feast your eyes on this FIFTY-SIX incher from Todd Berge somewhere in the land of 10,000+ lakes:
Not bad for his first-ever musky over the 50" mark.... This big ole bruiser lunched a 15 inch sucker right on moonrise. 
Thanks to Brad Nelson for sending in the pics!
---
Terminal Tackle for Castin'
There's always an uptick in sucker riggin' and trolling this time of year, but casting still gets plenty of play all the way until ice-up.
Most folks are upsizing their baits this time of year with muskies generally feeding less often, but looking for larger prey items as water temps continue to free-fall.
....but don't forget about having the right line/leaders to match your bigger baits.
In this video, John Bette (the Stealth Tackle leader guru) breaks down exactly how you should adjust your terminal tackle for fall musky casting:
It's a longer video, jam-packed with good tips. Make sure to give it a watch, because we couldn't fit everything here in the newsletter.
Here's a few quick highlights from John:
"One of the best reasons to re-spool your reel in the fall is you get the full benefit of the brand new line coating, which helps repel water. As the season wears on, the coating wears off, and you start noticing that you're absorbing more water on your line. If you spooled up in the spring, by the time you get to fall that water resistance is just about gone."
Less water absorption = less ice build-up, less frozen guides, and less water that eventually gets on your hands/gloves.... that's a big deal when air temps are hovering around freezing. 🥶
Speaking of braided line, John recommends upsizing to 80 or 100lb braid in fall when you switch to larger baits – he's running HI-SEAS Grand Slam on his reels.
Here's his thoughts on fluorocarbon for big rubber baits:
"You might also consider upsizing your fluorocarbon leaders to 150 to 200lb test. Thicker diameter line = more abrasion resistance. This time of year, muskies aren't chasing around schools of minnows, they're looking for bigger prey that they need to headshot. So oftentimes, these fish are scraping the leader with their teeth before they even get to the lure. You want to compensate for that by having a nice heavy leader. You'll want a longer 12 to 14 inch leader for the same reason."
For those of you who don't trust fluorocarbon, but want something flexible with less kinking, John recommends using 175 pound 49-strand wire leaders.
What does John use for big swimbaits?
"I prefer to have a solid wire leader with a solid ring connection to a split ring. If you want to get the full potential action out of this category of lures, the solid wire gives it a little better wobble, movement and vibration. Swimbaits are more leader-sensitive than other rubber baits."
Like we said earlier, there's a lot more we couldn't fit into the email, so make sure to check out the video for the full scoop, including John's thoughts on snaps vs. solid-ring connections.
---
Triple Trouble!
We hear about plenty of musky fishin' double-headers throughout the year, but we almost never hear about the elusive triple-up.
Well, guide Ian Jones pulled it off recently out on Lake St. Clair:
How rare is this?
Well first of all, some states like MN only allow one line per angler, so it would be physically impossible if you didn't have three people in the boat.
They say muskies are the fish of 10,000 casts, which means you have a 0.0001% chance of catching a musky on any given cast – obviously some folks have dramatically improved on that number, but let's stick with 10,000 for the moment.
This means the probability of doubling-up (0.0001 x 0.0001) is 0.00000001% or once every ten million casts.
For a triple-headers, it's (0.0001 x 0.0001 x 0.0001) 0.000000000001% or once every one trillion casts!
It's fun to crunch the numbers, but the problem with this math is most anglers need MUCH less than 10,000 casts to catch a musky....
Also, muskies tend to pack up, which means the probability of catching a musky improves when you know muskies are already in the area.
Here's the biggest problem: Ian's fish were caught trolling, so that flips our entire math equation on it's head.
Okay, no more math today..... 😂
---
QUICK HITTERS:
– Some really good beginner musky tips w/ Blue Ridge (video)
– River musky fishing w/ Burnin Eights (video)
– Catching BIG Northwoods WI Muskies w/ Todays Angler (video)
– Proof that catch-and-release works (photos)
– Gord Pyzer on fall cisco spawn (link)
– Musky round table from 2020 Wausau Show (video)
– 49 incher on the figure-8 (video)
– Fall topwater musky fishing w/ Angling Anarchy (video)
– 7 fish day in Ashland, WI with Larry Smith (video)
– How to winterize your outboard (4-stroke) and (2-stroke)
– How to use Musky Factory's lure retriever (video)
---
---
THIS WEEK'S

 MONSTER MUSKIES:
Let's kick things off with this insanely impressive river monster from TJ Frude up in Canada. Congrats on stickin' a new PB from the jon boat!
This big, clean Eagle Lake blondie couldn't resist Glenn McDonald's 13-inch Grandma in Tennessee Shad.
Alex McLean hit the after-hours pay dirt with this gnarly lookin' 52.75 x 24.5 inch nighthawk. 🔥
Props to Rob Werner on finally bustin' that 50 inch mark, rockin' the camo-on-camo boat/suit combo. 
Wanna be featured on Musky Insider? Send in your recent trophy musky photos by replying to this email. You might just see your pic in next week's newsletter. 🤙
---
---
Want to see more from Musky Insider? Make sure to follow us on Facebook and Instagram for bonus content throughout the week!
Send all business inquiries to josh@muskyinsider.com
---