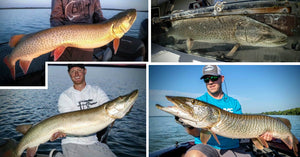 57.25-inch MONSTER – Best Month for Big Fish – Marc Thorpe Thoughts
Be the FIRST to see Musky Insider every week by signing up for the email version of this newsletter. It's 100% free and we will never sell your email address! Click here to sign up and never miss another issue.
---
---
57.25" BEAST Hits the Net!
One of the most impressive fish we've seen this season, and an even better story....
Corey Kitzmann was tying up a bucktail when he got the call that his buddy had passed away. He decided to hit the water to clear his head and ended up sticking this GIANT on the same bucktail. Cory said it felt like his friend was smiling down on him and gave him one last gift.
Great story and a tanker of a fish!
---
Hoyer & Hamernick take it!
When these two guys are fishin' your tourney, watch out!
Last time we saw Jason Hamernick and John Hoyer team up on the PMTT, they took home a $40,000 check on Lake Vermilion.
This time, they crushed the field on Lake Minnetonka thanks to a couple buzzer beater muskies on back-to-back casts late on Day 2.
Here's the full standings:
Sounds like rubber dominated this event with lots of folks in the top 10 catchin' their fish on Dawgs & Dussas.
Hoyer and Hamernick did their work on 24-30' weed edges, throwing Bull Dawgs,Rippin' Dawgs and Posseidons. Check out this 52.75-inch MuskieBreath special:
Also noticed Osfar & Raley scored a second place finish after winning on the Eagle River chain in late June. Those guys are en fuego 🔥
---
Musky
 Play Pens
Ever wonder how Great Lakes guys revive muskies when they're on big water boats like this one from Jason Quintano:
Revival tanks.
Check out this awesome shot from Steve Ryan:
Here's a quick quote from Mr. Ryan who was fishin' on Quintano's boat:
"The flow-thru tank allows them to rest in a stable well oxygenated environment until they are ready for release."
And before you put your detective pants on, the answer is "YES", they have the thumbs up from the Michigan DNR. 👍
---
Warm Water & Dissolved Oxygen
If you've been following along over the past few weeks, you know warm mid-summer water temps are bad news for musky survival rates.
Before we put this topic to bed for the year, here's some really interesting insights from well-known musky guide and conservationist Marc Thorpe:
"As water temperatures climb in summer, the levels of dissolved oxygen in the water falls. Although there are many factors involved, water will lose roughly 5-10% of it's dissolved oxygen when temps increase from 74°F to 80°F. It doesn't sound like much, but it's a BIG change for muskies.
"74°F is when I start to pay extra attention to the fish. Often times, you can read the health of your catch based on it's behavior in the net, during the unhooking process, etc.
"Not every fish that kicks off is going to survive, some might even die up to 72 hours later. Not all dead fish float to the surface either. In fact, 80-90% of them sink to the bottom."
Marc pointed us to an interesting article that breaks down some of the in's and out's of dissolved oxygen. Here's a few tidbits:
"From the air, oxygen can slowly diffuse across the water's surface from the surrounding atmosphere, or be mixed in quickly through aeration (wind, rapids, waterfalls, ground water discharge, etc.) Dissolved oxygen is also produced as a waste product of photosynthesis from phytoplankton, algae, seaweed and other aquatic plants"
"The solubility of oxygen decreases as temperature increases. For example, at sea level (1 atm or 760 mmHg) and 4°C (39°F), 100% air-saturated water would hold 10.92 mg/L of dissolved oxygen. But if the temperature were raised to room temperature, 21°C (70°F), there would only be 8.68 mg/L DO at 100% air saturation."
It's a mouthful, but to sum it all up, dissolved oxygen levels decrease in higher water temps. Aeration (wind, current, waterfalls, etc.) can help, as does photosynthesis. That means shallower water can hold more dissolved oxygen than deeper water ... unless water temps are rising and there's a lack of aeration (higher surface temps). Additionally, water at lower altitudes can hold more dissolved oxygen than water at higher altitudes.
There's a lot to unpack here, but we'll leave it at that for now.
---
"August is my favorite big fish month"
Most folks think FALL when they think about BIG muskies. Not Joe Bucher – his most productive big fish month is August!
Why is August so good?
Here's Joe's take: Daylight peaks in June and temperatures peak in July – thus August is when the true "change of season" begins, not September.
He believes many of the larger fish that weren't previously available (over open water & hard to locate) start to slide up onto classic musky structure where casters can more easily catch 'em.
Watch the full video for more deets from Mr. Bucher 👍
---
QUICK HITTERS:
– National Championship Musky Open – Aug. 15-18 (link)
– Jim Saric on the Backlash Podcast (link)
– Lake Labs Voice Assistant in Action (video)
– Young kid sticks a 'skie at boatside (video)
– Indian Lake Chain Musky Show w/ Maina (video)
---
THIS WEEK'S
LUNAR TIMES:
(Times based on Minneapolis)
---

---
THIS WEEK'S

 MONSTER MUSKIES:
This 52.5" trophy musky couldn't get past former Fighting Sioux goalie and current northern MN guide Toby Kvalevog. The meal of choice was a Svartzonker McRubber swimbait. 
This 53" finned-projectile blew up Alex McLean's Weagle right at sunset and just before moonrise in northern MN. #bitewindow
The Madison chain kicked out one heck of a tiger musky for Trevor Olson. This 45¾" hybrid (possibly natural?) fell victim to a Rapala Super Shad.
Been fun watchin' Oliver Ngy chase down muskies this summer. Gotta love it when bass guys finally see the light and start targeting REAL fish! 😂 This potbelly drilled JP Kimbrough's 12-inch Defiant line through swimbait – great catch!
---
Want to see more from Musky Insider? Make sure to follow us on Facebook and Instagram for bonus content throughout the week!
---