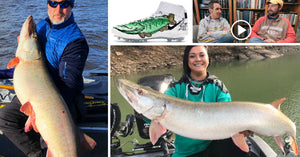 57.5 x 27 Monster – Hardcore line/leader tips – Pressured Musky Tips
Be the FIRST to see Musky Insider every week by signing up for the email version of this newsletter. It's 100% free and we will never sell your email address! Click here to sign up and never miss another issue.
---
---
Beast from the East
One of the most impressive fish we've seen in 2019, possibly too long to fit on your phone/computer screen 😉
Derek Greer is a large human at 6'5", but the musky still looks massive, even with a honest to goodness, close-to-the-body hold. The measurements confirm the monstrosity at 57.5 inches long with a 27-inch girth.
No surprise, this beast came from out east in Marc Thorpe's boat.
---
Line & Leaders
Just got done listening to a really good podcast featuring Keith Edberg (the reel repair guy) and John Bette from Stealth Tackle. Both guys shared a lot of great info – props to the Backlash Podcast crew for putting some great stuff out there.
Here's a few cool fishin' line insights from John:
 Leaders for Rubber  – John recommends upsizing your fluorocarbon leaders to something in the 150-200 lb range. Muskies tend to headshot rubber baits, which can do a number on the leader. Alternatively, you can run a 240 or 325 lb solid wire leader if you're not a big fan of fluoro. John's go-to is 180 lb fluorocarbon.
 Trolling Leaders  – The most popular trolling leaders are 36 inches long, but John prefers the 48-inchers rigged with a cannonball up front to catch weeds and debris. Some Great Lakes trollers will go even longer, but keep in mind, the longer the leader, the more difficult it becomes to get the fish in the net, especially if you're fishing from a smaller boat.
Most folks use 100 to 130 lb leaders for smaller cranks, but if you're running Headlocks or Mattlocks with the metal lips, you might consider upsizing to the 200 lb options to protect your investment. (Keep in mind, different leaders will change the action of the bait)
 Changing Line  – If you're still musky fishing this fall/winter, John recommends putting on fresh line RIGHT NOW, instead of waiting until spring. Braided line has a water-resistant coating that wears off throughout the course of the season. You want that stuff on your line now more than ever to keep your rod/reel/hands as dry as possible when it's cold and things are freezing up.
If you decide to spool up with some fresh line, make sure you crank the new stuff on tight! Using a tension controlled line spooler can make a world of difference in that department. Here's John's go-to system:
At 26 bucks, this little gadget wouldn't be a bad Christmas gift for musky obsessed loved one.
---
Pressured Musky Tips
Pretty cool Q&A video with a couple excellent musky sticks, James Lindner & Jeremy Smith, talkin' pressured muskies:
They covered a wide variety of topics/species throughout the video – look for the musky stuff right around 1:28.
Definitely worth a watch, but here's the quick TLDR;
Inline spinners are always good for covering water and finding fish

Jump baits are great "tattle tail" baits, forcing fish to show themselves
Topwaters are actually finesse

 musky baits?

Burning swimbaits is an underrated tactic
And my favorite quote from James at the end:
"Fishing baits in ways that the fish haven't seen them move before."
It's stupid simple, but so true...and musky fishin' doesn't need to be rocket science!
---
Musky Cleats
Check out this musky-themed football cleat from NFL dude Frank Ragnow:
Frank had them painted up to honor his fishin' buddy/family friend Hed's memory and bring awareness to suicide prevention. Our thoughts and prayers go out to everyone effected by suicide/suicidal thoughts. That's tough stuff...
On a lighter note, check out Frank's first yak 'skie from this past summer:
---
QUICK HITTERS:
– Boatside musky strike montage (video)
– Late Season Finesse Live Bait Muskies (video)
– Upper Peninsula fly musky highlights (video)
– How musky rods impact your figure eight (video)
– Kentucky musky trolling – first musky (video)
– "The Passion" w/ Blue Ridge Musky (video)
---
THIS WEEK'S

 

LUNAR TIMES:
(Times based on Minneapolis)
---

---
THIS WEEK'S

 MONSTER MUSKIES:
Shazana Amanda's first-ever live bait musky is also her heaviest fish so far. This is what "dates" look like when KY musky guide Tim Barker is your guy!
Feast your eyes on this river-runnin' slobosaurus from Robert Dankowsky. Can't say I've ever seen a musky photo shot on a selfie stick – kinda seems like a bass thing. 😉
Not a massive fish, but the patterns on this New Yaawk tiger are pretty incredible. Also noticed Kurt Hoefig caught her rippin' a blade bait. I can't think of anything with fins that won't bite a blade bait.
Feels like an untapped lure category in the musky world?
Stickin' to the tiger theme, check out this striped beauty from Josh in Utah. There's musky-heads all over the country, man!
Wanna be featured on Musky Insider? Send in your recent trophy musky photos by emailing nick@muskyinsider.com – you might just see your pic in next week's newsletter. 🤙
---
---
Want to see more from Musky Insider? Make sure to follow us on Facebook and Instagram for bonus content throughout the week!
---