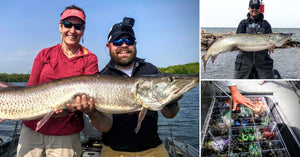 57-inch MONSTERS – Saric's Summer Tips – Musky Bucktail Tips – PMTT Details
---
Boom Shock-a-Locka!
Let's start this newsletter off with a BANG!

We've seen quite a few 55-inchers this year and even a few breaking the 56" mark, but there haven't been many fish THIS BIG caught in 2019.

Well, Michelle Morey got her money's worth on this Mille Lacs Lake guide trip. She spotted this 57-inch Mille Lacs monstrosity swimming near the boat, and thankfully her guide Mike Verdeja had a throwback ready: a 3/8oz Northland Reed-Runner Spinnerbait (black & orange).

Not even the "Magnum" size, but it got the job done!
Not gonna lie, I'd love to see the headcam footage from this catch....
---
PMTT: Raley & Osfar did it AGAIN!!!
Big congrats to Matt Raley and Nate Osfar on winning the PMTT on the Eagle River chain, literally two weeks after winning the Spring Classic on the same fishery.

For those of you keeping track at home, that's a pair of jumbo cardboard checks worth $15,000 + $16,300 = $31,300!!

.... or just enough to keep gas in the boat for the rest of the year. 😂

Here's a quick peek at the top 20:
As you can see, it was a bit of a dink-fest, BUT at least Eagle kicked out some rock solid action for the weekend with 54 fish caught.

We gave Matt a shout to get some deets from the event, and here's a quick rundown:

Coming into tourneys like this, he'll go with 1 of 2 strategies: 

1. Running & gunning good looking spots that may hold muskies.
2. Camping on a few key spots they're confident hold fish, waiting for a bite window.
Heading into Day #1 of the PMTT, they pinpointed a few different spots they thought they could camp on. After catching one fish (33.5") mid-morning, they decided to ditch the "campsite" and try runnin' & gunnin'. Although they didn't boat any more muskies on Saturday, they eliminated a ton of water.

They crushed the field on Day #2 with 109.25 inches for three fish. They were the only team on Sunday to put three 'skies in the net.

The Eagle River chain is FULL of weeds, and that's where Matt and Nate focused their efforts. They wouldn't cough up lure specifics (can't blame 'em!), but said one of the fish came on a small bucktail and the other three fell for a jerkbait.

He was kind enough to share a great tip for fishing the chain though:

"The Eagle chain is mostly weeds. There is a little rock, cribs, and open water bite, too. Since it's a lot of weeds, you spend a lot of time fishing weeds in tournaments. If I can get something going prefishing over cribs, rocks, or open water, we will and have done it. But those are the patterns I try to eliminate while I'm prefishing."

Matt also sent a photo of the 44.75-incher they caught at the Spring Classic:
Another fun tidbit from the PMTT:

Ben Michlig from the 2nd place team is good buddies with Matt Raley and according to Ben, there's a bit of an ongoing rivalry between the two.

Also, Ben had his first child (congrats!) just before WI musky opener and hadn't fished until the tournament.
---
Bucking the Trend....
With each passing year, muskies get more and more "edumacated" to the classic double bladed bucktail. If you wanna stay ahead of the game, you need to buck the trend (pun intended) and start thinkin' outside of the box.

That's why Doug Wegner carries a boatload of bucktails with him at all times.

Literally.

Last summer, he gave me a tour of his traveling bucktail box, and it's quite extensive:
Dougie likes to use lures-styles the fish don't often see.

Whether it's triple-bladed bucktails, smaller single-bladed baits, offset stagger blades, fluted Indiana blades, willow blades, hammered blades, one-piece Revolution style blades or even spinnerbaits, it pays to give the fish a different look/vibration.

Here's a quick video featuring some of his favorite bucktails:
---
Saric's Summer Tips
Found some awesome summer musky tips in my inbox a few weeks ago courtesy of the Musky Hunter Jim Saric himself. Make sure to subscribe to his newsletter if you're hungry for MORE musky readin' material.

Here's a few excerpts from his summer musky send:
Downsize to 9's
"Over the last five or six years, I have definitely seen a trend that when the muskies are located around shallow cover that downsizing to a size 9 blade is usually all it takes to start getting musky action.  It's interesting that downsizing to size 8 blades hasn't seemed to have the positive response that the 9 blades have produced."
Extend the Spot
"If I am approaching a spot where I have seen or caught muskies, I make a point of trying to extend the spot. Rather than pulling up right to the sweet-spot, extend the spot by starting 100 yards from your cluster of waypoints. If the spot is frequently fished by others, more than likely the area you found that extends the spot will not get fished."
Adjacent Spots
"Last summer one early evening, we found muskies relating to points that were relatively sharp breaking and not a "traditional" summer spot.  After catching one musky from such a spot, we visually looked around and drove to four adjacent points that looked similar both visually and on the map chip. Amazingly, all of the other four points held muskies that evening, and it was a great end to the day."

"The more traditional approach to searching for adjacent spots is to look for a nearby reef or point if you find a bay holding muskies. Likewise, if muskies are using a particular point, look for an adjacent bay to hold muskies, particularly if the muskies seemed to have disappeared from the point."

Some great pointers from one of the best musky educators alive!
---
MN High School Musky Championship
Congrats to Marryn Willberg and Tia Hickman from Bemidji on taking home the hardware this past weekend on Lake Vermilion.

Sounds like it was a tough bite, but these ladies managed to bag a 41-inch musky and a 39-inch pike for the dubya:
Awesome seeing a couple ladies win the championship this year!
---
QUICK HITTERS:
 – New President & CEO at St. Croix Rods (link)

 – New Lowrance trolling motor looks....different (video)

 – Father/son 50-inch musky catch (video)

 – Fox River Musky Opener with Burnin Eights (video)

 – Downsizing for more bites with Joe Bucher (video)

 – Musky Marriage Proposal (video)

 – Crazy stuff happenin' in the West Coast bass world (link)
---
---
THIS WEEK'S

 MONSTER MUSKIES:
Surprise!! Another giant musky caught trolling Headlocks. This one was boated by Eric Bakke and measured 56" x 24" – simply insane. After a quick peek at the FB post, looks like he was using the "Black Rice" color.
Raise your hand if you're happy musky season is finally open in Canada! 🙌

Speaking of Canada....Georgian Bay is a YUGE fishery, but pretty sure water levels fell a few inches when Kurt Mohaupt hoisted this big girl out of the water....
Sticking to Canadian waters, feast your eyes on this roughed up Ontario musky, courtesy of @cottagefishingadventures. Almost looks like something you might see lurking around inside of Jurrasic Park. #leviathon 🦖
Okay, one last Canuckian 'skie – Hide yo kids, hide yo wife! There's sea monsters swimmin' in Lake of the Woods! Props to Brett Gardiner for starting the season off right with a 50-class fish. #socksnflipflops
---
Want to see more from Musky Insider? Make sure to follow us on Facebook and Instagram for bonus content throughout the week!
---