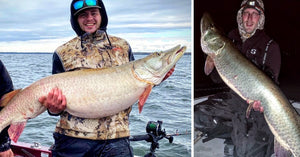 57x28.5'' Monster – Tips for Fall Heatwaves – WI Strain Debate
Be the FIRST to see Musky Insider every week by signing up for the email version of this newsletter. It's 100% free and we will never sell your email address! Click here to sign up and never miss another issue.
---
---
Fall Heatwave Tips
Needless to say, it's been an "interesting" fall so far for musky fishing.....
Mother nature has been a little hot & cold the last few weeks, and it's seemed like the fishin' has suffered in certain parts of the musky world as a result.
We thought we'd share a quick writeup from MN guide Josh Borovsky on what he's been seeing on the water, and how he's tipping the odds in his favor.
First, the report:
"We've had some nice cold snaps that moved the fish up shallow, and as we approached 'turnover temps', we started contacting muskies in bottleneck/pinch-point areas – just like I talked about in my turnover writeup from last year."
"As temperatures have warmed, it seems like the fish have gone through their seasonal progressions in reverse, moving back out to deep weed edges, especially during the parts of the day when air temps are higher than water temps. 
"On cooler nights or in the mornings, I'll sometimes find them sneaking up shallow before moving back out again. On days where there's enough wind to generate current through bottlenecks and pinch points, I'll find fish showing up in these areas."
In other words, Josh is finding fish all over the place, depending on the conditions. 
Although the fishing hasn't been amazing, here's what he's been doing to up his odds of finding action during this less-than-ideal fall heatwave: 
1. GREEN WEEDS
"Regardless of whether I'm fishing deep, shallow or in a neck down, I prefer to fish green healthy weeds when possible.
"An overlooked place to find green weeds is on sharp inside corners. It might be because one side of the turn provides shade for the other keeping those weeds healthier, but regardless I consistently find green weeds in these spots late in the season. I'll also find large rectangular-shaped healthy green weed patches up shallow where lakeshore owners' docks used to reside before getting pulled. 
2. WIND FINDER 
"Determining which structures and neck downs to fish on small single-basin lakes isn't rocket science, but it can be a bit of a mind-bender on larger, complex bodies of water with multiple basins.
"One tool I've found helpful is 'Windfinder' – I'll use it to visualize and focus on structures that are getting hit directly by wind, as well as bottleneck areas that have the most current on any given day."
"It's a visual and fairly precise way to preview which areas you want to focus on for the day. Usually, it helps me ID at least one or two spots each day that I wasn't thinking about fishing before opening the app."
Some good tidbits there. Hopefully, you picked up something that will help you put a few more muskies in the boat during this unusual stretch of fall weather.
---
MEGALODON SIGHTING!
No need to hold this one out for the camera.... even if you could!
They don't catch too many muskies on Mille Lacs Lake this time of year, but there's certainly a few mega-monsters out there ready to hit the net if you're willing to invest some long hours on the boat with your lucky underwear on!
Jarrod Peterson was one of the fortunate few to leave the Big Pond with a smile, boating this 57 x 28.5 inch extra-chunky GIANT on the troll. 
This big girl gets me excited about October and November and all the girthy monsters that are going to get caught before ice-up!
Now all we need is some colder weather.....
---
Stocking Debate
WARNING: We might be wandering into some controversial waters here, so we'll try to tread lightly! 😉
Lee and Robbie (Todays Angler) recently sat down with Larry Ramsell to talk about musky stocking in the Badger state. No surprise, the conversation wasn't all sunshine and lollipops.
Here's the full video:
Stocking is always a touchy subject, which is why it's so fun to discuss....
Usually this topic is reserved for after-dinner rants after a long, fruitless day of musky fishing, but in 2020, we get to hop on our cell phones and follow along with the fun!
Without digging too deep into the subject matter (we'll leave that to Larry), this is the problem they are aiming to fix:
That's the number of 50+ inchers caught each year in MN and WI according to the Muskies Inc. Lunge Log – naturally Wisco natives aren't too happy about this development. 
Can't blame 'em.....
---
Blue Pike?
Looks like the Root River in Wisconsin is kickin' out..... blue pike?
Here's proof from local pike aficionado Rob Kalpinski:
Yeah, that's not something you see everyday.... 
And apparently Rob caught this little rascal THREE different times over the past few weeks. Fool me once, shame on you. Fool me twice, shame on me. Fool me thrice.....errr, never mind.
No one's 100% sure how you end up with a blue pike, but not gonna like, it kinda reminds me of this famous stallion: 
Pretty sure that's what happens when your horse gets into the prune patch....
---
QUICK HITTERS:
– Northern WI Musky w/ Meat Eater and Oliver Ngy (video)
– A couple musky cast-and-catch-and-releases (video) 
– Interview w/ PMTT Flowage winners on Road Rules podcast (link) 
– Outdoor Life and Field & Stream sold to 'North Equity' firm (link) 
– Not musky but…. Descending Device Bill passed in Gulf (link)
---

---
THIS WEEK'S

 MONSTER MUSKIES:
For the second straight week, we're showin' another monster from Benjamin Knutson's boat – this time, it's a 54.5 inch tanker from Matt Cherrey. 🔨
Nighttime is the right time to spank some big ole fall giants. Feast your eyes on this 54 incher Mitch caught this past weekend – props dude! 
Huge congrats to Katie Lindmeyer on a hookin' this 53 inch Leech Lake leviathon fishin' shallow weed beds with guide Todd Andrist.
Check out the head on this MN legal (54+ inches) from Zander Aslesen.... #topofthefoodchain 
Wanna be featured on Musky Insider? Send in your recent trophy musky photos by replying to this email. You might just see your pic in next week's newsletter. 🤙
---
---
Want to see more from Musky Insider? Make sure to follow us on Facebook and Instagram for bonus content throughout the week!
Send all business inquiries to josh@muskyinsider.com
---