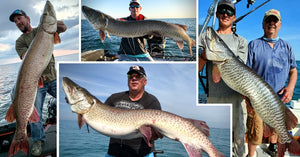 58.5 incher caught – Spencer Berman Tips – Several Massive Musky Pics
There were SO many monsters caught this week that we almost retitled this newsletter: "SHARK WEEK!!" The bite has been hot all around the musky range, so hopefully you've been on the water!

Enjoy the big fish pics and some great info from Spencer Berman over on LSC 👍
Be the FIRST to see Musky Insider every week by signing up for the email version of this newsletter. It's 100% free and we will never sell your email address! Click here to sign up and never miss another issue.
---
---
Enormous MN 'skie
Feast your eyes on this Mille Lacs Lake mega-monster:
For all you cell phone scrollers, she probably barely fits on the screen!
Big congrats to Tyler Scott on trolling up a fish of a lifetime. No bump board photo, but they said 58.5 inches – which would be the MN catch-and-release record if properly documented.
Here's a horizontal shot of this oversized butterball:
Finding and catching summertime muskies on Mille Lacs is like looking for a needle in an extra-large haystack – the only difference is these needles could be larger than your children.
Good thing Tyler caught her before the new mask mandate, because things just got a LOT tougher..... (😉 kidding!)
---
What do you do....
....when 80% of your favorite spots are off-limits?
That's what Lake St. Clair guide Spencer Berman is dealing with right now – he's locked out of just about 2/3's of his fishery due to the US/CA border shutdown:
While he has plenty of fishy water on both sides of the border, the best dirty water (3-6 feet of visibility) is off-limits until further notice. Unfortunately, that's the kind of stuff Spencer prefers when there's blue bird skies and minimal wind....which has been extra common recently.
That said, he seems to have adjusted quite nicely.
Check out this long, lean, ancient looking 55 incher Spencer boated recently:
So, how's he been able to stay on the bite?
The muskies have been feeding high in the water column during the low-light windows, but the mid-day bite has seen the fish pushing down deeper when conditions are flat calm and sunny.
Shad is the primary forage species for muskies on Lake St. Clair and Spencer uses their positioning in the water column to determine how deep he needs to fish his baits. Recently, that's been 14-17 feet down, over 18-22 feet of water during the day.
Of course, if he's lucky enough to get wind or overcast conditions, the fish tend to move up higher in the water column.
Fishing pounder-sized Bull Dawgs with a 1.5 ounce Heavy Head attachment has been the ticket for targeting these deepwater fish. He's also switched to lower gear ratio reels to force everyone in his boat to slow down their retrieve.
With 12+ feet of water clarity, he's focused primarily on natural shad-based colors: whites, blues and even golds.
The biggest keys to finding the best spots to fish right now are locating cabbage weeds and making sure you're around plenty of forage.
Cabbage + Baitfish = A St. Clair Smackdown!
Thanks to Spencer for letting us pick his brain for a bit. As a parting shot, we'll leave you with some more LSC eye-candy: a ridiculously chunky 54.5 incher from one of his clients:
---
All Aboard the Tiger Train!
Here's a few tigers Carole Baskins will never get her greasy paws on!
Let's kick things off with an absolutely massive fish Jason Quintano and his client Ed Nevers put topside this past week trollin' out on Lake St. Clair.
Now let's head alllll the way across the country to Washington state where Mitch Jeidy caught this chunky west coast tiger.
Next, we've got another Washington beauty....
We're always suckers for two-toned 'skies like this one from John Michael Floyd.
Does anyone know how or why this happens? If so, give us a shout!
---
A Belly-Full of Rubber
Turns out some Wisconsin folks actually throw big baits! Just kidding, guys.... 😉
Check out this big ugly bruiser that was found floating in Namakagon, WI:
Okay.... So a 50+ inch floater isn't all that interesting, but the contents of her belly certainly got our attention:
After seeing a leader sticking out of her mouth, they cut open the stomach to take a look inside. That's where they discovered a grimy 2lb Bull Dawg.
The fish obviously couldn't digest the giant chunk of rubber, but the hooks were completely dissolved.
Kinda nasty, but too interesting not to share.
Aren't you glad we haven't figured a way to send "smells" over the internet yet.... lol
---
QUICK HITTERS:
– Topwater tail bait tips w/ Jason Smith (video)
– Lake of the Woods guiding w/ Doug Wegner (video)
– Canadian musky fishing near a power dam (video)
– Cold front vertical jigging musky catch (video)
– St. John River musky fishing w/ Master Crow (video)
– Diesel outboard coming to the US (link)
---

---
THIS WEEK'S

 MONSTER MUSKIES:
We've got a special Canada-only edition for ya this week! 🇨🇦
With the border shut down until late August at the earliest, everyone here in the US will have to settle for the look-don't-touch approach until the grand reopening.
....which won't be easy if Dan Joseph continues to torment us with fish like this a clean 56 inch Canadian monster!
Can't imagine how quiet Eagle Lake must be this summer – that means guys like Treven Ouellet and other local sticks have the lake to themselves. Check out this big-bodied 54.5 inch Canadian musky Treven put in the boat about a week ago.
The French River is known for kicking out some serious giants and James Stevenson was lucky enough tangle with one of them this past week. Congrats to James on sticking this 55 inch finned-blimp of a 'skie!
Marc-André Paquette was burnin' an 8/9 Stagger bucktail when this heavyset goldilocks decided she was ready to play! Whatta beautiful, healthy fish.
Wanna be featured on Musky Insider? Send in your recent trophy musky photos by replying to this email. You might just see your pic in next week's newsletter. 🤙
---
---
Want to see more from Musky Insider? Make sure to follow us on Facebook and Instagram for bonus content throughout the week!
Send all business inquiries to josh@muskyinsider.com
---