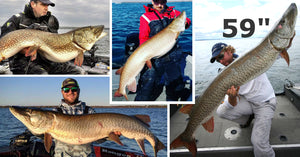 59'' Musky (seriously) – Fall Trollin' Tips – 3 MONSTERS in ONE day
Be the FIRST to see Musky Insider every week by signing up for the email version of this newsletter. It's 100% free and we will never sell your email address! Click here to sign up and never miss another issue.
---
---
Speechless....
Looks like Marc Towers picked off the longest fish of the year trolling with guide Marc Thorpe – FIFTY-NINE inches of musky!
Un-freaking-believable:
She's not the heaviest fish we've seen this year, but she's EASILY the longest. Not sure how many 59's get caught each season (guessing the # is usually ZERO), but feel free to let us know if we missed any!
---
Fall Trollin' Tips
Speaking of trolling, we reached out to northern WI guide Pete Rich to get the lowdown on his fall trollin' strategy up in the northwoods. This was his $.02:
"Traditionally, when you think fall musky fishing in the Hayward area, dragging suckers is the first tactic that comes to mind for most folks. Things are a little different this year. Due to a long, cold winter and extreme amounts of rain, trappers and wholesalers have been unable to produce suckers to sell. As a result, fishing pressure in the Hayward area has seen a significant drop-off.
"For those of us who have put in the time to understand fall musky trolling, there will be a lot of fish out there that haven't been caught two or three times this month.
"Anyone who's attended my seminars or schools knows I've put a lot of time and hard work into trolling northern Wisconsin. Don't let a lack of live bait discourage you from hitting the water! Trolling is actually very similar to dragging suckers. What I mean by that is you already have the location and depths dialed in. All you need to do is put your trolling lures into those areas.
"My most productive fall trolling baits have been 12" Mattlocks and 10" Headlocks. To get the most out of these lures, I move the adjustable pin to the middle slot, which creates a dive curve of roughly 4 feet in depth for every 10 feet of line with a 4 foot 200lb fluorocarbon trolling leader. Thinner diameter leaders will cause the bait to run deeper.
"This time of year, I'm typically targeting sand/gravel points at 2.8 to 3.3 mph."
---
The Meat Shortage
Remember the terribly brutal winter we had last year?
Ice fishing was almost impossible for a period of time with insane snow conditions in some areas. Unfortunately, these are prime conditions for winter kills, particularly on small rearing ponds where bait guys raise suckers.
It's not unusual that we run into sucker shortages in fall, but this year seems especially rough. I called around this morning to check on supplies and here's what I found:
– 
Eagle River: ZERO suckers
– Hayward: ZERO, but shipments supposedly coming in
– Minocqua: nah
– Madison: not much of size
– Brainerd/Mille Lacs: nothing
– Northern MN: mostly no, but some places have some (12-14")
– Western MN: moderate supplies $12-14
– MN Metro: good supplies $8-12
I didn't check with EVERY bait shop, but you get the idea – the gettin's tough!
---
Ridiculous Day....
What's a good day on the water chasin' muskies?
Multiple fish?
Well, 
Dominic Papineau
 crushed any expectations any reasonable person should have for a day of musky fishing with three big ole Canadian sharks.
Here's the SMALLEST of the trio at 53" x 23":
Next up, the middle child (55" x 24"):
Lastly, the Megalodon of the group hitting 56.5" x 25" on the tape:
Safe to say, that's more big fish than most guys and gals will catch ALL SEASON.
Not sure if I should feel happy for the guy or jealous....😉
---
Third time's a charm!
This fish liked Benjamin Knutson's stache boat so much, she visited not once, not twice, but thrice over a one year period!
She bit twice last fall within two days of each other, and again this October. Makes ya wonder how many times this fish has had hooks in it's mouth???
For those of you who need help confirming the ID, take a look:
---
Tail Cam!
Have you ever seen one of these "trolling cams" before? Here's a sweet clip from Loren Flom's first day trollin' the Whale Tail:
Seems like every time I watch these trolling vids, the fish crushes the bait harder and faster than you'd expect.
Do some 'skies stalk baits? Sure. But some are straight-up kamikaze pilots!
---
QUICK HITTERS:
– New 57.25" record Vermilion musky confirmed (link)
– Southern river musky fishing, gliders & Whale Tails (video)
– Shore fishing LSC for muskies (video)
– More musky fishin' action on LSC (video)
– MN DNR looking for AIS Advisory Committee members (link)
---
THIS WEEK'S
LUNAR TIMES:
(Times based on Minneapolis)
---

---
THIS WEEK'S

 MONSTER MUSKIES:
When you think monster tiger muskies, you're probably not thinking about the Finger Lakes of NY. Well, that's exactly where Demetrio Ascioti caught this 50-incher, trollin' on Otisco Lake with one of his favorite salmon stickbaits.
Check out the gut on this chunky Sota 'skie from Darian Rubner – she's built like a stocky linebacker!
If Darian's fish is built like a linebacker, then this one's more of a wide receiver – long, lean and snatches everything in it's path! Congrats to Eric Kipp on a true Green Bay beauty.
Not a musky, but this Euro pike from @hetvishuis was too ridiculous not to share – 54 inches long and over 50 pounds. #notahammerhandle 
Also, here's video footage of the entire catch.
Wanna be featured on Musky Insider? Send in your recent trophy musky photos by replying to this email. You might just see your pic in next week's newsletter. 🤙
---

---
Want to see more from Musky Insider? Make sure to follow us on Facebook and Instagram for bonus content throughout the week!
---