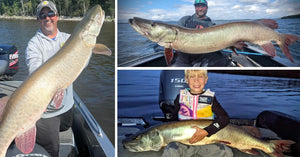 6yo Catches a Biggun – Lake Currents Are Important – Stocking Footage
Be the FIRST to see Musky Insider every week by signing up for the email version of this newsletter. It's 100% free and we will never sell your email address! Click here to sign up and never miss another issue.
---
---
Kiddo Gets a Good One 🔥
Saw this video earlier this week and knew we had to share it in the newsletter:
Amazing moment captured by Mike Kramer (Kramer Bros Tackle) of his son Kenny sticking a low-light 49 incher on a topwater – all by himself 💪
The best part: His kid is only SIX years old.... crazy!
If you have small children, you know how impressive it is – not only physically, but also mentally – for a kiddo that young to boat a big musky without help from an adult.
Here's the photo:
Doesn't get any better than that!
---
Pelagic Muskies & Current
Don't underestimate subtle depth changes, even on lakes that seem mostly structureless like Lake St. Clair.
Here's a little nugget from Jon Bondy some of you might find interesting:
"During the summer, muskies on Lake St. Clair become pelagic, which means they are cruising around in open water looking for food, and not relating to any specific structure or cover.
"For most people, searching for pelagic muskies in the open water can be difficult and intimidating. What I look for is sections of the water that have a little bit of a rise in the bottom, whether it's a gradual rise over 100 yards or it's a hump.
"When there's current going through the lake, whether it's natural or from the wind, the shallower water will create what I like to call a "pinch point". This actually compresses the amount of space the water can be in, which forces the current to speed up a bit to get past the rise in the bottom. That small increase in current speed can make a huge difference. If I find an area that comes up six inches over 100 yards, that's where I'll be drifting my boat."
This is something that ANY angler can use to their advantage, whether they're chasing muskies, bass, walleyes – you name it, especially if you're a Great Lakes angler.
Jon also shared some thoughts on presentation for windy vs. calm days:
"Most anglers like to impart a lot of crazy action into their baits, but I don't believe that's necessary. If there's a little chop on the water and the fish are biting, you won't have any issues getting bites with a straight swimming retrieve right in the middle of the water column.
"That said, if conditions turn flat calm and the bite is slow, I'll go to a jigging-style bait.... I'll cast it out and then jig it back to the boat, making big hops through the open water and reeling up the slack quickly on the way down to keep the bait off the bottom."
And here's something I bet most of you don't consider: The Splash
"When the surface is calm like this, I'm aiming to make a good hard splash with my bait on the cast — I can promise you that every musky within a 50-yard radius of that splash will know your bait is there and occasionally, you'll even get bit before you're able to start your retrieve."
Just something for you to chew on this week....
---
Making Baby 'Skies
Anyone down to see some baby making??? 😂
We stumbled on this video from Wisconsin TV guy Larry Smith featurin' some cool visuals of spring musky stripping in the Fox River.
Their camera crew caught some of the classic "egg gathering" scenes that we see quite often in random TV news segments:
But they also captured some sweet visuals, like this fyke net that's absolutely loaded with big Fox River/Green Bay muskies:
There were a few interesting informational tidbits from the DNR crew, too.
Here's a quote from Fisheries Biologist Jason Breeggemann:
"Our ultimate goal is to reestablish a self-sustaining population that can sustain only through natural reproduction.
"One of the things that we've learned in recent years is that the muskies are actually returning to their stocking locations to spawn. And so, where we stock these fish really matters.
"If we stock them in habitat that isn't suitable for reproduction in the future, then we're not going to get a sustainable self-sustaining population."
Last, here's a shot of some of the musky fry in the DNR holding tanks:
Those are some future Great Lakes leviathans! ☝️
---
This Week's Mashup:
Mashup time!
#1 – Really diggin' this brush pile musky ink from @hofmeisterink:
#2 – The problem is.... you can't just have a couple boxes of musky baits. You need a BUNCH of filled-up boxes, so you can store them in your garage, only to dig 'em back out in 10 years to sell new or "lightly used" on Facebook Marketplace 😂
Great meme shared by Justin Peak:
#3 – Looks like Chaos Tackle added a new 8-inch Posseidon to their lineup. I know a lot of folks have been waiting for this one....
#4 – Check out this sweet crappie-flavored paint job from ZM Bait Co. 🔥
---
QUICK HITTERS:
– Camping & musky fishing on LOTW w/ Devoted Outdoors (video)
– Summer musky fishing w/ Todays Angler (video)
– Musky Road Rules talks PMTT on Vermilion this weekend (link)
– Green Bay musky fishing w/ Joel McClung & Smiths Fishing (video)
– Topwater musky fishing w/ Ben Stone (video)
– Spring musky fishing action w/ Matt Vavroch (video)
---
---
THIS WEEK'S

 MONSTER MUSKIES:
Matt Cornell has been gettin' it done this month on Lake of the Woods. Check out this 54 incher that decided to pay him a visit.... 👀
Congrats to Jared Amason on boating his new PB 'skie with this big bruiser:
Now THIS 👇 is a family photo done right! Great shot from Corey Kitzmann:
Wanna be featured in Musky Insider? Send in your recent trophy musky photos by replying to this email. You might just see your pic in next week's newsletter. 🤙
---
---
Want to see more from Musky Insider? Make sure to follow us on Facebook and Instagram for bonus content throughout the week!
Send all business inquiries to josh@muskyinsider.com
---