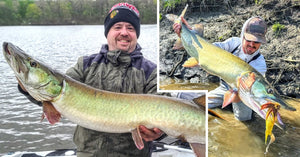 A+ New Musky Science – Is Musky Fishing Healthy? – Big Musky Pics
Be the FIRST to see Musky Insider every week by signing up for the email version of this newsletter. It's 100% free and we will never sell your email address! Click here to sign up and never miss another issue.
---
---
New Diet Study
We've got s'more musky science to dive into!
Just finished reading through a NEW musky diet study headed-up by Kamden C. Glade out of Bemidji, MN:
Diet Patterns and Niche Overlap of Muskellunge and Co-Occurring Piscivores in Minnesota Lakes (link)
It was really well done.
Let's buzz through a quick overview of the study:
They collected stomach contents from muskies, walleyes, pike and largies in 10 different MN lakes:
"Gastric lavage was used to flush the stomachs of live fish by using a handmade device consisting of a battery-operated bilge pump and a garden hose with a trigger nozzle to control pressure."
Here's an example of "gastric lavage" in action:
#fishpuke
The goal was to determine how much dietary overlap these four species have, specifically.... are muskies eatin' all the food, like a selfish older brother scarfin' down a bowl of popcorn that was meant for everyone to "share" 😂
"The goals of this study were to document and evaluate the population-wide diet patterns and niche overlap of four piscivorous species in a variety of Minnesota lakes to better understand interactions among co-occurring sport fish populations, thus helping to guide future management decisions"
Okay, so what did they find....??
---
THE RESULTS:
They sampled the stomach contents of:
368 muskies

1,043 pike

1,178 walleye

1,105 largemouth
Now for some of the juicy details:
Here's a look at the diets of each species based on the different prey categories:
For those who aren't up on your abbreviations:
OTS = Catostomidae (usually suckers)
Here's the overview for 'skies:
Yellow perch (27.1%), catostomids (10.5%), invertebrates (10.1%), bullheads (8.3%), northern pike (6.2%), black bass (6.1%), sunfish (5.0%), and unidentifiable fish (23.2%). Interestingly, ciscoes weren't highly prevalent, despite 4 of the 6 musky lakes having ciscos.
(Although, they admitted their sampling occurred primarily in the shallow littoral areas of lakes, which may have lead to the lack of ciscos.)
Here's another interesting graphic showing dietary overlap amongst species:
"Muskellunge diets were not significantly different across seasons, but were significantly different among length categories. In general, the dietary importance of invertebrates and catostomids increased with Muskellunge size, whereas Yellow Perch, black bass, and sunfish were more important for smaller Muskellunge."
Also notable: Larger northern pike relied more heavily on sunfish as a food source, while smaller northern pike ate more yellow perch (which are walleye's #1 food source). And....
"Diets of Northern Pike and Walleye were not significantly different within or among seasons, as Yellow Perch and Sunfish were important for both species across seasons .... Yellow Perch served as the dominant prey for both species, accounting for over 50% of the diets."
Seems like the "muskies are eating all of my walleyes" crew should be pointing their frustrations at the growing populations of small pike across the state. 🤷‍♂️
And we HAD to sneak this little nugget into the newsletter:
"Only three Walleye were observed in Muskellunge diets during this study, accounting for less than 0.07% of the total diet in terms of IRI. For comparison, six Muskellunge were observed in the diets of other Muskellunge (IRI = 0.62%)."
With all that said, here's the final verdict from the study:
"In this study, we documented Muskellunge populations with diverse diet patterns that were less specialized than and significantly different from the diets of other predators and we provided evidence that the diets of Northern Pike, Walleye, and Largemouth Bass were not significantly different between lakes with Muskellunge and those without Muskellunge."
#dropthemic
Props to Kamden Glade for collecting and organizing all this data. It was a TON of work and the entire fisheries community is better off because of it! #respect
---
Is Musky Fishing Healthy??
I guess it depends on your definition of "healthy"....
We just stumbled upon an article titled: 14 Health Benefits of Fishing
Most of the benefits make sense if you're bobber fishin' for panfish, but here's a few that are slightly less true if you're a musky angler:
#2 – Fishing Can Promote Social Bonding
This might be true when the fish are biting, but what about when you fish all weekend without a single follow? Also, there probably wasn't much "social bonding" after this net job gone wrong 😉
#8 – Reduces Screen Time
I know what they're trying to do here, but obviously the author has never heard of Livescope.... 😂
.... and that's FAR from the craziest electronics setup we've seen.
#9 – Nature Can Lower Blood Pressure
Nature? Sure.
Musky fishing? Uhhh, not so much.... (Sorry Louie)
Losing a big musky at boatside is enough to make a preacher cuss like a sailer!
There were a few more potential jokes in there, but we'll leave it at that for now. 😂
---
This Week's Mashup:
Mashup time!
#1 – Pretty sure this beautiful piece of woodwork from @woodmusky would look good in my entryway! 🔥
#2 – Dennis Seeb hit the jackpot with this perfect custom license plate! #musky
#3 – Diggin' this sweet 'skie flavored tumbler from Matt Vavroch – awesome design!
#4 – REALLY cool shot from outdoor photographer George Daniel:
---
QUICK HITTERS:
– First PMTT qualifier happenin' this weekend (link)
– Matt O'Brien's interview on the Ugly Pike Podcast (link)
– Mid-summer LOTW musky fishing w/ Devoted Outdoors (video)
– Fishing is a 2.3 billion dollar industry in WI (link)
– Gord Pyzer on the Wet Fly Swing podcast (video)
– Top 5 Canadian summer musky baits w/ Steve Heiting (video)
– Useful boat trailer accessories w/ Next Bite (video)
– Sucker fishing for muskies w/ Prairie Sportsman (video)
---
---
THIS WEEK'S

 MONSTER MUSKIES:
Looks like the 'skies are chewing on Lake Kinkaid in Illinois – great fish from Jeff Romanelli 💪
Congrat to @tats.n.tales on poppin' his new PB on a TRO custom Grandma:
Gotta give the fly guys a shoutout every now and then! 😉 Awesome 'skie from Chagrin River Outfitters in Ohio:
Wanna be featured in Musky Insider? Send in your recent trophy musky photos by replying to this email. You might just see your pic in next week's newsletter. 🤙
---
---
Want to see more from Musky Insider? Make sure to follow us on Facebook and Instagram for bonus content throughout the week!
Send all business inquiries to josh@muskyinsider.com
---