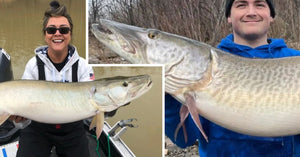 Are We Actually Addicted?? – Big March Muskies – Sweet Bait Colors
Be the FIRST to see Musky Insider every week by signing up for the email version of this newsletter. It's 100% free and we will never sell your email address! Click here to sign up and never miss another issue.
---
---
We're Just a Bunch of Dopamine Junkies
Are we "addicted" to musky fishing??
Seems like most musky angler we know have a "musky-or-bust" mindset.
Almost all of them started their fishing journey chasing other stuff: bass, walleyes, panfish, etc. And the general sentiment is those other species just don't cut it anymore. Many of us don't feel the same joy from catching a 27+ inch walleye or a 5lb bass.... like we did before we started chasing 'skies.
This podcast episode from Huberman Lab has us pondering how dopamine dynamics impact our NEED to fish muskies.
Dopamine and addiction have an obvious connection, and musky fishing no doubt offers some of the biggest opportunities for "dopamine hits".... at least in the freshwater fishing world.
The opportunities for intense hand-to-hand combat simply doesn't exist with other species of fish – this surprise boatside smack from Cole Lauzon is a great example of the ultra-high dopamine interactions we're chasin' as musky anglers:
In musky fishing, the highs are high and the lows are low!
You'll notice the same folks who are hardcore musky-heads end up pursing other high-intensity fishing opportunities when muskies aren't an option – think lake trout through the ice or tarpon in saltwater. Yellow perch and sea trout just don't cut it!
Just something to chew on this week as you cope with this prolonged winter 😉
---
Fresh Shhhtuff from T&T
Our buddies at Taps & Tackle just loaded up with a bunch of fresh musky fishin' gear. Seems like they always have good bait options and different colors, so thought we'd share a few here:
T&T got some really cool 3D colors from Musky Innovations, including this extra-sexy perch flavored Shallow Swimmin' Invader #need
They also loaded up on a BUNCH of Pandemonium Tackle's bucktails – it's fairly well-known that the Marvin 88 is a straight-up musky catcher:
Lots of A+ colors in the Shallow Swimmin' Dawgs, too. Here's a few top picks: Blotchy Sucker (left), Switch Perch (middle) and Red Horse (right)
Click here for the full list of fresh baits on the site 👍
---
Is your sonar lying to you??
When you're fishin' around baitfish, you generally want your baits running just above the school, whether you're trolling or casting.
No problemo – Simply idle over the bait and pinpoint the correct depth level on your depth finder. It's as easy as that.....right???
Not exactly.
Listening to Mike Olson on the Back Lash podcast, he made an interesting discovery while prefishing for a PMTT tourney on Cave Run:
He was trolling in 40-50 feet of water and marking baitfish 15-18 feet down on his 2D sonar, so naturally he set his bait just above that level (without much success).
Fiddling around with his live sonar unit (which he'd typically point backward to watch his trolling baits), he swung it forward and noticed a ball of bait three feet below the surface. Once his boat was within 15 feet of the school, they moved down into that 15-18 foot range.
Light bulb moment! 💡
Mike started running his baits higher in the water column and wouldn't ya know hit, he turned a quiet morning into 3 for 5, including a 51.5" Kentucky 'skie.
Moral of the story, things aren't always as they appear....and suspended baitfish might be afraid of your boat. 😉
Just something to keep in mind next time you're fishin' pelagic 'skies!
---
This Week's Mashup:
Mashup time!
#1 – Super sweet slo-mo headshake shot from Rick Kustich's fly fishin' vid:
#2 – Saw this on Llungen's FB page and had to share – sounds like Chase Gibson was playing the role of the vacuum cleaner this day! 🔥
#3 – Anybody make it to the Musky Odyssey show this year? Looks like they had a good crowd – here's a timelapse overlooking the floor:
#4 – We've always loved these water release photos – great shot from Alexander Marunde:
---
QUICK HITTERS:
– Brian Truax memorial tournament, June 17th (link)
– Doug Wegner walks through his new Lund (video)
– Fall livebait musky fishing w/ Todays Angler (video)
– Ben Beattie & Jeremy Smith fish Lac Seul (video)
– Musky gear for the upcoming season w/ Burnin' Eights (video)
– "Topwater Tricks for High Weeds Muskies" w/ Bucher (video)
---
---
THIS WEEK'S

 MONSTER MUSKIES:
Crazy impressive prespawn shore fishing 'skie from Cody Fredson fishin' with his buddy Jimmy Lacerte right before the season closure at the end of March – she fell for the glide bait 💪
Awesome prespawn Cave Lake chunker from Shazana Amanda:
One of many muskies Jade Fogarty caught during "March Madness" in northeast Canada before the season shut down:
Wanna be featured in Musky Insider? Send in your recent trophy musky photos by replying to this email. You might just see your pic in next week's newsletter. 🤙
---
---
Want to see more from Musky Insider? Make sure to follow us on Facebook and Instagram for bonus content throughout the week!
Send all business inquiries to josh@muskyinsider.com
---