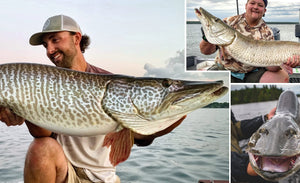 Baits & Hooking Percentages – More Stomach Contents – When You Lose a Musky
Be the FIRST to see Musky Insider every week by signing up for the email version of this newsletter. It's 100% free and we will never sell your email address! Click here to sign up and never miss another issue.
---
---
Hooking Percentage
All musky lures have certain triggering characteristics, but experienced musky anglers understand that getting the fish to strike is only part of the equation.
Another BIG variable is hooking percentage.
Josh Borovsky covered this topic in-depth in his class "The System", where he emphasized the importance of leading with lures that have a higher hooking percentage, then following up with baits that might have a lower hook-up rate.
We had a student email us, asking how we prioritize different bait categories based on hookin' percentage. We thought we'd share part of the response here for our newsletter folks – enjoy!
"In-line spinners with trebles are the absolute best hooking percentage bait. They are simply wire and hooks, and you fish them on a straight retrieve.
"From there I would say any subsurface bait that is straight-retrieved would probably be the next highest hooking percentage option.... with hard bodied baits typically hooking up better than soft bodies. But obviously the size of the hook, the number of hooks, and trebles vs. single hooks all impact percentages.
"Next up, it's probably a straight-retrieved surface baits. Ones that have spreader harnesses and/or shrink tubing on the back hook will be better hookers than the others.
"Then it probably goes to jerkbaits. Anything that is jerked in a stop-and-go manner instantly decreases your hooking percentages quite a bit. Jerkbaits that to go side-to-side (gliders) decrease hooking percentages even further.
"And generally, the absolute worst hooking baits are walk-the-dog topwater lures."
As always, there are many variables to consider, including the size/placement of hooks.... but this is a decent outline to follow.
Josh breaks down his entire program in his online class (which you can purchase on our website), including how to optimize your lineup to maximize the amount of muskies you put in the bag.
---
Mmmm.... Tastes Like Chicken!
Last week, we shared some cool fish diet photos from fisheries researcher Kamden Glade – here's another unique shot:
That's the stomach contents of a largemouth bass sampled last year.... and you thought muskies ate weird stuff. 😂
"The largemouth bass that gave this sample went through the buffet line and got a fish (tadpole madtom), a small snapping turtle, and a DANG CHICKEN LEG. Just when you think you have fish figured out, they go and do stuff like this."
This made us think.... what weird stuff have you seen come outta either end of a musky?? If you have any stories or photos, reply to this email and let us know!
---
*Insert 
Expletive
 Here*
What are your favorite words to use when you lose a big musky?? 😂
Not gonna lie – this video of John Gillespie's reaction after missing a walk-the-dog topwater strike (shared on Maina's page) has us grinning from ear-to-ear....
Mostly because I think the majority of musky anglers know the feeling 😅
I would transcribe/quote John's reaction for you, but most of the words would look like this.... #$@!%
Been there done that!
P.S. This is another example of why you should try and favor high hooking percentage baits when possible! 😉
---
This Week's Mashup:
Mashup time!
#1 – Super cool shot from Mathieu Carriere of a subsurface supertanker from the Ottawa River:
#2 – Killer snap of a tasty lookin' black & orange Double Dawg from photographer extraordinaire Josh McFadden:
#3 – Sweet toothy headshot from Dougie Wegner:
#4 – Lovin' this photo from Nick and Nicole. Couples that hold big muskies together, stay together – it's science.
---
QUICK HITTERS:
– Chasing Flowage muskies w/ Todays Angler (video)
– Quick tip for seeing weed fish better with live sonar (video)
– Bob, Phil & Carrie talkin' muskies on Back Lash Podcast (link)
– Jet boat walkthrough w/ David Holmes (video)
– Musky catchin' action w/ Cast & Conquer (video)
– Finding & hunting big fish w/ Bucher (video)
– Iowa musky trolling w/ Matt Vavroch (video)
---
---
THIS WEEK'S

 MONSTER MUSKIES:
We've always joked that the 49.75 inch musky is the rarest of them all, but another rare specimen is the elusive 54.74 incher.
Amazing fish from Donnie Myers.... even if it was just a tidbit short of #DoubleNickel status. 😉
Props to Cole Lauzon on poppin' this porky tiger on a Handlebarz double 10's bucktail at the end of the cast.
Congrats to Elliot Nutting on landing this impressive 53.5 inch 'skie fishing with guide Benjamin Knutson:
Wanna be featured in Musky Insider? Send in your recent trophy musky photos by replying to this email. You might just see your pic in next week's newsletter. 🤙
---
---
Want to see more from Musky Insider? Make sure to follow us on Facebook and Instagram for bonus content throughout the week!
Send all business inquiries to josh@muskyinsider.com
---