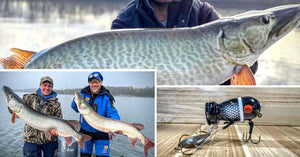 Best in Show 2022 – Ultra Dawg Insights – Memes of the Week
Be the FIRST to see Musky Insider every week by signing up for the email version of this newsletter. It's 100% free and we will never sell your email address! Click here to sign up and never miss another issue.
---
---
Chicago Show Awards
Sounds like attendance was down at the Chicago show this past weekend – not surprising with COVID and whatnot, but there were still plenty of vendors kickin' out fresh products for us to blow our first 2022 paychecks on... 😂
The Muskie Expo folks put together a "New Product Showcase" highlightin' their top picks in a number of categories – here's the lineup:
Best Bucktail – Musky Mayhem Grenade (link)
Hard Lure – Bomb Squad C-4 Flap Tail (link)
Soft Lure – Musky Innovations Ultra Dawg (link)
Soft Lure – Musky Innovations Monster Swimmin' Dawg (link)
Tackle Management – Fishstar Universal Muskie Bag (link)
Terminal Tackle – Muntz Angling Weedless Treble Hooks (link)
Muskie Rod – Chaos Tackle 20/20 MOAB (link)
Fishing Accessories – MFL ED Kott (link)
Canadian Resort – Young's Wilderness Lodge (link)
Pretty solid list! Muntz Angling ending up winning the overall Best of Show with his weedless treble hooks 🔥
---
Ultra Dawgin' Info
There's definitely been some Ultra Dawg buzz the last few weeks since it was announced, but we got a LOT more info on it this past weekend at the show.
Btw, you can grab 'em now on the Thorne Bros website 👀👀
Gregg Thomas shot a video interviewing Luke Ronnestrand (who helped with the design process), explaining some of the thought that went into this bait:
"Remember way back in the day when the big rubber craze was happening and the Two Pounders were around? We loved those baits, but the problem with Two Pounders is that they weigh two pounds."
If you've ever tried to cast a two-pound bait, you'd understand that sentiment... 😂
"What we were looking for is a bait that had that same profile, same water displacement, runs at a similar depth and has similar action to the Two Pounder, but in a lighter one-and-a-half pound size.
"We took the gen 1 Pounders and the gen 1 Two Pounders, split every measurement exactly between the two, and came up with the Ultra Dawg size.
"Another unique thing about this bait is that the tail width was kept a little bit thinner like the old gen 1 Pounders, which gives it more vibration."
Word is, they crushed 'em on this plus-sized version last year during the testing/prototyping period. Should be a big fish killer!
Thorne Bros is going to be the exclusive retailer for this bait, so make sure to grab 'em on their website if you can't make it out to any of the shows this winter.
A couple more deets:
These are "pro" model dawgs with the flexible harness

Measurements: 17 inches and 19.5 ounces
That's actually the same weight as the new Monster Swimmin' Dawg. Hopefully you've been staying in shape and workin' on your shoulder strength this winter! 😉
---
Meme Parade!
All this talk of new musky gear has me feelin' like this dude:
And there's only ONE cure for that type of depression! 😂
Musky fishin' off-season hits us all in different ways. That said, I think this meme is pretty darn universal....
If you spend any amount of time on social media, you know that many musky anglers struggle with this decision 😉
Father Time comes for us all eventually – this is one of the benefits of chasin' muskies: you don't need "cheaters" to use the giant snaps, split rings and line-ties:
---
This Week's Mashup:
Mashup time!
#1 – Lovin' the burbot-flavored paint job on these Euro pike swimbaits.... 🔥 Pout patterns are more popular across the pond, but they're starting to catch on here in the states for different fish species.
#2 – Cool video breakin' down the story of Joe and Jake Batic – a couple young musky-heads on the Musky Mayhem prostaff.
#3 – Gorgeous pre-paint wooden musky replica from the crew at Adirondack Fish Sculptures 😍
#4 – Love this old throwback Ron Schara magazine cover. Killer action shot! 🔥
---
QUICK HITTERS:
– Ohio Musky Show, January 28-29th (link)
– Help support a young musky guide whose house burnt down (link)
– "Last Musky of the Season" w/ Todays Angler (video)
– Part 2: Nebraska Musky Fishing w/ Keyes Outdoors (video)
– "Sunset Superstar" w/ Joe Bucher (video)
---
---
THIS WEEK'S

 MONSTER MUSKIES:
Musky double-ups are always awesome, but Danny Herbeck got some bonus points for the tiger/pure strain combo 🔥
Congrats to John Hojnacki on poppin' this jumbo-sized river 'skie from shore!
Not only is this chunky musky not missin' any meals, but it looks like she's eating her buddies' meals, too! Great catch, Joe Belotti 💪
You'll probably see more and more southern 'skies in this newsletter as we get deeper into the mid-winter season.
Here's a clean pudgemaster sent in by Chris Ray:
Wanna be featured in Musky Insider? Send in your recent trophy musky photos by replying to this email. You might just see your pic in next week's newsletter. 🤙
---
---
Want to see more from Musky Insider? Make sure to follow us on Facebook and Instagram for bonus content throughout the week!
Send all business inquiries to josh@muskyinsider.com
---