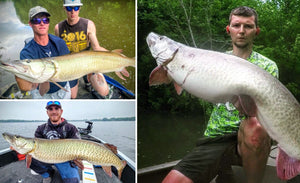 Best Livescope Mounting Strategy – Southern Mortality Results – MHTV is Online
Be the FIRST to see Musky Insider every week by signing up for the email version of this newsletter. It's 100% free and we will never sell your email address! Click here to sign up and never miss another issue.
---
---
Where Should I Mount My Live Sonar??
You're gonna hate to hear this, but the answer is "it depends"....
Luckily, you don't need to make any hard commitments if you're using hardware that's optimized for functionality AND flexibility.
Some thoughts from Musky Insider co-founder Josh Borovsky:
"If this is your first year running live viewing sonar in the boat, using a portable ice kit is a great way to go. Pair it up with a versatile pole mount that can be moved easily around your boat, and you'll have the flexibility to try it in several locations until you find what works best for you.
"I played around with a variety of locations in my boat, and my original plan was to find a permanent home where it would live all season. I discovered I like to set it up differently depending on what I'm are doing and how I'm fishing."
Basically, you don't know what you don't know.... until you find out! 😉
"The other reason I'm stickin' with the portable ice bundle is because I can run it on an independent lithium battery, separate from the other batteries in the boat. This ensures I'm not putting extra workload on my boat batteries and it also minimizes interference issues you might run into with a hardwire.
"The only downside to this option lately has been finding a retailer that has lithium batteries in stock.... they can be hard to track down at times."
Our friends over at Taps and Tackle have a good supply of Dakota Lithiums in stock RIGHT NOW if you're in the same predicament that we were last week:
Depending on your screen size and how many hours you spend on the water, the 18Ah battery might work, but you won't regret forkin' out the extra 40 bucks to upsize to the 23Ah option. Most of you will want more battery power.
Important: If you're going to run a portable live setup, 100% avoid the old school lead acid batteries. They are significantly heavier and run-times are much shorter than lithium. 👎
---
Southern Mortality Data
Alright, I need to get a quick rant off my chest....
Maybe there's a good reason, but it's super frustrating that academic papers are usually stuck behind a paywall. Most researchers/biologists WANT their work to be seen and discussed, but the current system makes that super difficult! 🤬
That said, I'm glad I was able to read the recent southern warm water study outta West Virginia U.... let's take a closer look.
First, here's the setup:
"We utilized radio telemetry and active tracking to verify individual movement and survival of Muskellunge in Stonewall Jackson Lake, WV. We tagged 45 Muskellunge in the spring of 2020 and 47 Muskellunge in the spring of 2021."
And here are the results:
"In 2020, 10 fish were caught by anglers when the temperatures exceeded 25°C (77°F), and mortality was 10 percent. In 2021, 19 fish were caught by anglers when temperatures exceeded 25°C, mortality was 10.5 percent. Twenty-six fish were caught during Spring, Fall, and Winter, and survival was 100%."
And here are some of the researchers' thoughts on how mortality could impact the trophy potential of their fishery:
"Small differences, < 2 % difference in the proportion of the population reaching memorable size, were seen at what we estimate are current values of summer catch and release mortality (Cm = 0.1) and summer exploitation (Se = 0.15).
"Effects are more pronounced at higher levels of catch and release mortality and exploitation (Se = 0.19; Cm = 0.3). A closed summer season doubles the number of trophy individuals from 20 to 40 individuals (2 and 4% of the 1000 age-1 individuals)."
Lots of variables to consider and this is a fairly small sample size, but knowledge is power and real data = knowledge!
---
MHTV Drops on YT
Anytime the world gets another 5+ hours of quality musky chasin' content, we're gonna let you know about it! 👍
Jim Saric just dropped the entire 2022 season on YouTube, which is becoming somewhat of an annual tradition since 2020:
Sure beats paying for an expensive cable subscription!
Looks like some good episodes this year.... we're probably gonna start binge-watching tonight!
---
This Week's Mashup:
Mashup time!
#1 – Check out this awesome underwater musky clip from Alison Willers 🔥
#2 – We talked a little bit about spinnerbaitin' muskies last week.... Well, it didn't take long for someone to catch a nice one on the trusty safety-pin! Props to the father/son duo on poppin' this beauty on a Nut Buster Jr. spinnerbait!
#3 – This is what controlled chaos looks like! 😂
Fish in the air, net in the armpit, veins cold as ice! Props to Zack Iverson on maintaining composure and putting the 'skie in the net!
#4 – Here's ONE way to find out if you have any holes in your net 😅 #SheGone
That was one of three fish Christina Truppe and Nick Eddy caught casting Swimmin' Dawgs this week in Wisconsin.... the other two stuck around long enough to get their pictures taken!
---
QUICK HITTERS:
– Gene Laulunen, founder of Midwest Outdoors, passed (link)
– Ultra-clear water muskies w/ Doug Wegner (video)
– Opening day musky tips w/ Steve Heiting (video)
– Garmin Livescope settings (video)
– Humminbird MEGA Live settings (video)
– Lowrance Active Target settings (video)
– Apparently Green Bay has some big muskies 😉 (link)
---
---
THIS WEEK'S 

MONSTER MUSKIES:
HUGE props to Robbie Jennings on stickin' this absolute UNIT of a 'skie casting an 8/9 Stagger bucktail 💪
Congrats to Dylan and Ethan on catchin' this Ohio beauty fishing with Troy White.
Check out the pot-belly on this Illinois porker from Danny Lowe. Nice fish dude!
Wanna be featured in Musky Insider? Send in your recent trophy musky photos by replying to this email. You might just see your pic in next week's newsletter. 🤙
---
---
Want to see more from Musky Insider? Make sure to follow us on Facebook and Instagram for bonus content throughout the week!
Send all business inquiries to josh@muskyinsider.com
---