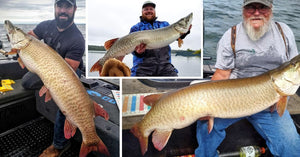 Best Musky Strikes Yet! – 56'' Humpback Whale – Cheers to the Ladies
Be the FIRST to see Musky Insider every week by signing up for the email version of this newsletter. It's 100% free and we will never sell your email address! Click here to sign up and never miss another issue.
---
---
Frank Schneider Results
Well, the big Frank Schneider tourney in northern MN is officially in the books. 👍
Big congrats to Ethan Stout on winning the event and being the only angler to boat four fish in a field of 487 competitors! He was fishin' Mantrap Lake, which only kicked out 10 of the 72 registered muskies, but hosted three of the top 10 anglers: 
There were three fish caught over 50 inches, including Paul Thorne's 53.5 inch Cass Lake bruiser to secure big fish for the tourney: 
Gotta shoutout Rory Potter and Craig Berryhill for boating the only other fish over 50 inches on the weekend. 
Oh, and don't forget about this big ole 49.5 inch chunkster from Eric Bakke:
This is one of our favorite tournaments to follow every year. 
Glad to see attendance was still strong, even in a funky year....
---
Best GIFs of September
Seems like September's been a good month for some of you, because there's been a healthy dose of awesome musky photos and videos hitting the interwebz over the last couple weeks. 
Here's a few quick video clips that caught our eye: 
After seeing last week's upside down sucker strike, Tom Ardolf sent us this savage livebait snapperooski. Gotta say, this clip is a lot more #aggressive. 
This one's a few years old, but popped up on our timeline this week for whatever reason. Regardless, guessing most of you haven't seen it yet:
Gotta hand it to that feisty little bronzeback – he almost got away....almost! 😂 
Next up, we've got a sweet fly fishin' strike sent in from @shorelineanglerss – pretty cool how they come up and porpoise as they're eating the subsurface fly.
This isn't a musky and it's not even from North America, but this shot was too good not to share. Definitely one of the sickest Esox strikes we've seen....BIG props to Martin Falklind from all the way across the pond.
Send us your best musky strikes (boatside or underwater) and we might share them in a future newsletter 👍
---
Loooooong Mark
Reading and interpreting your electronics can be a challenge, especially if you're new to the sport. 2D sonar is fairly straight forward, but other technologies like Side Imaging take a little more practice.
Sometimes identifying fish is tough, but other times it's pretty dang obvious....
There's no mistaking this perch....errrr.... I mean, musky on MN guide Josh Borovsky's Humminbird unit. 
Here's Josh's interpretation of the big mark:
"I actually think the musky was gliding with the boat as the boat moved and stayed in the beam for a long time. There were several we marked and moved in the area. And one of those that followed was very big. I have had some fish that look small on SI be very big and vise versa. Lots of variables. Just thought it was funny how long this one stayed in the beam and on the screen."
Cool to see!
---
Cheers to the Ladies!
Just wanted to take a moment to feature a few ladies who crushed some sweet muskies over the past week or so.
First up, this porky lookin' dinosaur of a 'skie was Jessica Duffy's new PB. Congrats!
Next, we've got Isabelle Pechan with a plus-sized tanker she caught casting with Michael Gross: 
The smile says it all – congrats to Chelsea Lynn on thwackin' this extremely impressive hawg-bellied Canadian 'skie. 💪
Last up, we've got another Canadian bruiser. This one came courtesy of Lauren Kozak and a Red October Tube. 
---
QUICK HITTERS:
– 53 inch Madison Chain musky (video)
– Eagle Lake overview (video)
– Topwater musky catches and misses (video)
– Trailer Park Boys musky stickers (link)
– 1975 Wisconsin musky magazine cover (photo)
---

---
THIS WEEK'S

 MONSTER MUSKIES:
Let's kick off this week's "Monster Muskies" section with a BANG: 
This northern Minnesota GIANT would score some serious points in the both the "big muskies" category and the "ugly muskies" category. She's a humpback, has half a tail and measured 56 inches long – now that's an impressive fish!
Congrats to Mike Zuhlsdorf on smokin' this big girl on a secret MuskyFrenzy "prototype" bucktail, fishin' with guide Matt Snyder.
Another dandy hits the net! George landed his new PB, a 52 x 25 inch of Green Bay Goliath, fishin' with guide Tyler Herman. 
This 52.5 x 24 incher from Darrell Fritz was tall, striped and handsome hungry!
Some of the best memories are those made huntin' muskies. 
Paul Poblocki caught this 53.5 inch monster (his PB) while fishing with his two sons exactly one year after his father passed away. Amazing fish, even better memory, and RIP to grandpa Jerry.
Wanna be featured on Musky Insider? Send in your recent trophy musky photos by replying to this email. You might just see your pic in next week's newsletter. 🤙
---
---
Want to see more from Musky Insider? Make sure to follow us on Facebook and Instagram for bonus content throughout the week!
Send all business inquiries to josh@muskyinsider.com
---