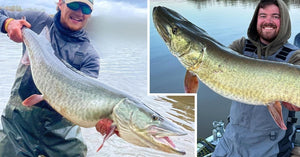 BIG Announcement This Week – PMTT #1 is in the Books – Pet Muskies
Be the FIRST to see Musky Insider every week by signing up for the email version of this newsletter. It's 100% free and we will never sell your email address! Click here to sign up and never miss another issue.
---
---
BIG ANNOUNCEMENT
We're making some big moves this week – more info below 👇
Over the past few years, we've been surveying our Musky Insider subscribers and folks who've bought our virtual classes.
One of the biggest questions we've been asking from the beginning is.... "Who are the top musky minds you'd love to hear and learn from??"
At this point, we have a REALLY good idea of who those people are.
And the last few months, we've made it our mission to reach out to these high-end musky anglers and recruit them for a new project: Musky Insider PRO
Musky Insider PRO gives you the opportunity to learn and interact with some of the best & most well-respected musky anglers on the planet all season long.
Whether you're trying to catch more muskies, bigger muskies, or save $$ on equipment, we think you'll get a TON of value from this program.
There is way too much info to share in this newsletter, so we put together a video that explains everything you need to know, including the bonuses you'll receive for registering right now:
As you'll see in the video, we have commitments from over 20 hardcore musky aces, and the first live virtual session is happening May 11th (Thursday) with Steve "Herbie" Herbeck, who will share some A+ boots-on-the-ground info from the southern WI opener 💪
We also have Dick Pearson and Steve Genson lined-up to speak not long after....
CLICK HERE for the full rundown of benefits and pricing
Important: We are launching Musky Insider PRO today, but registration is only open until Wednesday (May 10th) at midnight. After that, we will close registration and shift our focus to making sure our members have an excellent experience.
We will likely re-open registration at some point TBD, but you will never see a lower price or more bonuses than what we are offering right now.
Heck, we think the bonuses alone are worth more than the price of the entire Musky Insider PRO membership.
Not to mention the tackle discounts that will save you $$ all season.
If you want more information and you're ready to get your hands on the 2023 Pink Days and an instant discount at Thorne Bros, along with the other bonuses offered in the video – you can register here 👇
CLICK HERE to sign up for Musky Insider PRO
(Btw, this newsletter isn't going anywhere and will remain 100% free)
---
PMTT – Cave Run Lake
The first stop of the PMTT is officially in the books!
Another year, another big payday down on Cave Run Lake in Kentucky.
Huge congrats to Kevin Nash and Jarod Donar on taking home $18,000 and some serious bragging rights. Speakin' of bragging rights, this is Kevin's THIRD PMTT win on Cave Run (2008, 2016, 2023) 💪
Feast your eyes on this big Kentucky beauty queen that anchored their 5-fish performance:
Here's how they caught 'em:
Donar: "Kevin in the front of the boat throws ten-inch Jake crankbaits to the timber shorelines and twitches them back to the boat. He basically hits the shore and works the bait all the way back to the boat. I was throwing rubber in the back as a follow up.
"We know the muskies are there [in the Beaver Creek area] this time of year in the flooded timber. It only makes sense to concentrate our efforts there and get them to eventually hit."
Here's a crazy stat we read in OutdoorsFirst:
"To give an example of how dominate they were [at this event], Nash and Donar would have won the tournament with just their two smallest of the five muskies."
Not a bad tourney when you can throw out your three biggest muskies and still bring home the bacon at the end of a two day event.... 🤯
For those interested, here's a breakdown of the top 10 finishers:
Overall, sounds like it was a pretty tough post-spawn bite with only 25 fish caught, although the average size was pretty good at 38.87 inches, considering the big fish was only 46.75 inches (caught by Chris & Peter Blicharz).
Next event is June 10-11 on the Madison Chain in southern Wisco 👍
---
Pet Muskies
We don't usually think about muskies as "pets", but what else do you call an animal that you interact with over-and-over again??
Most musky anglers don't get to catch the same fish more than once, but @buckhorn.baits knows EXACTLY where this one lives.... and he also knows the security code for it's front door, too 😂
He caught this bruiser two times within a three-day window on the exact same spot, fishing the exact same twitch bait. I think there's a George W. joke to be had somewhere here! haha
#FoolMeTwiceShameOnYou
Here's another interesting case of pet muskies....
Skipp Haseley (Bomb Cast Fishing) sent us this GIF and message:
"See attached for some pretty cool GIFs I got while fishing at Andy Myers Lodge on Eagle Lake. These fish (they called their pets) would hangout underneath the docks until someone would walk out. Then the fish would swim out and stick their nose to the surface of the water waiting for their dead minnow treat.
"They would also react to the motion of throwing a minnow which I thought was pretty cool. Really shows the intelligence of the fish and how they are able to learn.
"Unfortunately someone could not hold back and ended up hooking them. They never came back."
Pretty sure every fishin' lodge I've been to in Canada has a dock boy with stories about big muskies caught off docks or "pet muskies" that show up right around dinner time. Haven't seen many video clips like this one from Skipp though! Gotta love it 🔥 #paradise
---
This Week's Mashup:
Mashup time!
#1 – We love random musky-themed stuff. Thanks to Jeff Romanelli for sending in a pic of these "Muskie Crackers", AKA Chinese fireworks 😂
#2 – How spicy 🔥 are the paint jobs on these gliders from @playmakerlures??
#3 – Sweet fly shot from @courageflyfishing.... 👀
#4 – We talked about the The One, a new bucktail from Angling Revolution, a few weeks ago. They've had a heckuva time keeping them in-stock, but sounds like they just got a fresh shipment.
Thought we'd let you know incase you were trying to get your hands on one 👍
---
QUICK HITTERS:
– Southern WI musky opener this weekend! (link)
– Eagle Lake musky fishing w/ Angling Edge (video)
– 3 generations trolling on LOTW w/ Erik Jacobson (video)
– 49.75 inch boatside eat w/ jlyonfishingteam (video)
– Musky tackle tips w/ Smiths Fishing (video)
– The ole fill up the fuel tank via the rod holder trick (video)
---
---
THIS WEEK'S

 MONSTER MUSKIES:
Alex Turner has been busy this spring putting the smackdown on some serious 'skies like this big ole porker:
This big spring fatty couldn't resist the trusty Llungen Rattlin' Shad – awesome shore fish! 🔥
This pre-spawn pig from @sbsoutdooraction has missed exactly ZERO meals 🐖
Wanna be featured in Musky Insider? Send in your recent trophy musky photos by replying to this email. You might just see your pic in next week's newsletter. 🤙
---
---
Want to see more from Musky Insider? Make sure to follow us on Facebook and Instagram for bonus content throughout the week!
Send all business inquiries to josh@muskyinsider.com
---