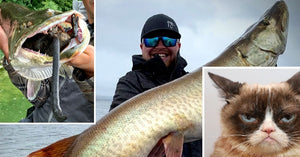 BIG Musky Mistakes – Cold Water Tips – November Chunky Monkeys
Be the FIRST to see Musky Insider every week by signing up for the email version of this newsletter. It's 100% free and we will never sell your email address! Click here to sign up and never miss another issue.
---
---
Late Fall Gear/Tips
For all you laaaaate fall musky commandos.....
Last year, we put together a short list of important stuff to have on-hand for late season musky fishing. Specifically, a thermos of boiling water, a blow torch, WD-40, floor mats and hand warmers.
We thought we'd expand on that list with a few more must-have cold weather fishin' essentials – we'll keep it short & snappy:
1. Fresh Line – Now's a great time to put on fresh line or reverse the line that's already on your spool. Remember a couple weeks back, John Bette talkin' about newer braided line having less water retention, which is HUGE when air temps are hovering around freezing.
2. Extra Gloves – Bring several pairs of extra gloves. We'd recommend keeping a pair dry and warm in your bibs/jacket, and you won't regret adding hand warmers to your system.
3. Toe Warmers – Try putting them on top of your feet instead of below – they will last longer. We'd definitely recommend grabbing the adhesive style to hold 'em in place, too.
4. Propane Heater – The old buddy heaters work great for reviving your frozen hands after handling a late fall 'skie.
5. Shake It Off – Consider shaking off a fish if it's not "the one". Less handling = warmer hands and more time with your bait in the water.
6. Bag of Sand or Kitty Litter – For added traction at the boat ramp if the launch is iced up, and it usually is....
7. Tow Strap – Pretty self explanatory.
8. Move Less – Running between spots is what freezes up all your shhtuff. Minimize runtime and you'll have less problems with ice.
9. Ice Chisel/Scraper – Great for breaking up ice buildup at the boat ramp.
10. Small Flathead Screwdriver – When you need to gently chisel ice build-up from your fishing reel.
11. Safety Equipment – Wear your lifejacket, bring rescue items (throw ropes, life rings, etc) and emergency blankets and towels. If someone falls in the water, having a ladder is ideal, otherwise you can stand on the motor and trim up if you're unable to climb back into the boat. 
12. Extra Rods & Reels – Bring every functioning rod and reel you can fit in the boat. Stuff breaks this time of year, so it pays to have extras.
---
Instant Regret....
Look what Scott "Boo" Anderson and his buddy Duane Landmeier found on a recent fishin' trip up to MN.
Yup – that's a full-grown muskrat dangling from a 52.5 inch musky's mouth. 👀
Betcha she instantly regretted taking a bite outta this nasty, oversized rodent....
Any musky THAT big has most certainly lunched some plus-sized prey in it's day.... but like a young kid at the steakhouse, sometimes they bite off a little bit more than they can chew!
Sounds like the fish hadn't been dead long when the guys found it dangling just below the surface.
Here's the bump board pic – you can really see how much weight she'd lost, not eating anything for a week or two:
That's something you definitely don't see everyday – thanks to Scott for sending us the pics!
---
Heartbreak Hotel
Now's the time of year that we get to reflect on the season – the good, the bad, and the ugly.
Musky fishing is a game of high's and low's. Sometimes you're smashin' fish left-and-right. Other times, it feels like there's no point in even bringing the net....
Here's a few extra-frustrating moments caught on GoPro from the 2020 season:
Let's start with this heartbreaking boatside disappearing act from SG Fishing:
....and what about this high-flyin' topwater muncher from Ben Stone. #shegone
Losing muskies feels even worse when you can play it back in slow motion. This one happened in the Burnin' Eights boat:
It's especially painful when you dump a BIGGUN.... This one from Big John had some girth on her!
---
The Hunt for Sweet Musky Shots
Did you know that Larry "the Legend" Dahlberg recently signed up for the Instagrams?
Not gonna lie, he's already one of our favorite follows....
Check out this suuuuper slick water release pic he posted a week or so ago:
Keep it up, Larry. We'll be following along 👍
---
QUICK HITTERS:
LOTS of good deals today (Black Friday), so make sure to check with your favorite bait makers and musky retailers....
– Get 15% off ALL Frenzy bucktails w/ code: NOV2020 (link)
– How to fish a Baby Beaver (video)
– 53 inch Green Bay monster w/ Doug Wegner (video)
– Vilas Country musky fishin' w/ Waters & Woods (video)
– Old 2009 Keyes Outdoors seasonal tactics rundown (video)
– Perch are STACKED in the Chicago area right now (link)
---

---
THIS WEEK'S

 MONSTER MUSKIES:
Lac Seul guide Colin Gosse closed out the 2020 musky season with a bang, thanks to this 52.5 x 26" Canadian potbelly!
How bout the belly on this Chautauqua jumbo from Mike Saunoras! #sackofpotatoes
🚨 PB Alert – Congrats to guide Bryon Sturch on bustin' his PB 'skie with this old 52.5 x 25" bronze battle axe!
Fly slinger Mike McNaught boated his biggest musky of the season on a day that produced 16 followers and five biters! Not a bad way to wrap up the season 🔥
Wanna be featured on Musky Insider? Send in your recent trophy musky photos by replying to this email. You might just see your pic in next week's newsletter. 🤙
---
---
Want to see more from Musky Insider? Make sure to follow us on Facebook and Instagram for bonus content throughout the week!
Send all business inquiries to josh@muskyinsider.com
---