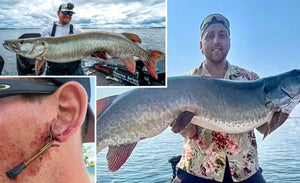 Big 'skie Helps Take Championship – Bird in Musky Stomach – George Wahl Recap
Be the FIRST to see Musky Insider every week by signing up for the email version of this newsletter. It's 100% free and we will never sell your email address! Click here to sign up and never miss another issue.
---
---
PMTT Recap
Huge congrats to Charlie Blackbird and Rob Hulleman on their dominating performance at the PMTT World Championship at Pewaukee, Okauchee & Oconomowoc – that's a mouthful! 😂
They registered three fish, including this 50 inch green-hued beast:
Rob was slow rollin' a black/green Woodtick bucktail about a foot below the surface when he saw the fish tailing the bait. He sped up his retrieve, then went into the figure 8. The big gal T-boned the bait on the first turn.
The other two fish came on the Woodtick and a black/orange dive-and-rise bait.
Here's a few deets on the kind of spot they were fishin':
"We started out pre-fishing deeper but noticed that most of the muskies we were moving were coming from the end of the casts up in the weeds. We moved up to the edge of the break and threw up across the weeds and worked the bait really slow and we started connecting."
Here's a look at the top 5 for those interested:
Also gotta give a shoutout to Coltin Thomas & Anthony Casto on taking home the 2022 Top Gun honors, edging out Ty & Tait Sennett by just six points:
Not gonna lie, this was an entertaining tourney season for a number of reasons  👀
---
Metro Musky Winner
In other tourney news, big props to Ron Olson on winning the George Wahl Muskie Tournament last weekend with this gorgeous Minnetonka 50-incher:
Even cooler, he captured headcam footage of the winning fish striking a Bomb Squad topwater at the side of the boat 👇
Sweet eat! #chomp
Also should mention that 162 anglers were fishing in this tournament all across the MN Metro, and only SIX fish were caught and registered in the event. 😬
Greg Ide also caught a 50 incher on Harriet, but the tie-breaker is whoever reports their fish first.... the two 50's were called in just 15 minutes apart #bitewindow
Here's a look at Greg's plus-sized Metro bruiser:
---
Oops!
The best way to tell if you're setting the hook hard enough is checking to see if you drove the hook in nice and deep.
Well, that's all well-and-good if the hook is inside a musky's mouth. Not so good if it's in your head....
That's Martin Hagen's face and his fishing partner's hook. #ouch
From Martin:
"Fish hit my buddies bait, hooked it then came unhooked and slingshot a 80mph fastball right at my face. Blew both lenses out of my shades and thought I broke my nose. Doc said worst he has ever had to remove. Not going to lie, hurt wayyy worse coming out than it did going in. Back to fishin!!"
Best part is they actually hit one quick spot before heading to the Doc's 💪
Most of us are already wearing shades on the water, but this is yet another reminder that they do more than keep your eyes "comfortable" on a sunny day.
Can't confirm this, but I'm pretty sure Snake lost his eye in a similar incident....
---
This Week's Mashup:
Mashup time!
#1 – Lots of tourney news this week, but 100% need to give props to Thatcher Haagberg and Dave Bonke on winning the 2022 Nestor Falls Musky Cup:
Points were ULTRA tight this year. There was a three-way tie for 2nd place, just one point behind Thatcher and Dave. Literally a game of inches this year.... or in this case, an inch!
#2 – How cool is this musky-themed art piece from Midcoast R-tisan?? Copper repoussé on wood with an antique bait right in front of her nose. Looks great!
#3 – More #fishpuke from Kamden Glade, who's collecting and studying the stomach contents of Minnesota muskies:
That was a 16.5 inch half-digested grebe – here's a closer look:
#4 – Cool shot from Jason & Fischer Smith.... and a good reminder (below):
From Jason:
"Watch for cleats! Fischer Smith later drove this good one into the net. But not after my first attempt. I released the net bag from my hand and it catches a cleat. I may take that stupid cleat off the boat now."
---
QUICK HITTERS:
– LSC musky action w/ Todays Angler (video)
– WI musky chasin' w/ Burnin' Eights (video)
– Demo of Llungen's Rattle Shad w/ Angler Sportfishing (video)
– Tips to catch more muskies on suckers w/ 54 or bust (video)
– Musky fishing big blades w/ Angling Anarchy (video)
– Late summer musky fishing w/ Cast & Conquer (video)
---
---
THIS WEEK'S

 MONSTER MUSKIES:
Check out this absolute UNIT from Bruno Mauti 💪
Doug Wegner popped this extra-clean beauty queen on a Double Dawg:
Big congrats to Kent Edeburn on finally putting the coveted five-o in the boat with this big bodied golden 'skie:
Wanna be featured in Musky Insider? Send in your recent trophy musky photos by replying to this email. You might just see your pic in next week's newsletter. 🤙
---
---
Want to see more from Musky Insider? Make sure to follow us on Facebook and Instagram for bonus content throughout the week!
Send all business inquiries to josh@muskyinsider.com
---