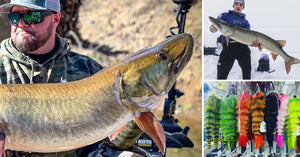 BIG Southern Musky – Why Pike Suck – 5 Tips for Musky Success
Be the FIRST to see Musky Insider every week by signing up for the email version of this newsletter. It's 100% free and we will never sell your email address! Click here to sign up and never miss another issue.
---
---
Musky Confidence Tips
Really enjoyed this video/pep talk from 54 or Bust talkin' all things confidence:
Confidence is key when you're chasin' muskies for a buncha reasons.... You WILL go hours-and-hours without seeing fish. If you aren't fishing confidently, you won't capitalize on the limited opportunities that present themselves.
In the video above, Glenn McDonald shared a few tips to fast-track the confidence building process – we're gonna quickly touch on a couple of his points down below:
#1 – Encounter More Fish
From Glenn:
"To gain confidence in musky fishing, you actually need to catch muskies. I know that seems simple..... you need to fish lakes that have a huge quantity of muskies – it doesn't really matter the size – you need to encounter muskies to get better."
Valid point, especially early on in your musky journey. One advantage that bass/walleye folks have is the amount of reps they get every time on the water.
More reps = more opportunities to refine your approach
Fishing high-density musky waters means more reps and more opportunities to make mistakes and learn from them.
#2 – Fish with Better Anglers
If you think you can't learn anything from another angler, you still have a LOT to learn about musky fishing....
"When you fish with someone that's better than you, you don't even have to catch the fish to gain confidence, because you can watch them beside the boat and how they handle themselves and you'll learn so much."
This might include fishing with a guide, an A+ fishing partner, watchin' musky videos online – you can learn tons of stuff by observing other anglers.
#3 – Fish at Better Times
Here's Glenn talkin' about choosing the best times to fish and taking advantage of key bite windows (ie. moon phases, time of day, certain weather conditions, etc.):
"If you start to catch fish at those times, it starts to help you gain confidence, and you start to trust yourself and trust your decisions. And you'll realize that you don't need to struggle for eight hours on the water when the [majority of the action happened] during an hour on the water."
It's hard to "pick your spots", especially if you're a weekend warrior, but the more you can up your odds and put yourself in a position to succeed, the more you're going to develop your confidence.
(P.S. This is a topic we covered SUPER in-depth in our "Catch More & Bigger Muskies From Your Couch" online class.)
Make sure to check out Glenn's video to get the final two tips – good stuff dude!
---
Some Timely Memery
Guessin' most of you read last week's newsletter talkin' about how George's MN Muskie Expo (Mar. 4-6) is FINALLY back after 36 months of Rona-related cancelations.
Let's celebrate the only way we know how.... with some GIFs/memes.... 😂
Sounds like this is going to be BIGGEST musky show ever.... A crazy number of booths + it's held in conjuncture with the Minnesota Anglers Boat Show.
With March finally here, all eyes are on MN....
😂 😂
Jokes aside, I'm sure the bait-makers are lookin' forward to the show season windin' down after a long winter in the shop....
.... and on the road:
There's gonna be a lot of new stuff this year, including a totally new venue (MN State Fair Grounds – Warner Coliseum).... so don't be the dude who shows up at the wrong venue. 😂
This weekend's expo is here in our home state, so we'll definitely be in the building – see you there!
Not sure how we ended up with so many Seinfeld GIFs, but I'm not mad about it 😂
---
Hammer-Handles Suck!
Why do musky anglers hate hammer-handle pike??
We have a LONG list of reasons, but this clip from The Sportsman's Journal sums it up pretty well:
For those of you with slow internet.... that's a GIF of a pike flying up an ice hole, trying to grab a bluegill that Tyler Trampe was lifting topside. #aggressive
That thing's wilder than a three year old that missed his nap!
Hammer-handle pike can cost walleye/bass anglers tons of $$ snappin' off lures. For hardcore musky-heads, they are a nuisance at best and a buzz-kill at worst!
Large populations of small pike (which is a very common situation) are terrible for the overall ecosystem of a lake, too. #EatMorePike
PSA – There are several excellent pike filleting videos on YouTube if you need some help cuttin' around those pesky Y-bones. Convince your meat-hawgin' neighbors to harvest/eat more of them = make our lakes a happier place.... 😂
---
This Week's Mashup:
Mashup time!
#1 – Another reason to come out to the expo this weekend.... Thorne Bros/The Fly Angler will have these sexy lookin' Beaver Island flies 👀
#2 – Only in the musky industry do you get this kind of honesty from customer support.... 😂  (via Jason Ward)
#3 – Speaking of 'confidence', do any of you have enough confidence in yourself to throw these banana-flavored flappers on your favorite musky lake??? 😉
Killer paint job from Babe Campbell.... #FishFearPotassium
#4 – Reason #947 why musky fishing is better than ice fishing..... 😂 
(via MN ice guide Jesse Thalmann)
---
QUICK HITTERS:
– Spring musky discussion w/ Todays Angler (video)
– "Larry Ramsell & Musky Mayhem Trip" w/ Keyes Outdoors (video)
– Whiteboard Canadian Shield 'skies w/ Biological Angler (video)
– How to catch a "nipper" musky w/ Joe Bucher (video)
– Iowa DNR staff live at fish hatcheries (link)
– St. Lawrence River Muskie Angler Workshop (link)
– PMTT drew 2022 starting positions this week (video)
– Pushback against new building on Blind Bay, St. Lawrence River (link)
– River musky catchin' w/ All Day Grind (video)
---
---
THIS WEEK'S

 MONSTER MUSKIES:
This week, we've got the musky catchin' trifecta – let's start with the boat 'skie:
Props to Rafal Cisowski on poppin' the biggest Virginia musky that's ever been in Sam Scott's boat – a 51.5-inch southern jumbo!
Next up, we've got a gorgeous, clean hardwater musky from @yiffyshing_ that measured north of the big five-o mark. #sheesh
Alright, so we have a boat fish, an ice fish, now let's wrap this newsletter up with a healthy shore fishing 'skie from Cohen West. Love seeing the water drippin' off the fins during the photo, too 🔥
Wanna be featured in Musky Insider? Send in your recent trophy musky photos by replying to this email. You might just see your pic in next week's newsletter. 🤙
---
---
Want to see more from Musky Insider? Make sure to follow us on Facebook and Instagram for bonus content throughout the week!
Send all business inquiries to josh@muskyinsider.com
---