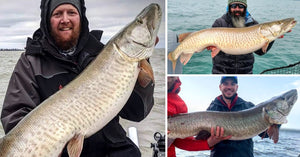 Big Underwater Strike – Is the Back Better? – Best Rod Handles
Be the FIRST to see Musky Insider every week by signing up for the email version of this newsletter. It's 100% free and we will never sell your email address! Click here to sign up and never miss another issue.
---
---
Ice Dussa Smackdown
We shared a photo a couple weeks back of Andrew Walker catchin' a big French Canadian musky through the ice....
Well, he's at it again. This time with a super-slick underwater clip – check it out:
Really cool footage.
That's a black/orange colored Mini Medussa danglin' vertically below an ice hole:
No fish photo, because Andrew snapped his severely underpowered medium-heavy ice fishin' stick and lost the fish.
He's got the right reel, but jigging rubber for muskies with a rod like that is like bringing a butter knife to a gun-fight!
Might be time to grab a heavy-duty lake trout rod....
---
Back Deck Fishin'
Everybody knows, if you fish outta the back of the boat, you're either trollin' or you're a walleye fisherman.... isn't that right, Doug?
More jokes, sorry!
Some folks DO prefer casting from the back deck, even when they're fishin' alone.
Doug Wegner actually put together a video on this exact topic, breakin' down all the reasons why he doesn't use his big front deck for bait slingin'.
Here's a quick overview:
1. Stability
When you're fishin' big water, it's helps being in the most stable section of your boat. When wind and waves rock your vessel, the backend of absorbs the shake-and-bake a lot better – it's the widest, flattest part of the hull and has a big, heavy outboard engine weighing you down and keeping things fairly steady.
2. Closer to the Water
The deck on the back of the boat is usually closer to the water than the front deck. This helps with netting fish and getting bigger/wider figure 8's.
(Doug also uses Thorne Bros 10-foot rods to help maximize his eights.)
3. Further from the Trolling Motor
Fishing from the back of the boat puts 20-ish feet between your boatside maneuver and a spinning propeller, which could help you pick up an extra bite or two at different points in time.
4. Boat Position
Doug: "It allows you to be a lot closer to structure. When you're fishing a really wind-blown piece of structure and you need to try and stay on the structure, but the wind is blowing.... The bow of your boat is going to be a lot further away from the structure than the back of your boat. So you might actually gain an extra ten feet of casting distance into the structure or where the fish are."
Make sure to check Dougie's full video for more details – good stuff!
Also worth adding: Depending on how you have your electronics setup, there might be some tech advantages to fishin' outta the back.
Fishing back by your Side-Imaging transducers will help you more easily identify cover and bottom transitions, potentially see fish follow your bait to the boat, and quickly locate fish off to the side of your boat for a quick cast-back.
---
Full Cork vs. Split Grip
It's an interesting debate....
Seems like more and more manufacturers are favoring split grip rods, while many musky anglers still prefer the full cork models.
Here's our two cents on the deal:
1. Split grips LOOK sexy, but it hurts like heck when they grind into your ribcage. Setting the hook can feel like getting whacked with a broomstick. Full cork gives you more cushion and distributes the blow over a wider surface area.
2. When you're workin' baits with a lot of resistance like big blades, tucking the rod butt up toward your armpit and pinching it between your upper arm and torso will eliminate most of the strain and fatigue most folks experience in their hands, wrists, and forearms.
Full cork works great for that application, but split grips are too skinny, too slippery, and don't work.
If you bought a split grip and regret it, no worries! Custom rod shops (like Thorne Bros) will convert your split grip handle into a full cork, and vice versa. 
Here's one they did for us:
You'll notice we had them add a flare on the butt of the rod, too.
Another common thing musky-heads want and Thorne Bros can do is adding a longer handle. More length = more leverage on the cast.
We would always encourage folks to use the longest handle they an get away with – the limiting factor being the length of your arm. You want to make sure when you fully extend your arm, the butt clears from underneath your arm without getting stuck or catching on clothing. This is critical for a smooth transition when performing the figure-8.
Keep in mind that in the fall you will be wearing bulkier jackets and will need a little more wiggle room, so plan accordingly for your rod mods!
---
Buncha Random Stuff
A few cool giveaways and sales this week that are worth checkin' out:
MuskyFrenzy released some custom "show" colors – grab 'em right here:
Guessin' some of these colors will be sold out by the time you're reading this. They're gonna go fast, especially now that another 20,000 musky anglers have this email sittin' in their inbox! 😉
And yes, they did a run of spinnerbaits, too. Those sold out almost instantly, interestingly enough....
Now for some giveaways:
Stealth Tackle is handing out a BIG pile of leaders this month. All you need to do to enter is head over to their website and make a purchase.
Here's more deets from the leader guru John Bette:
They're also doing free shipping all month, so it's not a bad time to stock up on leaders regardless 🤷‍♂️
Not musky related, but a nice giveaway over at Thorne Bros for all you ice fishin' fanatics:
Perfect for catchin' musky treats.... 😂
---
QUICK HITTERS:
– "Swift Water Muskies" w/ Keyes Outdoors (video)
– Todays Angler's 2020 highlight reel (video)
– Minn DNR stocked 1,970 muskies in 2020 (link)
– Musky fishing on the Madison Chain in December (video)
– One Year, Two Muskies video series (video)
– New kayak trolling motor, $799 retail (link)
– 2022 Ohio Musky Show set for Jan 21-23 (link)
.... Not gonna lie, it looks weird seeing 2022 already.
---
---
THIS WEEK'S

 MONSTER MUSKIES:
Feast your eyes on this hefty double-nickel from the boys at Georgian Bay Musky Charters, one of seven over 54 inches on the year. Big water, big fish!
This big spot-o-sauras was the last musky to hit the net for Michael Collison's 2020 musky fishin' season out on LSC. Not a bad way to cap off the year!
Things are starting to fire-up down in the southern half of the musky range – here's a nice one from guide Nick Adams.
Here's the last fish of 2020 and the first fish of 2021 outta Eric Grajewski's boat on Lake St. Clair. Cheers to a new year – hopefully this one's a little more "normal" than the last....
Wanna be featured on Musky Insider? Send in your recent trophy musky photos by replying to this email. You might just see your pic in next week's newsletter. 🤙
---
---
Want to see more from Musky Insider? Make sure to follow us on Facebook and Instagram for bonus content throughout the week!
Send all business inquiries to josh@muskyinsider.com
---