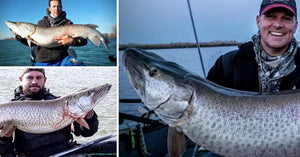 Biggest 'skies of 2020 – Metro Musky Tips – Famous Guide Changing Lakes
Be the FIRST to see Musky Insider every week by signing up for the email version of this newsletter. It's 100% free and we will never sell your email address! Click here to sign up and never miss another issue.
---
---
Twin Cities Tips for June
I know we've got a LONG ways to go until musky opener here in the north country, but it's never to early to start thinking/strategizing about it, right?
Here's some excellent Twin Cities fishin' tips from metro guide Ryan McMahon for the month of June – starting with location:
"When I hit the water, I'm going to start out on the weed edge. I'll start there, then let the fish tell me what to do. If the fish seem to be on the edge, I might venture up a little bit more, checking up in the weeds. If I'm getting late follows, fish are showing up outta nowhere at the boat, that might tell me those fish are off the break a little bit.
"As the month of June progresses, those fish are going to come out a little bit more. I believe fishing pressure and boating pressure will kick those fish out of the shallow weeds (in addition to their natural seasonal movement).
"As the fish move out and the water temperatures rise, I'm going to look for the open water bite over the deepest parts of the lake in the main basin. Often times, I'll troll these areas seeing if there's bait out there or a big fish, then cast rubber.
"Last June, we caught a lot of fish on the off-the-break bite, which is one or two cast lengths off that main weed edge. I think the fish are still somewhat related to those edges because they are able to push fish back towards the weeds and use them to corral the bait."
Btw, these tips are from a seminar Ryan did for Thorne Bros last winter. 👍
Now, here's a quick rundown on his best June baits:
"Medussas are great baits off the break and in open water, but they are effective around the weeds, too. You can use up-twitches and smaller rips to get them to pop around the weeds. As you come away from the weeds, you can do more longer sweeping rips."
"If the fish are off the break a little bit more and out in true open water, I love a Magnum Bull Dawg. Using big sweeping rips to advance the bait as far as you can and letting it drop."
"If you do find the fish up in the weeds, the Lake X Toad is a great option. Using small pops, you can keep this bait up above the weeds, better than most other rubber baits."
"It seems like some days the fish are really keyed in on dive-and-rise baits like the weighted Suick, particularly on calmer, sunnier days. These baits can really hang in the strike zone for long periods of time."
Not enough room in this newsletter, but here's a few more of Ryan's favorite June metro baits: Phantom Xorsist, Shallow Bull Dawg, Baby Beavers, Phantom Softtails, and One Eyed Willy.
You can watch the entire video to catch all the tips 👍
---
Biggest Muskies of 2020*
Muskies Inc. recently put out the biggest fish registered in their Lunge Log program last year – and there were some real dandies:
In the men's division, we have this 56.5 inch super-tanker from Ben Knutson on November 25th on Mille Lacs (MN).
Jessica Heller took the women's division with this 55 incher from Lake Vermilion on June 29th. This monster fell for a green-tailed Baby Beaver:
Big congrats to Thomas Lyon on taking down the junior division with this 53 inch leviathan from Detroit Lakes (MN) on October 23rd.
Michael Chisamore (left) and Michael Floyd (right) share the tiger division with a pair of dandies.
Chisamore's came from LSC while fishin' with Jason Quintano, was 49.75 inches long, and fell victim to a Glitter Perch Matlock on September 27th. Floyd's was 47.5 inches and came outta Merwin Reservoir in Washington State on August 21st.
Last but not least, Andy Patrick took the fly slingin' division with this 48 inch Chippewa River (WI) 'skie on the 4th of July.
The Lunge Log is a really cool tool for musky research – and it's up to almost 430,000 entries now. That's a serious database. A great reason to sign up for Muskies Inc. if your not already a member. More on the Lunge Log in the future....
---
Off-Season Blues
Anyone else check the forecast for next week?
Here's what's coming for central MN:
Not gonna lie, this cold front has us HARDCORE missin' musky season....
Kinda like this guy:
Speaking of winter.... we just got done reading a writeup from Jim Saric: Make the Most of Musky Winter
It's a good topic to think about.
Even with no local fishing opportunities and no in-person sport shows, there's still plenty you can do to take advantage of these winter months.
Here's a summary of Jim's four points from the article:
#1 – Head South
....and no, we're not talkin' tarpon in Florida 😂
Jim: "Although the majority of musky anglers don't begin chasing muskies until May or June, there are some legitimate musky fishing opportunities that exist now and get better in March. West Virginia, North Carolina, Tennessee, and Kentucky all have rivers and reservoirs with no closed musky season, where anglers are catching muskies right now."
There's plenty of musky guides down south that can help you get on some fish, too.
#2 – Plan Future Trips
"While researching your summer trip via resort and guide websites and/or social media channels, pay attention to the time of year when most of the big muskies are caught. Typically there are a couple weeks every year when the big muskies are more susceptible. That's when you should plan to go.
"With lodges and guides not attending sport shows, they have a lot more free time. So, either direct message them or pick up the phone and call with questions. I bet you'll be pleasantly surprised by the conversation and get all of your questions answered, plus much more."
#3 – Stock Up on Baits
Just because the musky shows are outta commission for 2021, doesn't mean there aren't some rock-solid deals and custom colors still happenin'.
"Many of the musky manufacturers are offering special "show" colors on their web sites. Rather than shop for them at a sport show, you can shop from your laptop or phone, from the comfort of your home."
#4 – Research & Exercise
"Now is a great time to learn more about musky fishing and to get yourself in better physical condition. Exercising and strengthening at this time will prevent injuries during the season and allow you to focus on fishing rather than the elements. While you are at home, spend time learning more about muskies."
Keep your eye on the newsletter this winter because we've got a boatload of A+ musky info coming your way 😉
You can click here to read Saric's full writeup.
---
This Week's Mashup
Here's some random stuff we stumbled upon this week:
#1 – With some serious uncertainty regarding the US/CAN border this summer, Steve Herbeck is guidin' down in Wisco this year:
We're hoping for an open border sooner than later, but for now, this is a cool opportunity to fish with a legendary guide a little closer to home if you happen to live in Wisco....
#2 – Kind of random, but how cool is this wall-hanger from Horn Dog Maps?? They made up this one for WI angler Blake Tollefson:
If you look closely, you can see a little home icon near the southeast side of the lake (nice personal touch) – no waypoints though! 😂
---
QUICK HITTERS:
– Northern WI Keyes Show w/ Bryan Schaeffer (video)
– Topwater musky strike montage w/ Madison Angling (video)
– Really cool strike on a homemade bucktail (video)
– Eagle Lake musky fishing w/ Angling Anarchy (video)
– EU-wide lead sinker/lure ban possible (link)
---
---
THIS WEEK'S

 MONSTER MUSKIES:
Big congrats to Riley (12yo) on crackin' the 50 inch mark with this Green Bay bruiser, fishin' with guide Doug Wegner.
We love when folks are able to put muskies in the net in *untraditional* ways. Check out this big, chunky LSC yak 'skie from last November. #blimp
Congrats to Rick on bustin' his new PB with this big, bronze bulldog, fishing the Wisconsin Northwoods with Chas Martin.
Feast your eyes on this Great Lakes January jumbo from Simon Barth – that belly is insane, man! 👀
Wanna be featured on Musky Insider? Send in your recent trophy musky photos by replying to this email. You might just see your pic in next week's newsletter. 🤙
---
---
Want to see more from Musky Insider? Make sure to follow us on Facebook and Instagram for bonus content throughout the week!
Send all business inquiries to josh@muskyinsider.com
---