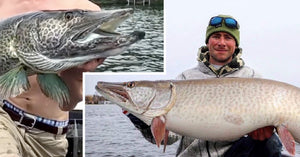 Blue Leopard Musky? (weird) – Super Fat Prespawner – Spring 'skie tips
Be the FIRST to see Musky Insider every week by signing up for the email version of this newsletter. It's 100% free and we will never sell your email address! Click here to sign up and never miss another issue.
---
---
Blue Leopard Esox
Betcha you've never seen anything like this blue leopard from Nick Day?
The pattern is ridiculous, but I can't keep my eyes off those bright blue fins 😍
Not going to speculate on species, sub-species, mutations, etc.... but she reminds me of those blue walleyes you see guys catchin' up in Canada:
---
Kamikaze 'skies!
Since we've already broken our golden rule – no pics of shirtless dudes holding muskies – now might be a good time to share this insane strike from John Hoyer:
You know she's hungry when she lunches the Barfighter after it's been hanging out of the water for a few good seconds.
We saw this clip for the first time watching John's interview on the new Wildside Podcast with Chip Leer. Definitely worth a watch if you need more fishin' talk in your eardrums!
Here's another crazy strike that popped up on the interwebz this week:
Dang awesome eat on the Svartzonker McTail in a classic pitch-back situation. Props to Jeff Andersen on the great video.
---
Smaller Bait = Smaller Leader
One recommendation we hear all the time for springtime muskies is you should leave your plus-sized musky lures in the garage and tie on smaller, less aggressive baits.
You'll hear the same recommendation for pressured 'skies.
Well, if you're bustin' out the glorified bass gear, don't forget to pair those baits with the right sized leader. Steve Heiting shares his two cents in this video:
There's no doubt that heavier, bulkier leaders will impact the action of smaller baits, whether you're talkin' twitch baits, jerkbaits, etc.
For this reason, Steve uses the Stealth Twitch Bait Leader which he helped develop. It's 6 inches long with a 124# solid stainless steel wire, and a #3 Stay -Lok snap.
Use the ball bearing swivel version for small bucktails and the non-swivel version for baits that don't spin on the retrieve.
No swivel = less weight on the nose of the bait.
Steve actually broke down all of his go-to leaders for different presentations in a recent FB post – definitely a rock-solid resource. 👍
---
Spring PSA!
Tis the season to make babies....uhhh....MUSKY babies that is!
Just a quick reminder – if you see muskies paired up this week, leave 'em alone and let them do their deal!
Lovin' this video from Bryan Schaeffer that went viral-ish a couple years back:
---
QUICK HITTERS:
– Southern Wisconsin Musky Opener, May 2nd (link)
– 2020 Wingra Dam musky jumpin' footage w/ Todays Angler (video)
– MN Bound Podcast w/ Duff from Supernatural Big Baits (link)
– Pipestone, Ontario musky catches w/ Doug Wegner (video)
– The Musky Report w/ Musky Shop (video)
– Fly musky thoughts and a 50-incher (video)
– Update on musky population in TN's Parksville Reservoir (link)
– NY tiger musky season opens May 2nd (link)
– Johnny Morris donates 1m masks to healthcare workers (link)
---

---
THIS WEEK'S

 MONSTER MUSKIES:
Turns out this 50-inch sumo wrestling 'skie was still hungry – tough to believe with a belly like that! She couldn't resist taking a swipe at the Rippin' Rap guide Josh Woodward was tossin' for walleye.
Check out this New River tanker from Justin Mollette – just a half inch under that magical 50 mark. Crazy awesome Virginia 'skie!
The trend continues with these early spring 'skies helping themselves to smaller non-musky offerings. Casey, Phil and Tom had plans to fill the net with brown trout, this big ole sea serpent had other plans!
Wanna be featured on Musky Insider? Send in your recent trophy musky photos by replying to this email. You might just see your pic in next week's newsletter. 🤙
---
---
Want to see more from Musky Insider? Make sure to follow us on Facebook and Instagram for bonus content throughout the week!
Send all business inquiries to josh@muskyinsider.com
---