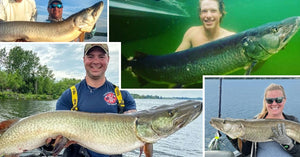 Bucktail Trollin' Tips – Record Tourney Results – Lowrance Bought
Be the FIRST to see Musky Insider every week by signing up for the email version of this newsletter. It's 100% free and we will never sell your email address! Click here to sign up and never miss another issue.
---
---
Pick One:
We're totally lovin' these three musky shots – reply to this email and let us know which one's your favorite:
#1 – Underwater Hoist
Not only is this photo idea super unique, but I can't get over how casual/ordinary Aiden Wielinga's facial expression is underwater 😂
Excellent shot by Rebekka Redd 📸
#2 – Prego Musky Chasin'
Gotta hand it to Lora Osborn on boating this solid mid-40's musky.... despite the fact that she's nine months pregnant! 👏
#3 – Little Dude, Big Fish
Congrats to 13 year old Laken Walker on landing this long 49.5 inch Wisconsin musky. That's a serious fish and a seriously awesome memory! 🔥
Three killer musky shots – don't forget to let us know your favorite. 👍
---
Eagle River Recap
Records were broken during the PMTT event last weekend. 👀
Eagle River is a familiar destination on the trail, but this is the first time they've allowed anglers to chase 'skies in the Three Lakes Chain, too. Great to see!
Guessing most of the anglers liked the rule change, because they kicked out a PMTT record 91 muskies over the course of two days.
Big congrats to Dan & Mike Wojtusik on taking home gold 🥇with five fish measuring 42.75, 37.5, 37.75, 38.5 and 38.25.
In case you haven't been following along at home, Dan won the 2020 PMTT event on Eagle River, too. #back2back #dialed 💪
Here's a quick tidbit from the post-tourney interview:
"We caught them both shallow and deep... The basin fish get lethargic and it's very difficult to catch them when they are neutral. What we did was focus on those open water fish during windows, and then we went shallow when we knew there wasn't a bite window, because you can still trigger the shallow fish with the right cast."
Definitely an interesting observation.
They also mentioned that one of their go-to lures was the B52 from Lake X.
Here's a quick look at the top 10 and how they caught 'em:
Looks like LOTS of blades with some rubber mixed in here-and-there. 👍
---
Bucktail Trollin' Tip
Trollin' bucktails is an underrated tactic, no doubt. It straight-up catches 'em, but it also presents some challenges:
#1 – You'll collect debris on your lure as you troll along.
#2 – Your line will twist-up like crazy.
This video from John Bette at Stealth Tackle helps address both those problems with a quick fix:
John gets some bonus points for simplicity on this one, too 👍
And if you want to know the EXACT components John uses, you can follow the following links: Swivels – Split Rings – Trolling Keel Weights
Thanks for the info, John!
---
Handling Tips
Props to Doug Wegner for putting together a video with some solid info on handling muskies – seems like most folks do their part by leaving angry Facebook comments on people's photos.... 😂
It's an extremely important topic – so make sure you're schooled up on it!
Here's a few notes on gear from the vid:
#1 – Anytime you measure a musky, you run the risk of it flopping around on the deck of the boat. Doug only measures fish he believes to be 50+ inches.
Regardless, making sure you have a musky-specific bump board is important if you choose to get a measurement.... Also, make sure the board is wet before you lay the musky on it to avoid removing the fish's protective slime!
#2 – One tool every angler should have in their boat is a compound bolt cutter.
Doesn't matter what species you chase, it WILL come in handy eventually. Whether you need to cut hooks out of the fish.... or yourself.
The Knipex brand is our top choice right now:
#3 – People are always curious about Doug's bright green net and the hook removers he uses. We'll save you some time scouring the web: it's an RS Net (Musky Mag size) and a Grabb-It hook remover. Both important tools for proper musky handling 👍
The list of gear and useful info is fairly long, so make sure to check out Dougie's video for more deets.
---
QUICK HITTERS:
– Lowrance purchased by Brunswick, owner of Merc/Lund/Crestliner (link)
– McMahon talkin' musky changes in Metro (link)
– Pete Maina + Dave Mercer = nothing but trouble! 😉 (video)
– Northern WI tiger action w/ Todays Angler (video)
– Old school tiger musky fishin' w/ Joe Bucher (video)
– Solo fishin' a beefy Madison musky (video)
– Nice musky catch from Stonewall Jackson (video)
---
---
THIS WEEK'S

 MONSTER MUSKIES:
Turns out the mega-monsters LOVE chompin' big blades at night! Jeremy boated this 56.5 incher on Detonator bucktail, which features a #10 and a #13 blade. 💣
This hefty Canadian 'skie hasn't missed many meals this summer! Congrats to Brandon Firlotte on hooking this impressive specimen!
Big props to Jonathan on poppin' this extra-extra-long north of the border musky, fishin' up in Ontario 🇨🇦
Last up, a quick quote from Mike Lee on a special fish he netted this week:
"One of the more cool things to ever go down in my boat. Father in law Paul Hanifl catching a giant 53" at 80 years young."
Love it!
Wanna be featured on Musky Insider? Send in your recent trophy musky photos by replying to this email. You might just see your pic in next week's newsletter. 🤙
---
---
Want to see more from Musky Insider? Make sure to follow us on Facebook and Instagram for bonus content throughout the week!
Send all business inquiries to josh@muskyinsider.com
---