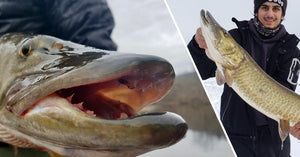 Bull Dawg Mod Tips – Better Fishing Spot Explanation – Tips for Warm Hands/Feet
Be the FIRST to see Musky Insider every week by signing up for the email version of this newsletter. It's 100% free and we will never sell your email address! Click here to sign up and never miss another issue.
---
---
Rubber Fixin'/Mods
There's a good chance you have some damaged Bull Dawgs in your garage. Rubber material rips and muskies/pike love tearing off those beautiful fluttering tails....
Repairing and replacing tails is actually VERY easy – this short video from Doug Wegner does a good job demonstrating the process:
You can use this method to repair your baits, but it's also great for mixing-and-matching different bodies and tails to create something totally unique.
---
Whiteboard 'skie Tips
Just got done watching a video from Jordan Weeks (Biological Angler) and wanted to mention it here in the newsletter.
He has some stellar action footage, catching this gorgeous 'skie:
.... but the best part of the video was when he utilized a whiteboard to break down where/how he found and caught her:
Definitely worth a watch! I'd love to see more videos like this in the future – it takes the best parts from standard musky videos (action) and magazine articles (graphics and explanations) and combines them into one easy-to-watch segment.
---
Wear your Silks!
How many of you utilize SILK in your wardrobe to help stay warm during the coldwater musky chasin' season??
I was reading a Gord Pyzer writeup talkin' about staying warm on the ice, when I stumbled upon this quote:
"The first step is putting on a pair of thin inexpensive silk socks. Silk is respected as a thermal regulator that keeps your feet warm in the winter and cool in the summer. It does this by creating space between the fibres and wicking the moisture away from your skin like wool, which should be the key ingredient in the second pair of socks you wear over the first."
He also recommends rockin' granny's silk gloves for the same reason.
If your grandmother doesn't have an extra pair laying around, you could probably borrow some from this dude 😂
All jokes aside.... warm hands and toes are SUPER important if you want to grind long hours in the fall, chasing that elusive 50 pounder. Steal strategies from anywhere you can find them – ice fishermen, sailors, mimes, etc. 😉 
---
This Week's Mashup:
Mashup time!
#1 – Beautiful underwater snap from @flyfishinginternational 😍
#2 – Sooo.... I guess Pete Maina was jacked back in the day??? Must be from wrestlin' with all those plus-sized muskellunge!
#3 – Really impressive drone footage from Stacy Bruner, capturing the entire cast-to-catch of a spunky 46.5 incher.
#4 – This is the most Wisconsin photo EVER.... I don't go to a lot of plays, but I would definitely sit down and watch one called Musky Love.
---
QUICK HITTERS:
– Milwaukee Muskie Expo this weekend! (link)
– First episode of Mayhem's 10,000 Casts (video)
– Some October musky action w/ Todays Angler (video)
– LOTW musky fishing and camping w/ Doug Wegner (video)
– WI musky chasin' w/ Keyes Outdoors (video)
– Pro-staff profile with Stuart Maes (video)
– Underwater views compilation w/ Master Crow (video)
– "Motorhead Island Monster" w/ Joe Bucher (video)
---
---
THIS WEEK'S

 MONSTER MUSKIES:
Beautiful pudgy Canadian musky from Sara with the Sportsman's Journal crew.
Ice ice baby! Awesome mid-40 inch hardwater 'skie from @vcfishin – love to see her drippin' wet before a quick, safe release.
Let's wrap this newsletter up with some chunky musky lips courtesy of @virginiatrophyguides.
Wanna be featured in Musky Insider? Send in your recent trophy musky photos by replying to this email. You might just see your pic in next week's newsletter. 🤙
---
---
Want to see more from Musky Insider? Make sure to follow us on Facebook and Instagram for bonus content throughout the week!
Send all business inquiries to josh@muskyinsider.com
---