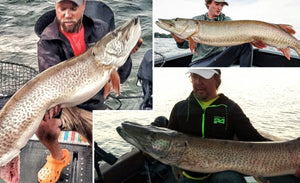 CAN Border Opening – Fresh MN Musky Trail – Musky Artwork
Be the FIRST to see Musky Insider every week by signing up for the email version of this newsletter. It's 100% free and we will never sell your email address! Click here to sign up and never miss another issue.
---
---
"Pissed Off" Musky
Need a good chuckle this week??
.... then you should watch this short video from Austin Wiggerman:
Muskies pick the darnedest times to finally bite, don't they.... 😂
It's funny because we've ALL thought about this exact thing happening when we take a quick moment to empty our bladders.
Seems like fish somehow know when you aren't 100% focused on catchin'. Whether you're taking a brief potty break, checking your phone, or simply day dreaming.
It happens.... just make sure it doesn't happen during a major/minor!
---
Sweet 'skie Art
Here's some cool musky-themed artwork we stumbled upon this week:
First up, feast your eyes on this beautiful oil painted scene from Robert D. Decker, depicting an underwater 'skie in the St. Lawrence River.
Killer tourney banner from the Beast of the East crew, courtesy of angling artist Matthew Stockton 🔥
Sweet UV neon musky paint job from @k33neon:
If you have any cool musky artwork you'd like us to share, reply to this email and send 'em our way!
---
New MN Trail Coming??
Looks like the MN musky contingent is rounding up the troops for a fresh tourney series, and they're calling it the Minnesota Muskie Trail.
This post from John Holmgren has all the info:
Big buy-ins ($1,000) and a big payout ($20k for first) with 75 total teams.
For those who can't read the screenshot above, the three events will be:
July 21-22 – Cass Lake/Pike Bay/Kitchi

Aug. 25-26 – Detroit Lake/Pelican Lake

Sept. 22-23 – Leech Lake
Looks like forward facing sonar will NOT be permitted – same with livebait. It also sounds like they are planning on putting some $$ aside for stocking, but the full deets are TBD.
I'm sure we'll get more info soon, but thought we'd share now 👍
---
This Week's Mashup:
Mashup time!
#1 – REALLY cool boatside release pic from Cole Lauzon – look at the colors on that spotted cheek 😍
#2 – Love these brew/bait posts from our friends at Taps & Tackle, here's their caption:
"Llungen Lures lures sent us their new awesome crankbait, "The Chubbie". The Chubbie is a wide-body, 4" long, shallow running, wooden crankbait with a tough lexan round lip. The Chubbie is perfect for casting over shallow weeds, rocks, or timber and dives up to 4′ on the cast.
"We paired these Chubbies with an awesome Double IPA from Central Waters MKE, Clouds and Cream. This Milkshake DIPA features tropical pineapple, pink guava, and coconut cream, with a touch of milk sugar to balance everything together. Double dry hopped with a tropical blend of barbe rouge, belma, & cashmere hops for an extra fruity finish."
#3 – Cool little musky replica (8 inches) from @mako_lures. You can click the photo to see some build progress pics.
#4 – This little hammer-handle from Trevor Murphy thought he was finally getting an easy meal.... 😅
---
QUICK HITTERS:
– Canadian border opening back up, Sept. 30 (link)
– Lake St. Clair musky fishing w/ Todays Angler (video)
– Exploratory Musky Hunt w/ Burnin' Eights (video)
– Hybrid technique w/ Joe Bucher (video)
– Musky & sturgeon fishing w/ Master Crow (video)
– Weed edge fishing w/ Angling Anarchy (video)
– Tigers possibly coming to Murtaugh Lake, Idaho (link)
---
---
THIS WEEK'S

 MONSTER MUSKIES:
HUGE congrats to Brian Reinke on boating his longest musky earlier this month, a ridiculous 57-inch Great Lakes beast!
Check out the pudgy belly on this monstrous 56.5 inch spot-a-saurus from Tyler Herman, caught within 10 minutes of sunrise/moonset (Harvest Moon).
Props to Ben Stone on poppin' this stout 53'' MN Metro bruiser castin' and ploppin' a Cannonball Jr. topwater– bonus points for capturing the moment on video!
Wanna be featured in Musky Insider? Send in your recent trophy musky photos by replying to this email. You might just see your pic in next week's newsletter. 🤙
---
---
Want to see more from Musky Insider? Make sure to follow us on Facebook and Instagram for bonus content throughout the week!
Send all business inquiries to josh@muskyinsider.com
---