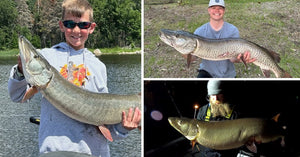 Catch more muskies with Rubber – Pressured Musky Tips – GIF Parade
Be the FIRST to see Musky Insider every week by signing up for the email version of this newsletter. It's 100% free and we will never sell your email address! Click here to sign up and never miss another issue.
---
---
Finer Details of Presentation
We had a REALLY good session with Spencer Berman this week for our PRO subscribers, talkin' all things musky fishing, with an emphasis on how to catch more muskies by dialing in certain details of your technique.
Obviously we can't share a TON here, but wanted to offer up a few quick observations from Josh Borovsky after the class:
"Spencer and I really don't talk to each other that much and we're on completely different bodies of water, but we've come to the same conclusion on a lot of things."
As mentioned earlier, this session was very technique-heavy:
"On our separate bodies of water we both seem to be in complete agreement that with a lot of rubber-type baits, it's super important that your bait jumps up quickly, and then sinks back down as quickly as it came up.
"So basically your bait is constantly rising or falling straight-up or straight-down, not at a 45° angle either way. You have to give it a sharp jerk, but not a long one. Then you need to come back to the bait. Spencer and I both emphasized the need to give the baits slack line so they fall straight down."
Paying attention to the finer-points of your presentation is critical.
The details Josh mentioned above have been very important for getting bites on rubber on Lake Vermilion the last couple years in open water and also during fall. Sounds like it's the same deal on Lake St. Clair.
Another tidbit: Josh and Spencer talked about how using a slower gear ratio reel can actually help with this. Faster geared reels will sometimes prohibit folks from leaving enough slack in the line.
Something to think about!
Btw, check out this video that AFTCO released this week with Spencer, featurin' some awesome visuals of musky chasin' on LSC:
---
GIF Parade!
Always one of our favorite segments – let's fire up the GIFS!
First, we have a crazy clip from Kristine Fischer who hand-landed an impressive Mille Lacs musky from a kayak earlier this season 🔥 
Props to Austin Wiggerman on capturing this sweet slo-mo aerial headshake. She was still souped-up, trying to throw the classic black & silver Mayhem bucktail:
Really diggin' this release shot in ultra clear water (via Brian Still):
How do you know when it's time to cut a musky outing short?? Here's your sign. 😂
That's Fischer Smith wrappin' up a day of fishing with Jeff Van Remortel and his dad Jason with a little volley of hail. #ouch!
---
Catch More Pressured Muskies
One of the most underrated aspects of catching muskies is fishing pressure.
Fish that see a lot of baits don't react the same way, plain and simple.
To help solve this problem, we reached out to metro musky guide Ryan McMahon who bags a bunch of muskies this time of year in the highly pressured waters of the Twin Cities.
Alright, Ryan. What's your approach??
"First of all, I like to position my boat off the break line or weed edge the distance of a long cast. With the boat sitting in roughly 12-20 feet of water, I like to throw a variety of baits that cover different depths in the water column (hopefully you brought some buddies along!)"
Here's Ryan strategy for lure selection:
"I like to lead the boat with a unique sounding bucktail like a Kramer Bros Tackle Revolution Ticker or a big double bladed bucktail. The larger blades seem to be easier for muskies to track in the figure eight when you get them off the break line and next to the boat.
"Next, I like to have somebody ripping a rubber bait like a Medussa or Magnum Bull Dawg. This is a nice erratic rip and drop technique that is great for getting reaction strikes.
"The last bait l like to throw is a dive-and-rise jerkbait like a Barfighter or Suick. This is another stop-and-start bait like the rubber baits but it will slowly rise up on the pause. It's a great option for finding curious but lazy muskies. It may seem like an odd trigger but deadsticking these baits 15 to 20 feet from the boat has put many nice fish in the net for us.
"If the fish is looking at the dead sticked jerkbait but not eating, I will crank my trolling motor up and pull away from the bait leaving 20-30 feet of line out and twitching the bait lightly on the surface. This will prolong your retrieve and can eventually entice a strike!"
For the most part, the jerkbait bite is typically a lot better early and blades start to heat up as summer kicks into full gear. Depending on the water temps where you're fishin', you'll wanna keep that in mind!
---
This Week's Mashup:
Mashup time!
#1 – Looks like Applebees is serving nice crispy 'skies to their customers now.... 🙄
How can a musky angler spot this on their plate and NOT instantly see a musky??
Thanks to Brian Hanka for sharing! 😂
#2 – Really dang cool musky art "Esox Fuego" from Jake Keeler. He did it with pen & ink on cradled wood board:
#3 – All I'm gonna say about this musky-themed cake from @buckhornlakebaker is that dude better get off his butt if he wants to catch any of those muskies swimmin' underneath him.... lol
#4 – Saw this on the MN Muskie Alliance FB page. Someone had a ROUGH day...
---
QUICK HITTERS:
– Minnesota musky fishing w/ Todays Angler (video)
– Northern WI musky fishing w/ AA (video)
– Here's a look at the July/Aug Muskie mag (link)
– Pete Maina on the Back Lash Podcast (link)
– Casting rubber for open water muskies w/ Ben Stone (video)
– ICAST Best of Category Winners (link)
---
---
THIS WEEK'S

 MONSTER MUSKIES:
We shared a big musky photo from Shawn Josephson a few weeks back – here's another big chunky 'skie from Shawn, this one was caught trolling a Llungen .50 Cal after hours:
After targeting muskies all morning from the boat, Levi Redding finally got on the board later that day, while tossin' bass baits from shore. Typical musky stuff, amirite?? 😂
Congrats to 11 year old Harrison Garrett on catchin' his first-ever musky! First of many, I'm guessing 💪
Wanna be featured in Musky Insider? Send in your recent trophy musky photos by replying to this email. You might just see your pic in next week's newsletter. 🤙
---
---
Want to see more from Musky Insider? Make sure to follow us on Facebook and Instagram for bonus content throughout the week!
Send all business inquiries to josh@muskyinsider.com
---