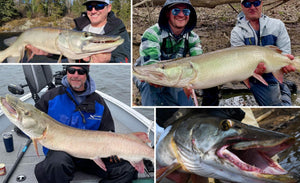 Catch & Release Works – Shoreline 8 – Some Ugly Muskies
Be the FIRST to see Musky Insider every week by signing up for the email version of this newsletter. It's 100% free and we will never sell your email address! Click here to sign up and never miss another issue.
---
---
Back to the Resource
In light of Eric Bakke's new Minnesota C&R record musky we highlighted in last week's newsletter, let's do a "Let 'em go, let 'em grow!" segment highlighting some sweet release shots.
Most monster muskies don't grow to gargantuan sizes without visiting the inside of a net at least a couple times. Catch and release works, especially when you handle 'em with care!
Alright, here's a few pics:
Let's start off with one of the better release shots we've seen in a while. Awesome shot from Jace Loge. If one is good, then two is twice as nice 💪
Picture perfect release clip from Pistol Pete Maina:
Awesome shot from James Lindner sending a fall fatty back to the depths:
This gorgeous white whale from guide Josh Borovsky's boat will live to be caught another day! #LetEmGoLetEmGrow
---
"Shoreline" Maneuver
I'm a sucker for these shore fishin' musky clips.
This one's got everything you could possibly want – awesome action AND a seriously impressive musky.
Check it out:
Congrats to Cameron Palowitch on 50-plus-inches of Cave Run paydirt!
---
Mouthy Muskies
We've been light on "ugly" musky segments this year, so here's a few fish that won't be winning any beauty contests:
Eric Pursche popped this goofy-mouthed 55 incher on a Livingston Squeaky Pete fishin' with Greg Grampovnik. #BigAndUgly
This fly-muncher from Matt Reilly is rockin' the permanent smile:
This future white whale from Wes Paul (posted by Pete Maina) has that Two-Face (batman villain) smile going on:
There's no sugarcoating this one.... This half-blind greenie from Ryan Veith is just straight-up ugly:
---
This Week's Mashup:
Mashup time!
#1 – Anyone else draggin' meat this November?? 🙋‍♂️
Stealth's GT rigs are a great option if you don't wanna make your own sucker rigs.
It has a nose clip bridle system and T-shaped hooks with an extra prong that sticks into the side of the sucker. It's named after Gregg Thomas, who developed the rig:
"I have been making and using this rig for the last 5 yrs and it has been the best rig I have used for suckers over 14 inches."
#2 – It's not everyday you see a musky swimmin' around with a catfish in it's mouth. Cool clip from Michael Kainec:
#3 – Awesome pic from Marc-André Paquette capturing the exact moment he sets the hook into a big SLR musky.
#4 – Really cool boatside eat from JP Angling:
---
QUICK HITTERS:
– Footage from Musky Battle 2022 ft. a 54.5 incher (video)
– Clearwater musky fishing w/ Todays Angler (video)
– Fall musky hunt w/ 54 or bust (video)
– Finding fall muskies w/ Smith's Fishing (video)
---
---
THIS WEEK'S

 MONSTER MUSKIES:
Huge congrats to Karly Betterman on catching this fall fatty (51.25 x 21") fishing with her fiancé John Vogeler. Awesome memory!
Check out the belly on this plus-sized pork nanny 😍 via @chagrin_river_outfitters fishing with Troy White.
Props to Kyle McDonald for landing this big bodied bruiser on the fly:
Wanna be featured in Musky Insider? Send in your recent trophy musky photos by replying to this email. You might just see your pic in next week's newsletter. 🤙
---
---
Want to see more from Musky Insider? Make sure to follow us on Facebook and Instagram for bonus content throughout the week!
Send all business inquiries to josh@muskyinsider.com
---