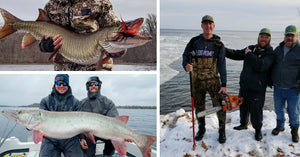 Chainsaws & Muskies – Skinniest Musky Ever? – 54'' Mondo from Shore
Be the FIRST to see Musky Insider every week by signing up for the email version of this newsletter. It's 100% free and we will never sell your email address! Click here to sign up and never miss another issue.
---
---
I

ce??? Pshhhh

North country musky fishin' is as good as it gets ... until the weather goes south of Pago Pago and the lakes freeze tight. There's no amount of steamy hot dishes and warm pasties that can reverse the damage once the boat ramps lock up.

Unless, of course, you have a chainsaw and an unhealthy obsession for chasing hefty esox....
That's Adam Manz, Eric Bakke, and Troy Zuelzke from left to right. Based on their hats, I'd guess they were lookin' to put in a few last-minute miles pulling Supernaturals in MN.
Gotta applaud the effort, boys!

---
"Shoreline" Maneuver
I'm a sucker for these shore fishin' musky clips.
This one's got everything you could possibly want – awesome action AND a seriously impressive musky. Check it out:
Congrats to Cameron Palowitch on 50-plus-inches of Cave Run pay dirt!
---
Beginner Musky Tips
Jeff Widmann sat down with musky guide Steve Genson to talk tips for guys and gals who are new to musky fishin'.
This is Round 2 in their Beginner Musky Tips series.
Here's the video:
And here's a quick summary:
Tip #1 – Lake Selection
"Choose lakes that have a high population – we call them action lakes."
If you want to improve at ANY skill, you need practice: repetition with proper technique. Musky fishing is a low-numbers game, but fishing lakes with high populations of fish gives you more opportunities to refine your skills.
Tip #2 – Finding Good Spots
"Look at a lake map and choose the largest structure."
As Steve explains in the video, muskies are top-of-the-line predators that can live and feed wherever they want. Expect them to set up camp on the best and most prominent structure/cover elements in the lake. Luckily, these areas are often easy to spot on a good lake map.
Tip #3 – Lure Choice
"Power baits early and late in the day and during any kind of weather change or moon phase, and then I'm using jerkbaits or reaction-style baits when the fishing is slow."
It's simply a matter of fishing aggressively when the fish are snapping, and slowing down when they are less willing to bite. The same concept applies to most species of fish in most situations. There are exceptions to every rule, but you need to know the rules before you can properly break them! 😉
Make sure to watch the video for all the deets we couldn't fit in this email.
---
Fins & Bones
We usually associate FALL with big, girthy muskies.
Well, looks like this West Virginia 'skie didn't get the memo....
You think that looks rough?
Take a look at this shot:
Eric Buby said it was 42 inches long, but felt like 5 pounds in his hands.
Would guess this fish is severely sick, but who knows – maybe it's preparing for an audition on 'Merica's Next Top Model 🤔
---
Double-Up Video
Remember the guy who doubled-up on ONE sucker a few weeks back?
Well, the video finally hit the interwebz this week....
Photos are great, but it's always better watchin' it happen on video. Thankfully, they got some solid footage of the catch.
Here's a few of our favorite comments on the vid:
"Imagine how terrified that sucker must've been"
"Definitely got their money's worth out of that minnow!"
"Moral of the story: use two hooks on sucker rigs?"
---
QUICK HITTERS:
– Vertical jigging for fall muskies (video)
– Four days fishin' Lake of the Woods (video)
– A two 50-incher day w/ Jeff Andersen (video)
– How to repair plastic musky baits (video)
– Big fish catch on Lake of the Woods (video)
---
THIS WEEK'S

 

LUNAR TIMES:
(Times based on Minneapolis)
---

---
THIS WEEK'S

 MONSTER MUSKIES:
Congrats to Austin Gates on wrapping up his musky season on the highest of all highs, cracking his new PB – 54 inches and thick as all get out! #shorefishin'
This long, lean, Canadian eating machine smacked a Supernatural 8five crank and hit 53 inches on the board. #CanadianCruiseMissile
Another north of the border monster – this one from Doug Wegner. Didn't know they had white whales in Ontario. 🤷‍♂️ Impressive fish, man!
Catching a 'skie on the fly is no easy task. After a tough skunk-streak, Cory Campbell got 'er done on a crispy November day, whacking FOUR muskies, including this beauty:
---
Want to see more from Musky Insider? Make sure to follow us on Facebook and Instagram for bonus content throughout the week!
---