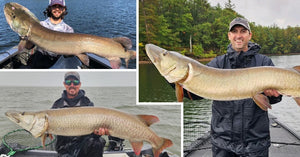 Championship Rundown – Nervous Sucker Syndrome – Big Musky Pics
Be the FIRST to see Musky Insider every week by signing up for the email version of this newsletter. It's 100% free and we will never sell your email address! Click here to sign up and never miss another issue.
---
---
2023 PMTT Champs
Well, that's a wrap folks!
HUGE congrats to Tait & Ty Sennett on winning the PMTT Championship this past weekend on the Chippewa Flowage.
They crushed the field with 7 fish over three days, including some WI beauties like this gorgeous bronzie:
And here's how they got 'em:
"We started out pre-fishing shallow with black bucktails and this pattern held up through the first two days of the tournament. We found out quick on the last day that the muskies weren't shallow any more. So, we moved out to deep water and while still throwing the black bucktails, we popped 3 more muskies just off the structure."
Great to see them take home gold on their home waters 💪
The PMTT Top Gun race ended fairly tight with Gus and Max Mantey needing to catch some fish in the championship to hold their lead over the Sennetts. Great job guys!
Btw, Ty Sennett did a great class for us "Topwater Tactics, Timing, Tuning and Mods" earlier this year that's available on the website (and available on-demand for PRO members) 👍
---
MN Muskie Trail
We also wanted to give the Minnesota Muskie Trail a shoutout. They held their event this past weekend, and it sounds like things went great.
Matt Raley and Nate Osfar put on a clinic (that's a common happening with these dudes 💪), boating four Leech Lake 'skies including this fatty:
How bout the belly on that early fall porker 😍
Here's a look at the top 5 finishers from the event:
And here's a look at the big 51-incher caught by Darian Rubner (with partner Jace Loge) that was good enough for big fish of the two day tourney:
Also cool to hear the event raised $1800 for the resource and $1100 for kids lifetime license giveaway. 🔥
Side note: When we launched Musky Insider PRO earlier this year, we wanted to bring in some of the best of the best musky anglers to teach folks how to catch more 'skies. It was cool watching two of our instructors (Ty Sennett and Nate Osfar) win both the big events happenin' this weekend. Great job, guys!
---
Nervous Minnows
We've all witnessed "Nervous Sucker Syndrome"....
Your bobber takes off at 100 mph, and you know a big musky is eyeing-up your suddenly fearful sucker minnow.
Well, here's what it looks like underwater:
Not the best footage, but you can't blame the sucker for shaking the camera like crazy as it tries to swim for it's life!
Anyone else gearing up for some hardcore fall sucker draggin'??
---
This Week's Mashup:
Mashup time!
#1 – Our friends at Muskies Inc. are doing some fundraising – click here to check out the Fall/Christmas clothing sale (Oct. 8th is the order deadline):  
#2 – Next we have one of the most heated debates in fall musky fishing....
You need to catch a musky tomorrow, and you can only pick one: Bull Dawg or Medussa. What are you throwing?? Reply to this email and let us know!
All jokes aside.... those are a couple spicy 🔥 color patterns: Tullibee (left) and Angry Perch (right)
#3 – Lovin' these photos sent in by Kyle Friedges of his wife Victoria's first Eagle Lake musky – what tanker! Congrats
#4 – Can anyone else relate to this one?? 😅
---
QUICK HITTERS:
– Green Bay musky fishing w/ Sterling King & Todays Angler (video)
– 3 day northern WI musky trip w/ Burnin Eights (video)
– Green Bay trolling w/ Brian Klein & Smith's Fishing (video)
– Mille Lacs musky fishing w/ Matt Vavroch (video)
– Leech Lake musky chasin' w/ LOA (video)
– Six musky fishing tips w/ Jim Saric (video)
---
---
THIS WEEK'S

 MONSTER MUSKIES:
Check out this massive 55.5 inch Green Bay bruiser from guide Kyle Tokarski. He actually shared the story behind this beast with our PRO members last week. Amazing fish, congrats man!
How bout the head on this crazy 54 inch rhino from Carter Natale 💪 She smacked a green-headed Bull Dawg about 80 feet from the boat.
Nighttime is the right time! Sweet 'skie from Cam Michels 💪
Wanna be featured in Musky Insider? Send in your recent trophy musky photos by replying to this email. You might just see your pic in next week's newsletter. 🤙
---
---
Want to see more from Musky Insider? Make sure to follow us on Facebook and Instagram for bonus content throughout the week!
Send all business inquiries to josh@muskyinsider.com
---