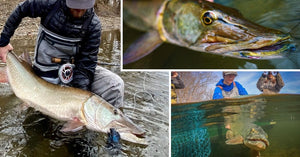 Cool New Holo Colors – Huge Southern 'Skie – Action GIFs
Be the FIRST to see Musky Insider every week by signing up for the email version of this newsletter. It's 100% free and we will never sell your email address! Click here to sign up and never miss another issue.
---
---
Underwater Musky Action
Now's the time of year when the diehard musky anglers start getting antsy.
The holidays are behind us and we are stuck inside waiting for the long, cold winter to call it quits (unless you're lucky enough to winter down south)....
We haven't fished for muskies in WAY too long, and we're circling Groundhogs Day on our calendars. 😂
Maybe you need a few throwback musky action GIFs to help getcha through another weekend void of musky fishin'. Here's a few of our favorites:
First up, we've got a solid boatside strike + a super spunky high-flyin' musky from Chris Mahan on Lake St. Clair:
Not gonna lie, watchin' this musky swim around with a mouthful of sucker minnow makes me miss fall meat-draggin' – some solid footage from Cody Klaus:
Last up, check out this up-close-and-personal musky encounter from the Wiskie Bros down in southern Wisconsin (late 2020):
---
Slick Slammer Colors
The BEST thing about this time of year is seein' all the new baits and limited-run custom "show" colors.
Better yet, you can check 'em out from the comfort of your couch this year 😂
Thought these new Slammer colors (customs for Thorne Bros) were really impressive:
Here's Luke Ronnestrand's thoughts on the new colors:
"We have a lure style and color to catch Muskies from any region any time of the year. Really hoping to get to try a few of these 7" minnows and deep 5" shads this spring on a southern reservoir or two. We added a couple perch patterns that will work very well on Green Bay as well as our Twin Cities metro area lakes. Our 12" minnow lineup of customs have basically been split ringed on my trolling rods for the past three falls. These lures continue to produce year after year. Looking forward to dragging one of the new holo "mother of pearls" around on a bright sunny day."
Honestly, Slammer are one of the more reasonably priced baits out there....and they're great fish-catchers.
You know the drill – cool custom colors like these fly off the shelves this time of year, so you'll probably wanna hop on these sooner rather than later.
With all the sweet baits coming out this winter, we might need to start thinkin' of some creative ways to "expand" our musky fishin' budget....
---
Some Random Stuff
Here's some outta-the-box stuff we dug up on the internet this week:
Gotta say, this is the healthiest lookin' zombie fish we've seen in quite some time:
This beauty (?) was caught over in Europe by Simon Torenbeek. Funny how you can tell where an angler is from based on lures they are showin' off in the photo. 🤔
Just noticed that Stealth Tackle has a number of custom One Eyed Willy topwaters available – really diggin' the "bluegill" color:
If you haven't tried a 'em before, here's a nice confidence-building quote from guide Steve Hrbek:
"The One Eyed Willy is a great bait, nothing more exciting than a walk the dawg chase and strike. While I agree jackpot style baits are not the best hooking % baits, the One Eye is much better than most. Most important is the 3 hooks, its heavier overall weight, and the way it lays lower in the water. There are fewer blow ups and misses."
A solid topper that's definitely worth a try this summer!
Can't get over how cool this net shot is from Ben Knutson – that's what it looks like when a 55+ inch Minnesota super-tanker hits the hoop 💪
---
O' Canada
Are we still holding out hope that we might be able to hop the fence and fish for muskies north of the border this summer?
For those of you wondering, here's the latest update:
....which basically means we don't know anything. Sounds like even the tourism groups, lodges, etc. haven't heard any concrete plans or strategies for re-opening.
I'm sure some of the local sticks aren't hating the lockdown though.....😂
Some are speculating that we might be past the peak here in the US, meaning numbers should start dropping soon. Here' a look at where we're at now with new confirmed cases:
Who knows, maybe things will start opening up once the general public has access to vaccines. We're not holding our breath though....
Some of the Canadian musky TV show re-runs have been fun to watch:
But definitely not as good as the fresh, never-before-seen content we're all love watching every winter. 🤷‍♂️
---
QUICK HITTERS:
– MN Musky Expo going "virtual" again (link)
– "Learning New Water" w/ Keyes Outdoors (video)
– "Beach Bum Muskies" w/ Joe Bucher (video)
– Jim Saric's favorite NW Ontario musky lakes (link)
– Superior smelt consumption advisory issued (link)
Reminder: Stealth is still doing a giveaway for all January customers (link)
---
---
THIS WEEK'S

 MONSTER MUSKIES:
This week, we're going with a #KeepEmWet theme for the "big fish" section:
First up, we've got a serious river monster from fly-guy Wes McElroy, and props to Blane Chocklett on the sweet snap 📸
Loving this super clean headshot from Shane Stewart:
Great family fish photo from Adam Listopad, and also gotta tip the cap to the Blue Ridge Musky crew on the spicy underwater angle 🔥
What does Matthew Stockton (@stockton.fly2frame) do when he's not creating awesome anglin' artwork? Chase down spotted 'skies of course!
Wanna be featured on Musky Insider? Send in your recent trophy musky photos by replying to this email. You might just see your pic in next week's newsletter. 🤙
---
---
Want to see more from Musky Insider? Make sure to follow us on Facebook and Instagram for bonus content throughout the week!
Send all business inquiries to josh@muskyinsider.com
---