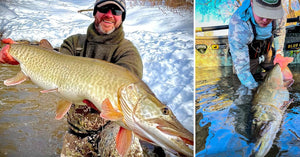 Correct Casting Side – Musky Man Cave Item – It's Never Too Late
Be the FIRST to see Musky Insider every week by signing up for the email version of this newsletter. It's 100% free and we will never sell your email address! Click here to sign up and never miss another issue.
---
---
Does it 
REALLY
 matter....
....which side of the boat you cast off?
The answer is "YES", according to guide Josh Borovsky:
"First of all, it's important to have a designated side of the boat that you fish from, regardless of what side that is.
"Most of us accumulate extra rods and loose baits on the deck throughout the day. It's best to keep your casting side clean and pile extra gear behind you, away from the action.
"Foot placement is an important, yet often overlooked, factor in achieving the widest possible figure 8 turns. The closer your toes are to the edge of the boat, the wider your turn will be. This also helps you get closer to the boat or underneath it as you come back in the straightaway."
In other words, trying to cast/figure 8 over your gear is bad news.
Now that you know you can't fancast around the boat willy-nilly like your bass fishin' buddies, which side should you choose?
"In my opinion, the side of the boat that you choose to cast off of can have a significant impact on both your hooksets as well as your overall figure 8 success."
HOOKSET
"Have you ever got rocked by a musky and felt like the rod almost got pulled out of your hand? More than likely, that's because the weak point of your grip was facing the fish.
"Whenever you hold a fishing rod (or really anything), there's a weak point and a strong point to your grip. The weak point will always be the seam between your thumb and fingers. Personal safety/self defense instructors will teach you to look for weak grip points when an assailant grabs your arm. It's fairly easy to rip your arm free if you pull in the direction of that weak point."
Who'da thought those Rex Kwon Do classes would help us catch more 'skies 😉
Just kiddin' man! Back to the tips....
"The same concept applies when you hold a fishing rod. Generally, if you reel with your right hand, you should be fishing off the port side or passenger side of the boat. If you're casting perpendicular off that side of the boat, the strong part of your grip will face the fish. Which means even if you're not paying attention or you're looking at your electronics when you get rocked by a fish, it pulls the rod into your hand vs. pulling the rod out."
FIGURE 8's
"Your figure 8's work out better on the port side as well. As you sweep your rod from left-to-right along the side of the boat before the first big turn, you can keep the strong part of your grip facing the bait as you fight the extra drag of accelerating your bait at close quarters until your other hand comes off the reel and gives you more power."
"Another key but often overlooked advantage is that generally the boat has some type of forward movement as you work around a structure. This movement helps pull/accelerate your bait at the end of your retrieve as it approaches the boat. This can be a big triggering factor before you get into the eight. (see GIF above)
"Conversely, if you make the same left-to-right sweep off the other side of the boat, the movement of the boat will actually slow down your boatside sweep instead of speed it up which is typically not a good thing."
So there you have it – one side hurts ya, one side helps ya!
Note: If you reel with your left hand, everything is reversed. Cast on the starboard/driver side and start your figure 8 going right-to-left.
---
Dussa Smashfest
The Todays Angler crew just posted a killer montage that'll definitely get you excited for musky fishin' while you sit inside on a not-so-balmy mid-February day.
It has all the ingredients of an A+ hype video, including big fish:
.... and some stellar boatside action shots:
What's cool is all the fish in the video were caught on one bait:
The Medussa (both the Husky and Monster sizes):
The "Husky" and the "Monster" are the two largest sizes in the Dussa lineup, which measure 15 inches long (12.1 ounces) and 17 inches long (15.2 ounces) respectively.
Here's a cool photo showin' all five sizes next to each other:
A lot of the tourney guys use Medussas, with the most popular size being the "Husky". There are lots of cool custom colors available this time of year, too, at the shows and online at retailers like Thorne Bros.
---
Musky Meme Parade
Some musky-themed memery for your entertainment!
Obviously, the best kind of fish chaser is a musky chaser:
Why? Because the walleye-heads can't keep up.... 😉
Kidding of course, there's plenty hardcore walleye dudes. But you'll probably wanna start them off with a Baby Girl bucktail.... they can upsize to the bigger blades once they've proven they have enough stamina! 😉
Being a musky-head isn't all sunshine and rainbows though. Most the time it's windy and rain clouds! 😂 A good percentage of our readers have caught at least one musky.... a lot less have caught a 50+ incher:
---
This Week's Mashup:
Mashup time!
#1 – How cool is this little shelf from Brandon Trafananko??? This is literally the first time I've thought about decorative shelves in years (ever?), but now my head is buzzing with man cave ideas....
#2 – Saw this on Pete Maina's page.... Looks like Mike Pyles has a bit of a squirrel problem. The squirrel is lucky he's not tanglin' with an ACTUAL living musky 😂
#3 – Really cool magazine ad from WAYY back in 1989 featuring the original DepthRaider. Thanks to Matty Centak for sharing on the socials.
#4 – Josh Stevenson posted a cool video with his guide client who's 81 years old catching his first-ever musky. It's never too late to get 'skie #1!
---
QUICK HITTERS:
– Minnesota Muskie Expo happenin' March 4-6th (link)
– Topwater Eats w/ Mayhem's 10,000 casts (video)
– PMTT Tourney fishin' w/ Keyes Outdoors (video)
– Hooksetting advice for topwaters w/ Joe Bucher (video)
– Peter Blicharz seminar at Titletown Muskies Inc. (video)
– Fly slingin' musky article w/ Hatch Magazine (link)
– Mercury releasing electric outboard in 2022 (link)
---
---
THIS WEEK'S

 MONSTER MUSKIES:
Props to @chagrin_river_outfitters on wading a wintery shoreline and landing this gorgeous fly-muncher. 🔥
Lovin' the subsurface snap from Sam Scott (@blueridgemusky) featuring a big southern chunk-a-saurus.
Wanna be featured in Musky Insider? Send in your recent trophy musky photos by replying to this email. You might just see your pic in next week's newsletter. 🤙
---
---
Want to see more from Musky Insider? Make sure to follow us on Facebook and Instagram for bonus content throughout the week!
Send all business inquiries to josh@muskyinsider.com
---