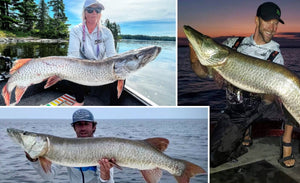 Discount on A+ Lures – Musky ''Gulping'' – Night Tips
Be the FIRST to see Musky Insider every week by signing up for the email version of this newsletter. It's 100% free and we will never sell your email address! Click here to sign up and never miss another issue.
---
---
Tackle Discount
This week, Musky Innovations is offering a discount for our readers.... which is pretty cool because just about EVERY musky angler uses their baits for one application or another.
Head over to their website and use the code INSIDER15 to get 15% off any product on their site except rods (offer is good through Sunday)
Browsing the website, here's a few baits we found that would be killer picks:
1 – One of our all-time favorite Innovations colors is Ultra Flash Orange Head Perch. Here's a look at the Monster Swimmin' Dawg and the Mag Bull Dawg:
2 – Magnum Heli Dawgs are straight-up musky catchers, and this Ultra Flash Speckled Walleye pattern is a winner:
3 – Different situations call for different sizes, but when it comes to Bull Dawgs, the Magnum size is a versatile, must-have option.
Here's a few of our favorite colors that are in stock on the site:
☝️ From left to right: Winnipeg Walleye, Twinkie, and Blotchy Walleye
4 – Don't forget the Shallow Swimmin' Dawgs – we especially like throwing the Magnum size!
This Molten Steel color is pretty 🔥 #PunIntended
5 – It's also not a bad time to grab some lure accessories/add-on's.... Pro Magnets, replacement tails, teaser blades, Heavy Heads, trebles, etc.
The discount code (INSIDER15) is only available through this weekend, so get your orders in before it expires (link to the website) 👍
---
Nighttime Eights
Anyone else been burnin' the midnight oil this summer??
One issue we see often is folks having problems with their figure 8's at night....
It seems like the darker the night, the more likely the bite will come at the side of the boat on the figure 8, too. Not sure why exactly. Maybe it takes the fish longer to zero-in on the bait in the dark?
Regardless, boatside eats are common during the extra-dark New Moon nights.
And we have a New Moon coming in one week....
The biggest problem, especially with anglers new to night fishing, is getting a nice short leash on the figure-8 without accidentally reeling the leader into the rod tip.
Remember, the shorter the leash, the wider the turns you'll make on the 8.
Here's a few tips from guide Josh Borovsky that should put this problem to bed:
(Yes, the pun was intended)
1. Adjusting Your Rod Angle – "While I usually like to keep my rod tip low while retrieving bucktails and many other baits, I'll raise it up closer to waist-level when it gets too dark to see. Why? It's easier to feel the angle of the line as you pull the bait back to the boat.
"Once you feel the line angle starting to become more vertical, you'll know the bait is getting close to the boat. If you're new to night fishing, you'll want to do some practicing before it gets pitch black. I also want to stress that you shouldn't raise your rod tip so high that it negatively impacts your hook set."
2. Add a Glow Bead – "Additionally, you could also try threading a glow bead onto your line, just above your leader. This gives you a visual indicator that helps you avoid reeling the leader too far. There's two drawbacks to this approach:
"First, it can be a pain if the bead is small enough to fit through the guides on your rod. This will lead to wasted time unthreading it back through the guides, and it can also cause backlashes if you fail to notice it slipped into the guides. If you upsize your bead to avoid this problem, you'll often times start to collect weeds and other debris in front of your leader."
3. Using a Specialize Leader – "If you want the visual indicator, but don't want to deal with the hassles associated to solution #2, grab a specialized leader designed specifically for night fishing. The Stealth Tackle Night Leader is an excellent option with 130#, 150# and 180# fluorocarbon options."
"It has the small glow bead just below the swivel, so you don't need to worry about it riding into the guides or picking up weeds with the swivel running interference for it. It's a compact system that's an excellent solution for this common problem.
"If you're in the camp that worries about bite-offs with flouro, Stealth also offers the GT Hybrid leader, developed by Gregg Thomas that utilizes fluorocarbon and wire."
This leader attaches to your mainline using a double uni knot and works great while night fishing because the knot running thru your eyelets helps identify when the lure is close to boatside.
We've heard a few folks are using slip bobber nots ahead of the leader for this purpose as well.
4. Consider Red Headlamps – "We aren't advising you sling muskies baits into the darkness with your bright headlamp turned on, but some musky folks use headlamps with a dimmer red LED light for spotting your leash and fish that might be following.
"Once you achieve Jedi level night fishing skills, you may find you can get your leash prefect every time without these aids. But if your not there yet, we hope this helps!"
Night fishing provides a BUNCH of unique challenges, but this should solve one of the most annoying issues you'll run into!
---
Loch Ness 'skies
We've talked in the past about muskies swimmin' with their head outta the water:
.... but we're still not sure WHY they do it. 🤷‍♂️
Luckily, our friend Gord Pyzer was also curious, so he reached out to a couple of his scientist buddies to get their thoughts.
Here's a few excerpts from his full writeup on Outdoor Canada:
First, here's Dr. John Casselman's take:
"I don't know of any good studies that could help us understand why muskellunge do this, and I think almost anything we would suggest here would be quite speculative.
"I've noticed that it appears to be related to large fish, and they may have trouble acquiring oxygen at high temperature, hence they are using the surface filament to acquire a higher concentration. The gill surface to body ratio no doubt decreases in large fish. My feeling is that muskellunge are attempting to increase their oxygen intake with this activity."
And here's Dr. Sean Landsman's two cents:
"Muskies are physostomous, so they have a little duct that connects their swim bladder to their esophagus and thus, the outside world. This means they can gulp air to try and increase buoyancy or burp air to lose buoyancy. But why they need to do this is unclear.
"Are they having some sort of physiological issue that is preventing them from moving gas into their swim bladder? Did they just eat a large meal and need to compensate for the added weight by increasing buoyancy?
"To the latter, there's some research with farmed salmon smolts that demonstrate smolts gulping air after ingesting lots of food."
Sounds like the consensus is still: "We're not sure!"
Although their theories are probably better than ours....
"With increased musky pressure in recent years, the muskies are poking their heads out and looking around to make sure there aren't any boats around before eating lunch." 😉
---
This Week's Mashup:
Mashup time!
#1 – Kinda sorta similar to the musky deal, sturgeon like to go up for air from time to time. Look how close this one hopped by Jeff Andersen's boat – that'll jolt you awake when the bite is slow!
#2 – We've talked about 'em in the past.... but if you're looking to improve the ergonomics of your rod/reel setup, check out the JigRipper. It's particularly useful this time of year when you're burnin' big bucktail and slingin' other big baits:
#3 – REALLY diggin' this unique 'skie shot from Live & Die by the Fly:
#4 – I think I need something like this in my garden. Really cool stuff from @thecreativehand34 – way better than a garden gnome!
---
QUICK HITTERS:
– Musky fishing w/ Todays Angler & Larry Ramsell (video)
– Vilas County 'skies w/ Maina & Manthei (video)
– Musky weed fishing tips w/ 54 or Bust (video)
– Bryan Schaeffer goes musky chasin' w/ Smith's Fishing (video)
– "Bait & Switch Muskies" w/ Joe Bucher (video)
---
---
THIS WEEK'S

 MONSTER MUSKIES:
Gorgeous nighttime musky from MN guide Isaiah Hahn:
Btw, the MN Musky School (Isaiah is one of the instructors) is just around the corner.... #pumped!
Awesome north-of-the border 'skie from big fish diehard Vanessa Toews:
Joe Cooper's been busy on the Woods! This 53.5 inch bruiser crushed Joe's bucktail on the second turn of the figure 8. 💪
Wanna be featured in Musky Insider? Send in your recent trophy musky photos by replying to this email. You might just see your pic in next week's newsletter. 🤙
---
---
Want to see more from Musky Insider? Make sure to follow us on Facebook and Instagram for bonus content throughout the week!
Send all business inquiries to josh@muskyinsider.com
---