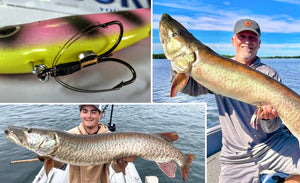 Do Weedless Trebles Work? – Stomach Contents Alive – Musky Leader Tips
Be the FIRST to see Musky Insider every week by signing up for the email version of this newsletter. It's 100% free and we will never sell your email address! Click here to sign up and never miss another issue.
---
---
Weedless Treble Hooks
Have you ever tried weedless treble hooks for musky fishing?
54 or Bust has been experimenting with the Muntz Weedless hooks this summer, and he put together a video sharing his thoughts:
His favorite applications are using them on bucktails, glide baits and on swimbaits.
One cool idea he had was pairing the weedless trebles with Musky Innovations Pro Magnets, creating a really sleek, weedless system for your rubber baits.
Here's an example:
The magnets screw into the bottom of any rubber bait, keeping the hook in position for less tangles and better hookup rates.
A couple accessories/modifications to take a look at. Guessin' this video will at least get your wheels turning....
If you've tried weedless treble hooks before, reply to this email and let us know what you think of 'em!
---
Survivor: Season 44
John Mertz probably should have named this little bullhead "Jonah" after it survived the belly of a northern pike he filleted up:
Not musky-related per se, but John made a good point:
"This was a pike stomach content thing, but, honestly, how many muskie stomachs do you want to see opened anyway, right?!"
Crazy that this little guy would come out kicking after literally being digested alive for who knows how long!
This is yet another example.... when the apocalypse finally hits, the only survivors will be cockroaches and bullheads! 😂
---
Leaders for Poundin' Cranks
In a recent interview on the Back Lash Podcast, John Bette (Stealth Tackle leader guru) mentioned he was having a lot of success on Lake of the Woods this summer banging crankbaits into rocks when most folks were still burnin' blades.
If you've ever caught 'skies this way, you know it can be super tough on your leaders, especially if you aren't rigged up correctly.
Here's John's thoughts on the proper setup:
"With all the contact on structure, I've pretty much switched over to solid wire leaders. They put up with the most abuse. I prefer to stay away from fluorocarbon when I'm fishing areas where it will come in contact with sharp rocks.
"The solid wire 174 -pound is pretty much the four wheel drive of our leaders. You can put them through just about any abuse you need to."
Another important piece of the puzzle when you're bangin' cranks up shallow is the snap/split ring debate – here's John's take:
"I've pretty much got to the point where I've eliminated snaps all-together, going to a solid ring/split ring connection. I'm doing this no matter where I'm fishing, whether it's Lake of the Woods where there's tons of rock or Wisconsin/Indiana where I'm fishing a lot of open water.
"Once you give it a try and start doing it, you find that you're able to change baits pretty quickly as long as you have a pair of split ring pliers handy."
Btw, here's John's go-to plier option: Xuron Split Ring Pliers
He recommends having a few of them around the boat in different places because you never know where you're going to be when you need to swap out a bait. Plus, they always seem to go missing.... 😂
"I'm not knocking the Stay-Lok snaps at all, they are still a good snap. It's just that extra added security. And the way we were fishing up in Canada, we were making constant contact with bottom and rocks. With the solid ring to split ring connection, we didn't need to worry about the snap opening up or getting wedged in a rock where it could pop open."
Something to consider next time you change-out leaders!
---
This Week's Mashup:
Mashup time!
#1 – Really cool boatside release shot from Casey Yoern shared on Doug Wegner's page. #GreenMachine
Btw, congrats to Doug and Jessie on the beautiful up-north wedding, celebrating with friends and family after tying the knot mid-pandemic.
#2 – Our buddies at Taps & Tackle are loaded up with bucktails if you're lookin' to refresh your supply:
We've been hearing lots of good reports on the new Frenzy IC9's and IC10's, and the 8/9 Stagger is still kicking out 'skies.
They also have some really cool options from Pandemonium Tackle, the Marvin 88's and Marvin 78's especially caught our eye.
#3 – How's this for a unique musky-themed tattoo?? Props to  John Wayne Beesting on some killer ink 🔥
#4 – That's a mouthful of kayak musky right there! A+ pic from Kristine Fischer.
---
QUICK HITTERS:
– 2023 dates announced for CHI/MIL Expos (link)
– Jeff Young Shootout happenin' Oct 1-2 at Agency Bay Lodge (link)
– Lady of the Lake Muskie Tournament, Lake Geneva Oct. 22 (link)
– Four musky day w/ Todays Angler (video)
– Unique musky lures w/ Burnin 8's and Rich Reinert (video)
– "Gunning for Muskies" w/ Gord Pyzer (link)
---
---
THIS WEEK'S

 MONSTER MUSKIES:
Feast your eyes on this gorgeous bronze beauty sent in by Bruce Richmond, caught on Lake of the Woods last week 💪
Cody Fredson popped this small boat brute on a perch-flavored Bull Dawg:
Congrats to Paul Adams on joining the 50 inch club with this big bodied 51.5-incher in northern Minnesota!
Wanna be featured in Musky Insider? Send in your recent trophy musky photos by replying to this email. You might just see your pic in next week's newsletter. 🤙
---
---
Want to see more from Musky Insider? Make sure to follow us on Facebook and Instagram for bonus content throughout the week!
Send all business inquiries to josh@muskyinsider.com
---