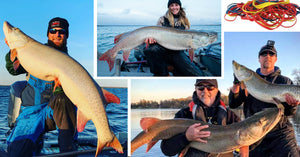 Double-up on 1 Sucker – CRAZY catch from Shore (vid) – Rubber Band Rig
Be the FIRST to see Musky Insider every week by signing up for the email version of this newsletter. It's 100% free and we will never sell your email address! Click here to sign up and never miss another issue.
---
---
2 Muskies, 1 Sucker
Muskies might be the fish of 10,000 casts, but it's not unheard of for guys to catch two fish at the same time. That said, it's EXTREMELY rare for one angler to catch two fish at the same time on one bait...
Well, John Lyon somehow pulled it off:
The big girl in front measured 53" x 23" and the one in back was 43.5".
You need the whole family to document this catch with Jeff holding fish #2 and Jerry snapping the photo. Bet you can easily ID John in the photo, because there's no way he'd let anyone get their paws on the 53 incher. 😂
This shot does a good job showing how they were hooked:
And here's some action shots:
---
Crazy Shore Fishin' Strike
Speaking of stuff you don't see everyday, check out this crazy glide bait strike just a couple feet from Caleb Sorenson's toes fishin' from shore:
It always feels good foolin' a musky, but you get some serious bonus points for sticking one from the bank!
---
Rubber Band Setup
One of the big keys to catchin' muskies on meat is making sure you have lively bait.
In this AnglingBuzz video, Jeremy Smith goes step-by-step breaking down his rubber band sucker setup:
The key to this setup is ZERO hooks piercing the body of the sucker – maximizing health and longevity. Additionally, the rubber bands break free from the minnow with ease – no need for an aggressive snapping hookset.
All that's left to do is experiment with band colors. Bright colors in dirty water and natural colors in clear water. 😉 (kidding)
---
Boatside Surprise
This is why you never give up on a big 'skie!
Watch this series of events from Corey Montgomery on the Keyes YT channel:
Notice the fish swimming off away from the boat, then moments later coming from underneath the boat to smash Corey's bait?
Good thing he didn't pull his bait out of the water!
This is what the 'skie said as she was hitting the net:
---
QUICK HITTERS:
– Casting & Suckers, 1-2 punch (video)
– How to make glide baits (video)
– Fall musky baits w/ Jeff Schulte (video)
– Stories about PB muskies (video)
---
THIS WEEK'S
LUNAR TIMES:
(Times based on Minneapolis)
---

---
THIS WEEK'S

 MONSTER MUSKIES:
Feast your eyes on this ridiculous 55X27 whale of a musky from MN guide Dan Altmann. It's beasts like this that remind us why we grind through this brutal late fall weather.
Speaking of beasts, how 'bout this plus-sized super tanker from Frank Spano and guide Scott Munford up at Andy Meyers Lodge on Eagle – bumped & taped at 55.5" x 26.25".
Congrats to Jessie Baker on joining the 50-club and catching her new PB trolling a 10" Headlock on Eagle Lake with her bf Doug Wegner. Amazing shot!
This chunker was fat and happy until Marty Vlietstra set the hook! Glass calm + girthy muskies = tough to beat!
Wanna be featured on Musky Insider? Send in your recent trophy musky photos by replying to this email. You might just see your pic in next week's newsletter. 🤙
---
---
Want to see more from Musky Insider? Make sure to follow us on Facebook and Instagram for bonus content throughout the week!
---