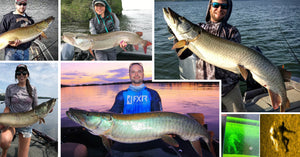 Early Fall Musky Checklist – Girls w/ Big Muskies – Creepy Sonar Shots
Be the FIRST to see Musky Insider every week by signing up for the email version of this newsletter. It's 100% free and we will never sell your email address! Click here to sign up and never miss another issue.
---
---
Checklist for Early Fall Musky Success
We're heading into that late summer, early fall transition time when water temps are dropping and the patterns on your favorite lake are about to change.
MN guide Josh Borovsky likes to use a "checklist" to help him stay on top of the 'skies this time of year, and it looks a little something like this:
☑️ Is there heavy cloud cover?

☑️ Is there significant wind?

☑️ Are water temps falling?

"There are typically two distinctive patterns on the lakes I fish this time of year.#1 the muskies could be up shallow on the inside weed lines, or #2 you might see them out off the deep weed edges or suspended nearby."
So where does the checklist come in?
"Generally speaking, if you can check all three boxes, the fish will likely be shallow. Conversely, if you can't check any of the boxes, the bite should be deep. Often times you'll have some checked AND unchecked boxes, in which case you'll need to bounce back-and-forth between deep and shallow until the fish tell you where they're at."
Does this work everywhere?
"This cheatsheet works like a charm on the metro waters I guide, but will NOT work everywhere muskies swim. On lakes with tullibee or whitefish populations, cooling water temps may cause bait to ride higher in the water column pulling muskies further away from structure instead of up into the shallows.
"The idea is to create a customized cheatsheet for your OWN waters. Each aforementioned checklist item (clouds/wind/temp) will trigger fish movements or behavioral changes, but those specific changes will vary from lake to lake depending on the forage availability, water clarity and other variables."
Keep in mind, all three of these factors can change throughout the day, so be prepared to adjust accordingly and move with the fish. Also, nightfall can act as cloud cover in this equation.
Best of luck this fall, and don't forget to send us pics if you catch a monster!
---
The Ladies Gettin' It Done!
Guys aren't the only ones slayin' the muskellunge this season. We've seen some great fish caught this year by the ladies. Here's a few recent tankers worth checkin' out: 
Lisa Oakes is no stranger to big muskies – this Lake of the Woods leviathan came a couple weeks back on the full moon.
Liisa Hedin came all the way from Sweden to fish with Jason Hamernick in MN, and looks like it was worth the trip! She connected with her first ever musky figure-eighting an Apache bucktail at boatside.
Last up, take a peek at this August monster from Canadian musky-head Lauren Kozak. You could pick that fish out of lineup no problem with all those battle scars.
---
Yertle the Turtle
Musky fishing can be a serious grinder and nothing's worse than finally hooking up and finding out it's a dang turtle!
Lookit this one from Brandon Stump, hooked right on the mitt:
Unhooking these buggers is no easy task when they'd happily nip your finger off during the process. Ouch!
Here's a quick clip from Trevor Montgomery of a nasty turtle following his bait on the eight:
And here's an action shot from Steve Nosbisch. Guessing he wasn't "burning" his bucktail fast enough. 😂
Cool shot, but that's a little too close for comfort if you're askin' me!
---
Creepy Sonar Readouts
How would you like to be scanning down a break line and have either of these shots pop up on your screen? No thanks....
The one on the left (via Curtis Creech) looks like it should be chasin' Shaggy and Scooby. The one on the right (unknown origin) is just plain creepy....
---
The Best Sunset Musky Pic EVER???
Usually we're makin' fun of guys posting sunset pics on social media (because it usually means they don't have any bigguns to show), but Darcy Cox knows how to do 'em right!
LOTW = Sick sunsets + Hawg muskies  👀
---
QUICK HITTERS:
– Frank Schneider tournament, Sept. 6-8 in MN (link)
– Tigers being used in stunted UT brook trout lakes (link)
– 53" musky cast-to-catch (video)
– Fish your best spot at last light w/ Bucher (video)
– Two big tournaments on Leech Lake comin' up:
(PMTT Mega Sep 13-15, Muskie Shootout Oct 12-13)
– 30 bite day w/ Todays Angler (video)
– Built-in MEGA SI in new Ultrex and Ulterra (link)
– Answer for Eurasian Milfoil??? (link)
---
THIS WEEK'S
LUNAR TIMES:
(Times based on Minneapolis)
---

---
THIS WEEK'S

 MONSTER MUSKIES:
Brett Beaupre finally boated his first "legal" musky (54 inches) casting on the Bay. She was a chunker, too!
Shoutouts to Casey Casper for bustin' his new PB (54") spinnin' a bucktail on the St. Lawrence River.
Sleeping is overrated when the 'skies are biting! This nighttime cruiser couldn't help but swipe at a 14" Whale Tail and get herself hooked on the night shift.
Check out this ridiculously impressive Sconnie from Ben Wirtz. Tip-to-tail she measured 52.5 inches with some serious girth ta boot!
---
Want to see more from Musky Insider? Make sure to follow us on Facebook and Instagram for bonus content throughout the week!
---