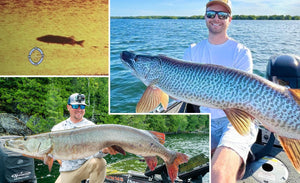 Excellent Rubber Tips/Mods – Doug's New PB – Musky 3-Pack Spawn
Be the FIRST to see Musky Insider every week by signing up for the email version of this newsletter. It's 100% free and we will never sell your email address! Click here to sign up and never miss another issue.
---
---
Pull-Pause Tips
This week, we got MN guide Isaiah Hahn to spill some juicy fried beans on fishing pull-pause rubber baits for 'skies.
He shared a number of excellent tips, so let's keep the intro short and jump right into the good shhtuff:
Nugget #1 – 'Arching' Your Rubber
"A few of my favorite baits, that always play a role in my muskie season when it comes to pull-pause baits, are Bull Dawgs and Medussas. Getting good hop and hangtime is critical during your retrieve. To help increase hangtime, I like to arch the bait just a tad by taking both of my thumbs and pressing up on the underside of the bait near the middle, while at the same time bending the sides down.
"Making the slightest arch in these rubber baits can help increase hangtime and hop during your retrieve. Also, don't forget those "up-rips" during your retrieve, even when fishing the deepest break line or basin, as this can help increase the hangtime and hop of the bait, when combined with your usual side and downward rips/pulls."
Nugget #2 – Swimbait Retrieve
"Many muskie-heads love their swimbaits and for good reason, as they put fish in the boat. Most muskie anglers simply straight retrieve them back to the boat, which can be productive in and of itself.
"However, swimbaits can be much more versatile than that. In fact, I barely ever straight retrieve my swimbaits back to the boat, even in the shallowest of water. I love using a pull-pause cadence to get more strikes. Swimmin' Dawgs, Posseidons, and Restless Riders are some of my go-to's, just to name a few."
Nugget #3 – Beaver Tips
"All of these baits play a major part in my muskie arsenal each year. However, hands down my personal favorite pull-pause-bait is a Beaver. I run all sizes, but find myself grabbing a Baby Beaver or an XL Beaver the most.
"There's truly no wrong way to work these baits as they have a very dynamic and extremely natural swimming presentation in the water. Don't overlook speed retrieving a beaver bait over shallow weeds or cabbage as well, but that's a topic for another day.
"One of my favorite little tips when using a Baby Beaver is replacing the tail with an upsized XL Beaver tail.... This gives the Baby Beaver a truly awesome action in the water and a little bigger profile as well."
Nugget #4 – Stretch Your Rubber
"With any bait that has rubber to it (such as dawgs, dussas, any of the swimbaits, and even the rubber tails on the beaver baits), I will always stretch out the rubber as much as I possibly can – I mean REALLY pull on it, to stretch it out as far as possible without tearing it.
"I think you will find this really helps add more action to any rubber muskie bait, especially if it has not been thrown yet or if the bait is coming straight out of the package. Something simple, but you might find it makes all the difference!"
Special thanks to Isaiah for the writeup with some A+ info!
He'll be one of the guides/instructors at the MN Musky School happenin' in August at Agency Bay Lodge, but he also does a ton of guiding in the Park Rapids area. 👍
---
Biggun' from Dougie
After getting his butt kicked ALL WEEK by his better half, Doug Wegner had the last word with this absolutely gorgeous Pipestone beast:
That 52.5 inch bruiser was Dougie's biggest Canadian musky to-date and fell for a Magnum Double Dawg in the "MN Ball Licker" color. 😂  I've seen that color plenty of times, but still can't help but smile when I say it out loud....
You can watch video of the entire catch on Doug's YouTube channel:
One interesting tidbit from Doug:
Bucktails were absolutely dominating the bite the week this video was shot. If you've ever been in the back of the boat during a red-hot bucktail bite, you know it can be tough getting bites/looks when the dude/dudette in the front is vacuuming up all the active fish.
The trend continued when Jessie caught one on an 8/9 Stagger bucktail (black ice) earlier in the day, so Doug switched to the Double Dawg to try and get things going outta the back of the boat.... and obviously it worked out. He also mentioned a 10/12 bucktail was able to move some fish, but the follows were lazy/lethargic.
The lesson: If your buddy is getting all the action up front, try chunkin' rubber behind 'em. You just might pop the big fish of the trip 🔥
---
Tis the season....
.... for muskies to pair up do their deal 😍
"Mating season" is mostly wrapped up across the Musky Belt, but there's still some spawning action happenin' north of the border.
Check out this clip from Don Engebretson earlier this week in Ontario:
Looks like a couple nice 'skies had been busy baby-making.... and you can see another male underneath trying to get in on the action 😂
---
This Week's Mashup:
Mashup time!
#1 – Have any of you tried the Reck-n-Rack bump boards? They look pretty cool with stainless steel hinges and etched measurements/numbers:
#2 – Check out this super-sweet bucktail boatside strike from Jeff Belleghem. Gotta love it when they munch right at the bow of the boat 🔥
#3 – Diggin' this cabin-hanger from Northwoods Waterfront Getaway:
#4 – Anyone else love these high-definition Side Imaging screen-grabs?? Here's a crystal clear snap from Matt Seifert:
If you have any sweet SI screenshots, send 'em our way and we might share in a future email!
---
QUICK HITTERS:
– PMTT on Eagle River happenin' this weekend (video)
– Old Al Lindner musky throwback (video)
– Opening weekend on Green Bay w/ Burnin Eights (video)
– Musky fishing w/ Larry Ramsel & Todays Angler (video)
– Illinois basin fishing w/ Angling Anarchy (video)
– Utah tiger musky bag limit increased on Johnson Reservoir (link)
– Joe Bucher and his band playing music live at St. Croix event (video)
---
---
THIS WEEK'S

 MONSTER MUSKIES:
Absolutely gorgeous 45" Minnesota tiger from Tanner Talbot:
Props to Hayden Martin on putting his dad and uncle on three Lake of the Woods pigs (48.5, 49 and 50 inches) – impressive fish, dude:
Awesome nighttime shore fishin' musky from Justin H. in Wisconsin.
Wanna be featured in Musky Insider? Send in your recent trophy musky photos by replying to this email. You might just see your pic in next week's newsletter. 🤙
---
---
Want to see more from Musky Insider? Make sure to follow us on Facebook and Instagram for bonus content throughout the week!
Send all business inquiries to josh@muskyinsider.com
---