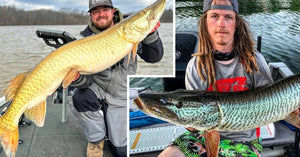 Expensive New Trolling Motor – High Water Tips – Recapture Science
Be the FIRST to see Musky Insider every week by signing up for the email version of this newsletter. It's 100% free and we will never sell your email address! Click here to sign up and never miss another issue.
---
---
New Trolling Motor
We've heard whispers for YEARS about Power Pole's not-so-secret secret project. Well, the wait is over. Power Pole has a new trolling motor ready for market.
And they aren't messing around....
PP is attempting to position their "Move" trolling motors as the best of the best, and they're asking for $5,000+ 🤯
That's a LOT more $$ than Minn Kota, Garmin and Lowrance's flagship trollers....
Here's a few of their key selling points:
Two styles, PV and ZR (pictured above) with shaft lengths up to 72 inches

They have a titanium shaft with a lifetime warranty

They are substantially quieter than the other brands

30% more thrust

30% more efficient = better battery life

Integrates with Lowrance & Raymarine (hearing Garmin is in the works?)

Works with 24 or 36V systems

Wireless foot pedal with separate wireless buttons for Anchor Mode

3 year warranty on the unit itself

20-ish pounds lighter than competitor motors
On the topic of durability/reliability, they mentioned this in one of the intro vids:
"The power, efficiency and quietness all comes from a really well-designed brushless stepper motor and a planetary gear system. That's what gives you all that torque when you're fighting weeds and cover.
"It also provides additional redundancies. A lot of systems are built with a single gear connection, where if something goes out, you're all done. [With our engine], if you break a few teeth, you have multiple gears as backups and you could lose all but one of those, and there's several, and still stay up and turning on the water."
In a world where trolling motors (from all brands) break down like crazy, I know a lot of dudes who would pay-up for something bulletproof.
No idea if these motors are as tough as they claim or if it can stand up to November musky fishing (it's always best to be cautious when companies jump into new product categories), but time will tell!
---
High Water 'skie Tips
High water conditions can be a factor at some point on most fisheries.
As most of you know, LOTW musky-heads had to deal with some crazy high water levels last season, and for better or worse, you need to make adjustments to continue catching 'skies.
Below, Jim Saric shares some of his thoughts, tips and observations fishing LOTW during his annual University of Esox event – some good stuff to keep in mind next time you face high water on your favorite fishery.
The first thing to keep in mind is safety:
Jim: "Navigating with modern electronics made things easier, however, small islands and reefs that normally would provide visual clues were gone. So, it was important to pay attention to your travel route. Of course, since the high-water line was often in the trees, it was imperative to be alert for large, floating logs."
Lake current can be a big player on high water years:
"There is always current, but in high water conditions, even with no wind, the current was present. As a result, fishing any area in the lake where you have a neckdown area or constriction results in increased current. The current passing along shoreline points and islands in these neckdown areas were natural musky magnets and will commonly hold muskies throughout the entire day.
"Shallow areas or saddles that exist between island clusters had current moving across the weeds or rocks. Such saddles tend to hold muskies in high water conditions, as they serve as prime musky feeding areas. When the wind blows, the current can increase significantly, and there are times that both wind and current across rocky points held a lot of muskies.
"However, the combination of wind and current also creates an eddy or slack-water area immediately on the downwind/down-current side of the island. We caught lots of muskies fishing the calm side of the island right where the upwind current would start to wrap around the island."
Next, Jim talks about how he dissected his favorite musky spots:
"Another factor that came into consideration with the high water was to fish extra shallow or to fish the spots the way you would under "normal" conditions. Typically, in high water I anticipate the fish moving extremely shallow on Lake of the Woods and being tight to shore. That's just how stained-water muskies tend to respond to high water. We caught a lot of muskies fishing tight to the bank.

"However, there were spots, particularly that had a distinct shelf, deeper weed bed, or drop-off, where the muskies still related to that area. So, you needed to fish the spot the way you would under normal conditions and ignore the high water. I guess that's what makes fishing so fun. There are no absolutes, you just have to continue to experiment with spots and react to the muskies!"
The high water also impacts your presentation options:
"There is more room between the shallow weed or rock cover and the water's surface. Therefore, in high water, you have more lures that can be fished over the shallow cover.
"In high water, it's not just about fishing muskies with bucktails and topwater, but minnow baits, jerk baits and large, soft plastics all come into play. It was often a matter of having a musky follow a bucktail and returning later with a slower-moving lure to get them to bite."
Some good nuggets from Jim – you can click here to read the rest of the article on Destination Northern Ontario's website.
Btw, Jim is doing a seminar at the MN Muskie Expo this weekend (Mar. 10-12). Click here to see the full seminar schedule.
Anyone else getting your taxes done early this year so you know how much $$ you can spend at the Expo?? 😂
---
Science on Recapture
We probably don't need scientists to tell us that catch-and-release works when we see examples like this over and over again, BUT.... why not see what the literature has to say on the topic?
Here's a cool study published in 2018 talkin' recapture rates on a couple rivers and lakes in Minnesota.
This is data from the rivers:
"Across all three years of the study, participating anglers caught a total of 86 unique fish, of which 23 (27%) were caught by anglers more than once. Three of the 23 fish were caught by anglers three times, while one was caught four times.
"Participating anglers recaptured 5–14% of the fish previously caught by angling during the same season."
Just goes to show you how important proper handling can be. Imagine what the recapture rate would be over the lifetime of a fish with 100% of the angling data available.
Now here's the numbers from the lakes:
"Of the 42 individual fish caught by anglers in 2012, 14% were captured twice and 2% were captured three times (i.e., 16% more catch opportunities in total). Of the seven fish caught multiple times, 43% were caught twice by the same angler"
Turns out river 'skies aren't the ONLY ones dumb enough to bite twice....or thrice!
---
This Week's Mashup:
Mashup time!
#1 – Been there, done that.... 😉
#2 – Diggin' this musky-sized fuzzy grub concept from @jims_baits:
#3 – In addition to "The One" bucktail, Angling Revolution has some sick merchandise they dropped today – sweet designs printed on fishing-friendly clothing:
#4 – A sweet treat for those of you attending the MN Muskie Expo this weekend. Duff is releasing a jointed 10" Mattlock, but it will only be available at the shows 🤤 #need
---
QUICK HITTERS:
– "Embracing the Grind" w/ Jessie Baker (video)
– Northern WI fall musky fishing w/ Burnin' Eights (video)
– Bombs Away, Part Two w/ Mayhem's 10k Casts (video)
– WI musky fishing w/ Keyes Outdoors (video)
– Spot-on-the-Spot thoughts w/ Steve Heiting (video)
– Musky fishing tips for postfrontal conditions w/ 54 or bust (video)
– Whiteboard musky lesson w/ Biological Angler (video)
---
---
THIS WEEK'S

 MONSTER MUSKIES:
Have you ever seen a blonder 'skie?? Awesome shot posted by @esox_addicts of his buddy down in Ohio:
When you set out to troll for pike and catch something WAYYY better – awesome fish and congrats to Graham Eddy:
Tyson Vineyard doesn't mess around when it comes to his tigers – rockin' the feline shorts and a gorgeous tiger-striped 'skie:
Wanna be featured in Musky Insider? Send in your recent trophy musky photos by replying to this email. You might just see your pic in next week's newsletter. 🤙
---
---
Want to see more from Musky Insider? Make sure to follow us on Facebook and Instagram for bonus content throughout the week!
Send all business inquiries to josh@muskyinsider.com
---