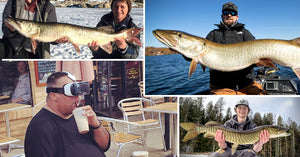 Expo Deals from your Couch – Super lucky net job – Ugly 'skie caught 5 times
Be the FIRST to see Musky Insider every week by signing up for the email version of this newsletter. It's 100% free and we will never sell your email address! Click here to sign up and never miss another issue.
---
---
Virtual Muskie Expo
As most of you know already, the MN Muskie Expo (which was supposed to be this weekend) got shutdown due to the Corona Virus outbreak.
This is a HUGE bummer for the companies that rely on this show every year. It's not ideal for all the musky anglers lookin' for deals on baits, rods, reels, and guide trips, either.
The only good news coming from this mess is now you can get the special show prices from the "safety" of your own home via the "Virtual" Expo. 😉
Here's Paul Hartman's announcement and a few excerpts:
"With the traditional Expo not being an option during the coronavirus outbreak, it was decided to take the event online for this year.... Please support all our vendors, as their show season has been cut short. Retailers are sitting on over $2.5 million worth of sport show inventory that MUST GO!"
BTW, here's the exhibitors list with all the links.
"[Many of the retailers] will have free shipping on everything, as do most of the manufacturers.... It starts 6:00 am Friday and runs continuously through 11:59 pm on Sunday."
Sounds like you'll be able to watch/listen to the seminars on the Thorne Bros website, too.
Nothing beats the in-person show experience, but at least folks will still be able to get their hands on the custom baits, show colors, and discount prices. 🤷‍♂️
If all goes well, this is what musky expos will look like in the future:
Just kidding!
---
5th Time's a Charm
Last week, we talked about some of the science behind catch-and-release.
Well, here's another example of how proper handling + catch & release = more fish catchin' opportunities.
These pics from Nolan Swinghamer feature the SAME snubby 'skie caught 5 times over the course of a few years. Interestingly, the fish measured 47-inches long in EVERY shot.
Not sure why this beauty plateaued at 47-inches, but one thing's for sure: a wide angle lens goes a long ways in making a musky look big on camera.
One of these pics is not like the other! 😉
---
M'Hunter is on Youtube
For all you musky-heads "sheltering in place" – you've got a boatload of new content to watch, free of charge!
Jim Saric posted up the entire 2020 season of Musky Hunter TV on his YouTube channel. A few hours of binge-worthy content to consume while you're pacing around your living room waiting for this Corono-craziness to pass.
---
Cheers to the Net Man!
Here's the thing about being the net man....
It's sorta like being an offensive lineman – you don't get any of the glory, and your existence goes completely unnoticed until you screw something up!
That's why we like to give 'em some credit when things go right.
For example, how bout this awesome last-chance scoop by Matt Strykul on Sam Scott's river 'skie:
Now that's a close call....
Here's the 'skie that almost got away:
---
QUICK HITTERS:
– No guide trips in Michigan until at least April 13th (link)
– 2020 Indiana Muskie Classic Cancelled (link)
– 2020 New York Musky Expo Cancelled (link)
– 8 Fish in One Day (part 1) and (part 2)
– Tips for trolling with wire line (video)
– How to add a grub to your treble (video)
– Ice Fishing for Muskies w/ Keyes (video)
---
THIS WEEK'S

 
LUNAR TIMES:
(Times based on Minneapolis)
---

---
THIS WEEK'S

 MONSTER MUSKIES:
This week, we're coming at ya with a tigers-only edition!
Let's kick things off with a beautiful Washington hybrid from Ryan Elizondo and Lynn Hotchkiss.
Next up, this toothy tiger came fishin' tip-ups in Idaho via Idahohighcountry.
Talk about an IMPRESSIVE fish, this monster from @coloradotrophyfishing hit the bump board at 49-inches long. #tigersonly.com
---
Want to see more from Musky Insider? Make sure to follow us on Facebook and Instagram for bonus content throughout the week!
Send all business inquiries to josh@muskyinsider.com
---