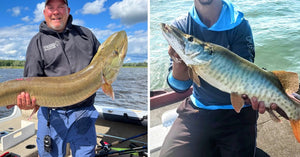 Fall Musky Locations – Our Favorite Musky This Year – Triple Musky Catch
Be the FIRST to see Musky Insider every week by signing up for the email version of this newsletter. It's 100% free and we will never sell your email address! Click here to sign up and never miss another issue.
---
---
Shorty 'skie 👀
Okay, this might be our favorite musky pic of the year so far....
Check out the proportions on this Great Lakes pocket rocket:
Here's the note that was sent in with the catch:
"Weird Green Bay musky. Head of a 40 incher but is only 28 inches long."
Man... I want to see what this thing looks like in 8 years! 😂
---
Fall Musky Locations
Was thumbing through an old issue of Midwest Outdoors when I stumbled across this fall fishin' article with Joe Bucher – it had some good tidbits on location, so I thought we'd share a few high points here on the newsletter, starting with weather's impact on the fall musky bite:
"While a warming trend with a ridge in place generally produces the best fishing throughout June, July and August, a consistent warmer pattern in the fall can often give fishermen a dud. Cold fronts with dominant high pressure behind them are the key."
☝️ This is a good reminder for folks who are new to fall fishing.
Alright, back to the Bucher tips:
"Muskies are apt to be shallower while water temperatures hold above the 50-degree range and are more apt to be weed-related. Remaining stands of healthy weeds can be hot spots.
"Weeds become far less productive once the water temperatures dip below 50. This is when steeper breaks and classic, hard, bottom structure really comes into play.
"Usually, rocks situated on steeper breaks are a key component. Hard bottom points with quick breaks into deep water can be particularly good. Add some submerged wood to this equation and it becomes even better."
Something for you to chew on over the next few weeks as water temps start to fall into normal autumn ranges. #hopefully
Joe talks presentations, too.... but you'll have to read the article for those deets.
---
Sweet Street Art
Musky art is the best kind of art 🔥
Check out this crazy impressive "street art" from Peter Davidson at this year's Hayward Musky Fest (thanks to Larry Ramsell for sending this photo):
And here's a couple cool early-stage shots:
You can see the reference image in this one:
Dig it!
Btw, we've been chatting with Larry Ramsell the last couple weeks on the topic of record sized muskies. He setup a website called "Modern Musky Records" that's definitely worth checking out if you think there's any chance you might put a monster musky in the net this fall 👀
---
This Week's Mashup:
Mashup time!
#1 – This sweet strike is a few years old, but popped up on our timeline this week for whatever reason. Regardless, guessing most of you haven't seen it yet:
#2 – Thought this was a pretty funny one from @poorlymademuskymemes:
#3 – How bout a triple dose of LSC musky from Capt. Matt Marfuta:
"Both on Baker Musky Lures Goldie. Got the 🐅 Tiger put the rod back out, and the 53" hit when we were getting ready for pics."
#4 – Really cool low-light shot from Dan Miller who was fishing with Taps & Tackle guide Jozef Wojo:
---
QUICK HITTERS:
– Lady of the Lake tourney happenin' Oct. 21 on Lake Geneva (link)
– Early fall trophy musky fishing w/ Todays Angler (video)
– Steve Genson on the Back Lash Podcast (link)
– Northwood WI musky fishing w/ Burnin Eights (video)
– Minnesota musky fishing w/ Smiths Fishing (video)
---
---
THIS WEEK'S

 MONSTER MUSKIES:
Not sure what's stronger: Tim Lautenslager's croc game, or this clean 54.5 incher he put in the net:
Feast your eyes on this big bodied Ottawa River 'skie sent in by Joshua Burnett:
Congrats to Jim Cordingley on bustin' the 50+ inch mark with this Georgian Bay beauty:
Wanna be featured in Musky Insider? Send in your recent trophy musky photos by replying to this email. You might just see your pic in next week's newsletter. 🤙
---
---
Want to see more from Musky Insider? Make sure to follow us on Facebook and Instagram for bonus content throughout the week!
Send all business inquiries to josh@muskyinsider.com
---