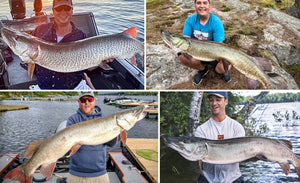 Fall Musky Checklist – Custom Tube Colors – Shore Musky Action
Be the FIRST to see Musky Insider every week by signing up for the email version of this newsletter. It's 100% free and we will never sell your email address! Click here to sign up and never miss another issue.
---
---
Fall Musky Checklist
We're approaching that late summer, early fall transition time when water temps start dropping and the patterns on your favorite lake begin to change.
MN guide Josh Borovsky likes to use a "checklist" to help him stay on top of the 'skies this time of year, and it looks a little something like this:
☑️ Is there heavy cloud cover?
☑️ Is there significant wind?
☑️ Are water temps falling?
"There are typically two distinctive patterns on the lakes I fish this time of year.#1 the muskies could be up shallow on the inside weed lines, or #2 you might see them out off the deep weed edges or suspended nearby."
So where does the checklist come in?
"Generally speaking, if you can check all three boxes, the fish will likely be shallow. Conversely, if you can't check any of the boxes, the bite should be deep. Often times you'll have some checked AND unchecked boxes, in which case you'll need to bounce back-and-forth between deep and shallow until the fish tell you where they're at."
Does this work everywhere?
"This cheatsheet works like a charm on the metro waters I guide, but will NOT work everywhere muskies swim. On lakes with tullibee or whitefish populations, cooling water temps may cause bait to ride higher in the water column pulling muskies further away from structure instead of up into the shallows.
"The idea is to create a customized cheatsheet for your OWN waters. Each aforementioned checklist item (clouds/wind/temp) will trigger fish movements or behavioral changes, but those specific changes will vary from lake to lake depending on the forage availability, water clarity and other variables."
Keep in mind, all three of these factors can change throughout the day, so be prepared to adjust accordingly and move with the fish. Also, nightfall can act as cloud cover in this equation.
Even if the fish don't react exactly the same way on your body of water, they will likely do something pretty consistently when all these boxes are checked and something else pretty consistently when they're not.
Pay attention to these three factors when you're out on the water, and hopefully it'll help you put a pattern together on your favorite musky waters.
Best of luck this fall, and don't forget to send us pics if you catch a monster!
---
Shore Fishin' Dandies
Always gotta tip the hat to folks who find a way to catch muskies when the odds are stacked against them.
A few examples: fly fishing, kayak fishing, shore fishing.... fishing without live sonar (kidding about the last one! 😂)
Seems like shore fishing is maybe the hardest (??), so we're gonna give some love to a few impressive shore catches:
First up, check out this silver bullet from Tom Vanneste – gorgeous fish!
Ben Graham caught this bruiser casting off the dock with one of his own lures (Shield Custom Baits) – doesn't get much better than that!
Killer shot from @thetiltedtoque. 💪 That's a monster dock 'skie!
Big props to Danny Litwora on poppin' this bronze beauty in the figure 8 with a Red October Tube.
Speaking of Red October Tubes..... 👇
---
Sweet Tube Colors
If you like tubin' for muskies, you'll definitely wanna take a peak at these fresh custom colors from Red October (limited supply exclusives):
Lots of A+ color options, no matter what conditions you're fishing. 🔥
They're available in the 10-inch model (a go-to size for most musky folks), and the rigs/harnesses are sold separately.
IF YOU'RE READING THIS, THE TUBES ARE SOLD OUT (newsletter subscribers cleaned 'em up)
If you wanna grab a few, you can find them on the Auxxit mobile app, in the "MUSKY EXCHANGE" group.
Some quick instructions for the less technically inclined 🙋‍♂️:
You'll need to use a phone/tablet to access the app (computers won't work). If you already have the Auxxit app, simply go to the MUSKY EXCHANGE group and check out the baits. 👍 If you don't have the app yet, click this link. It will direct you to create an account and download the Auxxit app. Once you have the app on your phone, login with the account info you just created and you should be good-to-go!
It's a little extra leg-work, but worth it for access to the exchange in the future.
Btw, check out this clip from Marc Arena (Red October's owner) demonstrating how changing the direction you rip your tube can trigger a strike.
#GotEm!
---
This Week's Mashup:
Mashup time!
#1 – Gotta give Dougie Wegner a solid 10/10 for this sweet boatside shot 🔥
#2 – Check out these 3 new colors for the plus-sized Monster Swimmin' Dawgs 🤤
Twinkie (middle) is already outta stock, but looks like they still have a few Cracked Ice Citrus Tiger (left) and UV Sunrise (right) available.
#3 – Cool handmade leather plier holder art from Nik Faulk:
#4 – Drone photos, like this one from Landon, are awesome because you can 100% imagine all the different casts you'd make to potentially contact a big, hungry musky.
---
QUICK HITTERS:
– Leech Lake PMTT happening right now (link)
– Topwater musky fishing w/ Todays Angler (video)
– Last light musky fishing w/ Joe Bucher (video)
– Summer musky locations w/ 54 or Bust (video)
– Summer musky article w/ Ben Beattie (link)
– Northern MN musky fishing w/ Smith's Fishing (video)
---
---
THIS WEEK'S

 MONSTER MUSKIES:
Props to Sam Joseph Jr. on popping this plus-sized low-light tanker 💪
Huge congrats to Robert Viau on crackin' the 50-inch mark, fishing in-land Wisconsin on a kayak. #YakSkie
This last one from Ryan Wilcke doesn't qualify as a "monster", but we had to sneak it into the newsletter because snubbers hold a special place in our hearts!
Wanna be featured in Musky Insider? Send in your recent trophy musky photos by replying to this email. You might just see your pic in next week's newsletter. 🤙
---
---
Want to see more from Musky Insider? Make sure to follow us on Facebook and Instagram for bonus content throughout the week!
Send all business inquiries to josh@muskyinsider.com
---