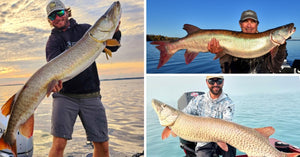 'Fall Turnover' Explained – Herbie Fall Tips – Sweet Strike GIF
Be the FIRST to see Musky Insider every week by signing up for the email version of this newsletter. It's 100% free and we will never sell your email address! Click here to sign up and never miss another issue.
---
---
Fall Turnover Thoughts
We had a really cool talk with Gord Pyzer earlier this month with the Musky Insider PRO crew, and one topic we hit on was turnover.
What many folks don't understand is that turnover is a process that is happening throughout fall, not a short-lived event.
Here's what Gord had to say in a follow-up article he wrote on Outdoor Canada:
"Instead of calling it "fall turnover," a much better way of thinking about what is happening in our lakes, rivers, reservoirs, pits and ponds right now is viewing it in the science context as the elimination of thermal resistance to mixing."
"Now, ask yourself, what has been stopping the water in your favourite lake (assuming it is deep enough to stratify in the summer) from mixing? In other words: what has hindered the warm layer of surface water (the epilimnion) from blending with the deep cold basin layer (the hypolimnion)?
"It is the thermocline, of course, which sets up as a barrier in the summer months."
Gord has a really cool video that he shot this summer, measuring the temperature at different water levels during the summer months:
While water temps stayed fairly consistent (73F) for the first 15 feet or so, they started to slowly drop the next 10 feet, then plummeted to 54F around 30 feet below the surface, signaling the top of the thermocline.
"The key point is that today, on that very same lake, with the surface temperature running 55°F (13 °C), the thermocline has been eliminated, so there is nothing to stop the surface water from mixing with the lower reaches of the lake.
"This decline in water temperature will continue this way for the rest of the fall, and for certain, we'll reach a point later in the season when the entire water column is 40°F (5°C)—the temperature at which water is most dense and turns over most easily."
Gord always does a good job of breaking down a complex subject and making it more digestible. Check out his full writeup on the Outdoor Canada website for more deets.
We had a great chat with the PRO crew with lots of good science-y info. Hoping to have Gord back again!
Let's stay on the topic of fall turnover....
---
Herbie's Turnover Tips
Next we have some interesting tidbits from Steve Herbeck on chasin' muskies around turnover time. And when "Herbie" talks, you should be listenin'!
Specifically, here are some of Herbie's thoughts on catchin' skies during the turn:
"After turnover, the muskies can be anywhere. They can go wherever they want, whatever spots have the right light penetration, cover, and food.
"It's a very big misconception that blades and topwaters quit being effective after certain colder temps and turnover, especially blades in clear water (but don't discount any type – let the fish tell you or nay). In some cases, you might want to slow down a bit and roll em a bit deeper, but that's not always true either.
"Clear water fish are chasers and love the flash. I very rarely don't have blades or heavy spinner baits like a Musky Mayhem or CJ's in the lineup right until ice-up on clear lake trout type lakes. Just be ready at the boat – a high % are caught on the turns as they chase it in or as you bring 'em up."
Moral of the story: Let the 'skies tell you when it's time to put away the blades and topwater lures!
Great info as always from Mr. Herbeck 💪
(Btw, we have a class with Herbie on Late Fall Musky Tactics that many of you would find extremely useful this upcoming month)
---
Sheeeesh
Killer strike alert! 🚨
Check out this sweet smash via @reel_minnesota_fishing:
Pretty dang cool clip!
Not sure what's more impressive: the strike or the 60-to-zero hockey stop!
---
This Week's Mashup:
Mashup time!
#1 – Anyone else have trouble sleeping at night?? 😉
#2 – What's your go-to fall rubber bait?? Lots of good options, including tubes, Bull Dawgs, Medussas and Whale Tails (pictured).
Reply to this email and let us know!
#3 – Lovin' the detail and color scheme on this glider from @jerkbait_potsdam:
#4 – Awesome shot from James Lindner sending a fall fatty back to the depths:
---
QUICK HITTERS:
– Canadian musky fishing w/ Luke Ronnestrand (video)
– Walkthrough of their new Vexus w/ Todays Angler (video)
– Tourney winning tactics + tuning tips w/ Smith's Fishing (video)
– Musky fishing with a Woodtick w/ Ben Stone (video)
– Wisconsin fall transition w/ Musky Road Rules (video)
---
---
THIS WEEK'S

 MONSTER MUSKIES:
Gorgeous north-of-the-border bruiser from musky guide Marc-André Paquette caught earlier this year. I'd say, "Anyone else missing shorts weather??" but I know 99% of you would rather have fall 🔥
Big props to Cole Lauzon on putting this hefty 53.25" spot-a-saurus in the boat 💪
Congrats to Lexie (10 years old) on catching this giant 54 inch LSC bruiser, fishing with her dad and guide Alec Pasqua. That's an experience she won't forget!
Wanna be featured in Musky Insider? Send in your recent trophy musky photos by replying to this email. You might just see your pic in next week's newsletter. 🤙
---
---
Want to see more from Musky Insider? Make sure to follow us on Facebook and Instagram for bonus content throughout the week!
Send all business inquiries to josh@muskyinsider.com
---